The name Bushnell is synonymous with quality. They built their reputation by producing high quality binoculars, scopes and range finders. It seems only natural that they would put their knowledge of quality glass in the form of a lens on a trail camera.
The Bushnell Core DS trail camera is loaded with just about every feature a trail camera user could want, including dual sensors, for designated night time and day time photos, fast trigger speed, and completely customizable settings. This dual sensor trail camera even has designated lenses and sensors for both day and night time photos.
With all of the features this trail camera has to offer, I do admit that the photo quality lacking in many ways, especially the night time quality. Overall this camera scored 69/100 on our 100 point checklist.
Review Process
Unlike most trail camera reviews on the internet, we refuse to review a trail camera that we have not personally owned, used, and tested. The only way to get accurate, informative information is from someone who has put these cameras to the test, in the field, and use them the way they were intended to be used.
We have broken down trail cameras into 10 different categories, that you can see in the table below. These categories are the most meaningful to trail camera users. Each category has a 10 point checklist, that we test each and every camera with. The overall score is how the camera performed on each category, giving you a consistent standard to compare trail cameras.
| | Score | Comments |
| --- | --- | --- |
| Design | 8/10 | Quality Built Camera |
| Ease of Use | 6/10 | Simple to navigate menu |
| Features | 9/10 | The only thing this camera is missing is adjustable trigger speed |
| Daytime Picture Quality | 4/10 | A ton of motion blur on typical walking photos |
| Nighttime Picture Quality | 5/10 | Motion blur on all nighttime photos |
| Video Quality | 8/10 | Records 1080p @ 60fps |
| Timelapse Mode | 7/10 | Basically just a standard Timelapse Mode |
| Engineering | 7/10 | |
| Price | 7/10 | For the features that this camera offers, it is a good purchase |
| Warranty / Customer Service | 8/10 | 2 year manufacturer warranty |
| Total | 69/100 | |
---
Hits and Misses
It is obvious that every camera has somethings that it performs really well at, and other things that it really needs to improve on. Here are just a few things that we wanted to highlight that the Core DS did well with, and completely missed on.
Hits
Quality Video- The video has better quality than most trail cameras. Recording 1080p @ 60 frames per second gives it smooth movement throughout the video
Detection Distance- has adjustable detection distance, the best detecting out beyond 100 feet. Great for using along field edges
Prosettings- Beyond the normal functions of a trail camera, this camera offers prosettings which are settings that can adjust color, brightness, and white balance giving a more professional looking photo.
Warranty- 2 year manufacturer warranty
Misses
Photo Quality- The photo quality for both day and night time situations, were grainy and provided a lot of motion blur. For a camera with dual sensors, I would expect a lot better quality.
Flash and Detection Distance- while stand alone, both the flash and the detection distances are very high quality. The problem that occurs is during night time photos the camera detects animals far beyond the flash distance, leaving a lot of photos with animals triggering the camera, that are standing in the dark beyond the flash.
Field of View- Because of the great detection distance this camera has a very narrow 35o field of view.
Manufacturer Specs
| | | | |
| --- | --- | --- | --- |
| Megapixels | 30 MP | Timelapse | Yes |
| Video | 1080p @ 60fps | Video Length | Up to 1 Minute |
| Flash Range | 80 feet | Recovery Speed | .6 Seconds |
| Trigger Speed | .2 Seconds | SD Capacity | 32 GB |
| Wireless Connection | No | Time Stamp | Date / Time / Temperature / Moon |
| Warranty | 2 year Manufacturer | MSRP | $209.99 |
Design
Score: 8/10
Appearance
While the looks of trail cameras may not be the top priority of most trail camera users, the ability for it to blend into the natural surroundings, is important not only to prevent animals from seeing it, but to prevent trail camera theft as well.
The Core DS has a truly sleek appearance with a textured outer shell, and a camouflage pattern that can blend into many different surroundings in the field.
Mounting
The Core DS has 1/4-20 mounting capabilities both on the bottom of the camera and the back of the camera. Having both options for the use of a 3rd party trail camera mount is a plus. It gives versatility to the way you are able to use the came in the field.
It also comes with a 1″ webbed strap with a metal cinch tight buckle, for a more traditional mounting option. The strap is a sturdy material and having a cinch style buckle, makes mounting in the colder months more simple than trying to weave the strap through a buckle.
With the mounting options they also provide the ability to use a python locking cable through the back of the housing, in order to secure the camera to a tree. That combined with the ability to lock the housing door with a small padlock creates extra security from potential thieves.
Size
When we measure trail cameras, we take calipers and measure the largest points in height, width, and depth, which would include any tree grips on the back of the camera. This will give us a better understanding on how far the camera will stick out in the woods, and how well it will be concealed.
The Core DS measured in at 5.813 H x 4.02 W x 2.38 D. This comes out to be 55.63in3, which is less than our 60in3 limit. Though bigger than most trail cameras that are coming onto the market in recent years, it definitely does not have a large camera body.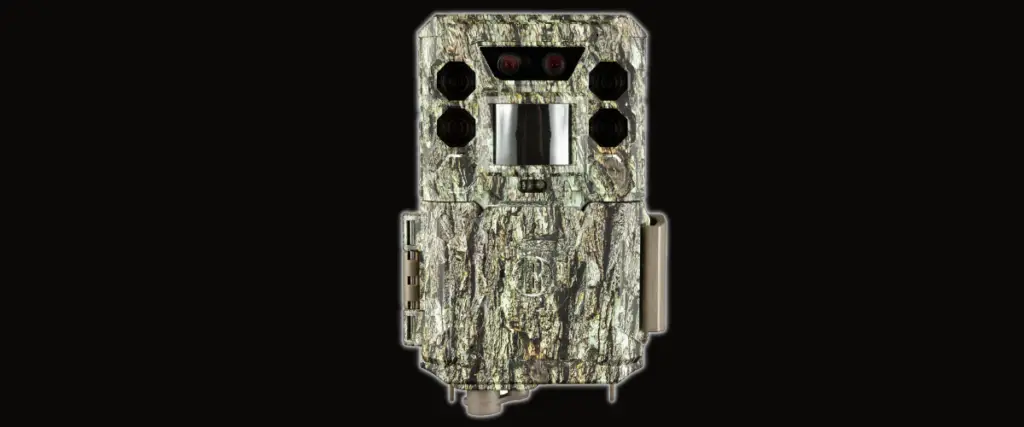 Moisture Buildup
When it comes to negative aspects of the design, the biggest thing that we found was two small ports in the front housing door, that collect rain water and allow the water to slip into the housing. This is a design flaw that was created do to the textured design of the camera.
While there is still a rubber casket that lines the housing door to protect the electronics, the small ports on the front allows water to collect, and it tends to seep into the housing door. While the ports are small, and it would take a direct angle of rain to even get into the small ports, it can and does happen.
Ease of Use
Score: 6/10
Menu Navigation
It is easy to navigate through the menu of the Core DS. Simple easy to use directional pad can easily move you from one category to the other. All categories and selections are made by hitting the enter button, and unlike other models of trail cameras, there is no guessing as to what selection you have made. A small blue checkmark appears next to the selection, making sure you know exactly what you are choosing.
Another thing that we liked about the menu options is that everything that you need to select a mode is within that category. For instance if you are to select video mode, you do not have to scroll through the next three categories to select the resolution, it is all within one single category.
Simple Terms
While every trail camera company uses their own terms for various settings, why can't companies just agree that trail camera, video, and timelapse modes should be called just that? Bushnell uses many terms that I had to look up to grasp their understanding.
If you are looking for timelapse mode, you are wasting your time, their version is called field scan. Delay settings between pictures is called interval, and pro settings are nowhere in the instruction manual. If none of this is confusing enough, you have options for the sensor level, being low, normal, high, and auto, with no explanation of what each level means.
Features
Score: 9/10
When it comes to features this camera is absolutely loaded. It checks the box on every feature we look for, with the exception of adjustable trigger speed. While for most situations there is no need for trigger speed adjustments, I have ran into a few instances where having the bonus adjustment has come in handy.
Photo Settings
The DS Core comes with a 3.1 native image sensor resolution, but allows to take photos of 8MP and 30MP (interpolation) as well.
The biggest feature with this camera that might often be overlooked is the ability to adjust the motion sensitivity. When in High mode, this camera can detect consistently up to 115 feet, which is great for open fields, but in a forest setting, tends to be too much, and having the option of dialing it back a little helps tremendously with false triggers.
It also offers an auto sensitivity mode, which monitors the ambient temperature and automatically adjusts sensor signals to be more sensitive to slight variations in temperatures during hot days, and less sensitive to variations on colder days. This feature works amazingly well.
Photo Settings
| Settings | Options |
| --- | --- |
| Megapixels | 3MP, 8MP, 30MP |
| Burst Count | 1-5 Photos |
| Delay Settings | .6 seconds- 60 Minutes |
| Motion Sensitivity | Low, Normal, High, Auto |
| Flash Mode | Long Range, Low |
Video Settings
| Settings | Options |
| --- | --- |
| Video Resolution | 1080p (60fps), 1080p (30fps), 720p |
| Video Length | 5-60 Seconds, Dynamic |
| Audio Recording | Yes, Option to turn on and off |
| Delay Settings | .6 seconds – 60 Minutes |
| Motion Sensitivity | Low, Normal, High, Auto |
Prosettings
This camera has settings on it that I have never seen before on a trail camera. Under the main menu there is a category named prosettings. Within these settings, are adjustments that you can make to the camera to finetune photo quality, similar to what a professional photographer does with a DSLR camera.
Here is a breakdown of each of the the three Pro-setting's options and what each one can do to a photo:
Color Mode
In general, the color mode allows you to change the saturation and contrast of colors within a photo. For those looking for more professional looking photos, this option allows you to play around with the different quality of colors.
Vivid – the vivid color option gives you better color contrast than the other options. The colors will be more sharp and lively than the other options. Using this option however does come with a slight drawback, the file size of the photo will be larger, taking up more space on the SD card.
Normal – The normal option is the default option you would originally get if you were to simply turn the camera on.
Flat – this option will give you a more dull looking photo, often would be used not only to save on the file size of photo, but to create an artistic feel to a photo.
White Balance
The white balance option does just what it sounds like, it balances the white colors in the photo, assuring that there is balance of colors within the environment, avoiding white out photos.
Fluorescent- The fluorescent option is recommended for use indoors.
Cloudy- The cloudy option seems a bit misleading, but is intended to be used with overcast. For instance if you were placing this camera in the woods in any situation where there would be lack of direct light, such as heavy canopy forests, the cloudy option would be a good choice.
Daylight- this option is the exact opposite of the cloudy setting. You would use the daylight setting in areas where there is significant amount of daylight hitting the camera, such as an open field.
Auto- is the default option. The camera is suppose to read the environment around the camera and automatically select the correct setting for that particular environment.
EV Stop
The final option of the prosettings is the EV stop. Essentially this function allows you to add or subtract lightness to the photo. It essentially works the same as what an ISO would do to a manual camera. It brightens the photos, with the cost of adding a little noise, or grain to the photo.
Daytime Picture Quality
Score: 4/10
With all of the setting options and features that this camera has to offer, I desperately wanted to find a way to make the photo quality better. With a designated lens and sensor for specific day time photos, I just expected a lot more from the photos of this camera.
Essentially the biggest hang-ups on the quality of the DS Core from a photo standpoint was the incredible amount of motion blur during daylight photos. This can be expected during night time photos to an extent, but the blur during the day drove me crazy.
The other problem I had was the color of the photos seemed very dull compared to the actual surroundings in real life.
You can be the judge for yourself from a few of the photo examples I have below.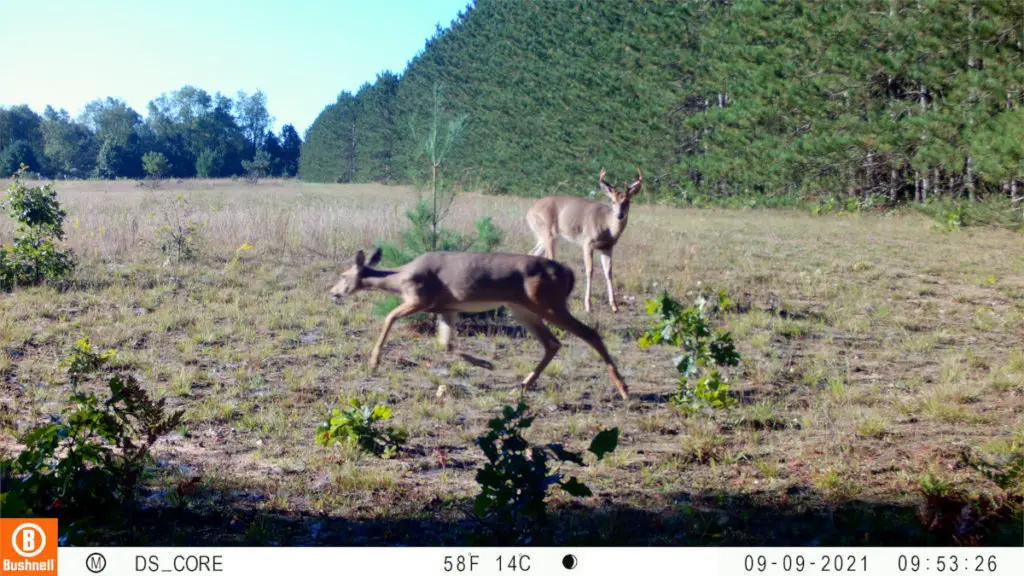 In this photo you can see the pixelization that shows up when movement occurs. Not only is the photo of the doe slightly distorted, the image of the buck behind her becomes blurry as well.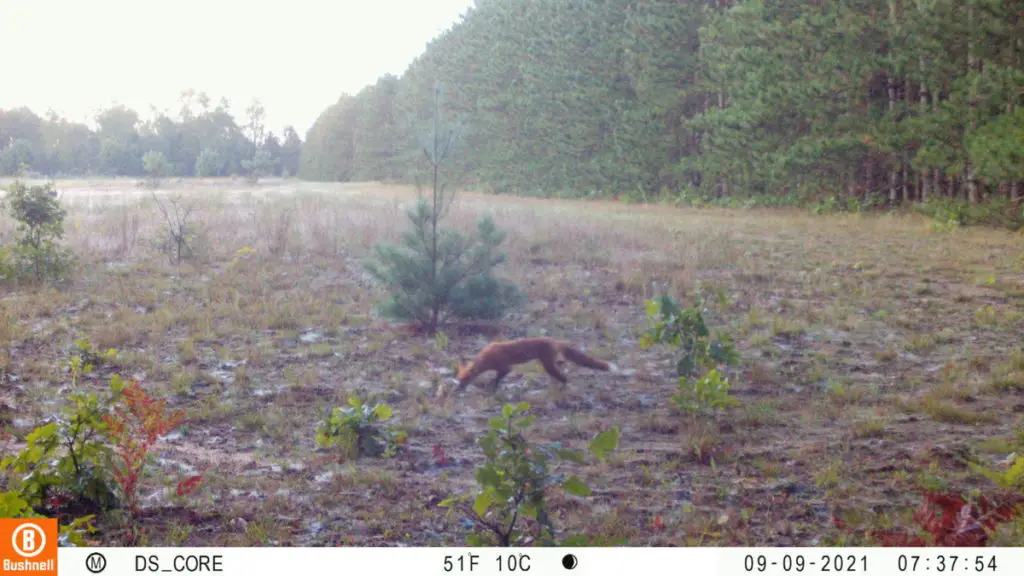 The photo of the fox above compared to the photo of the fox below shows how the distance from the camera affects the quality of the image. Both photos are of the fox moving, both have adequate daylight, but only the photo below comes out clear. The only difference between the two photos is that the one below is closer to the lens of the camera, meaning that focus of the lens is only truly effective at closer images.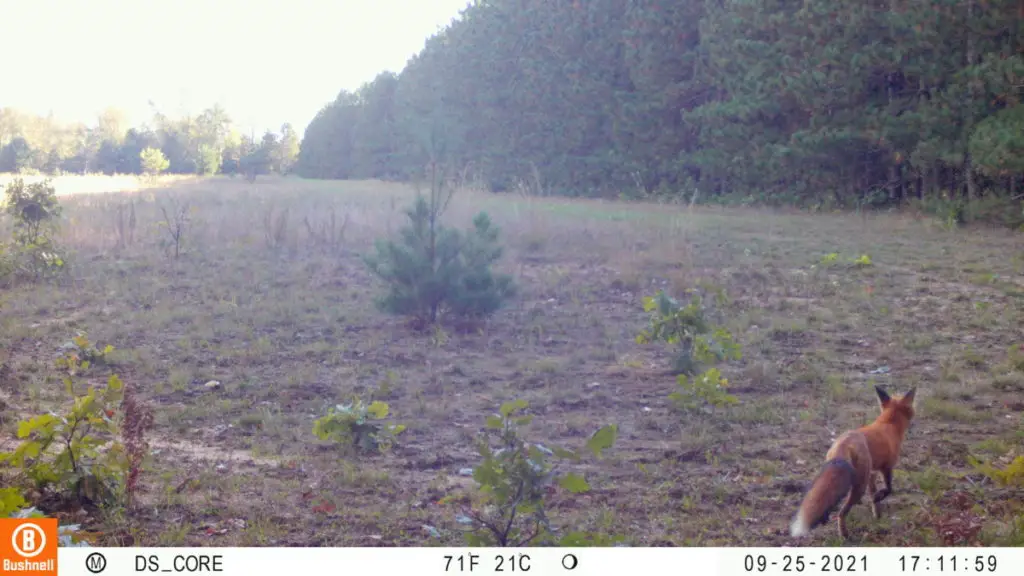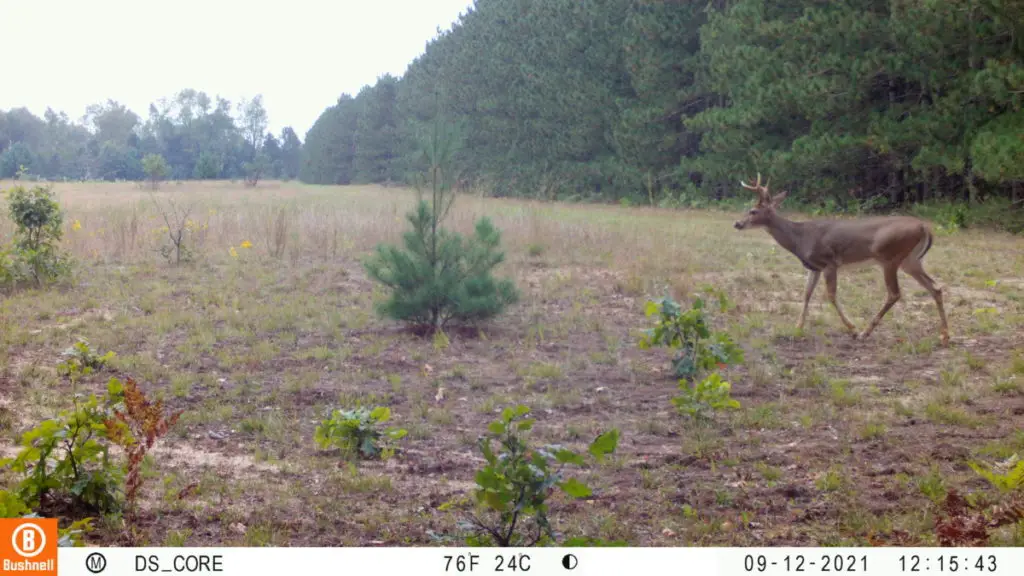 Nighttime Photo Quality
Score: 5/10
The nighttime photos of the Core DS is only slightly better than the daytime photos. The nighttime photos still have the same pixelated look, and has a continuous trouble with with motion blur as the daytime photos, but are slightly better with low light photos.
To be completely honest I expected much more from a camera that has a designated image sensor for nighttime photos. It seems as though, despite having the designated image sensor, the shutter speed is too slow to catch movement, resulting in a majority of photos having motion blur.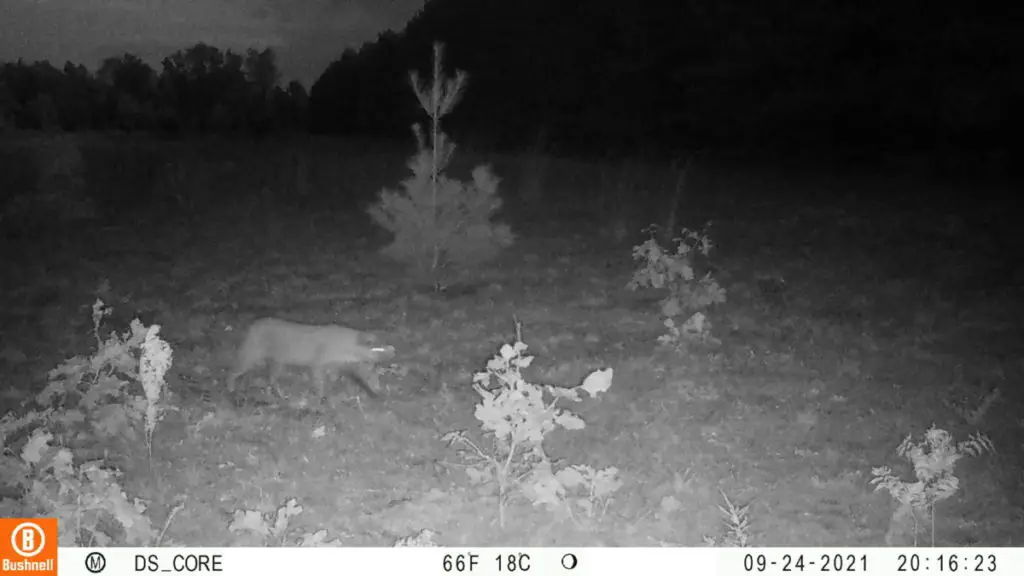 As you can see the photo of the bobcat above and the photo of the doe family below lack quality and definition in the photo. While you can make out the image, the clarity is very poor. I would generally expect this type of image quality on nighttime photos from a cheap trail camera, but I expected much more from this camera.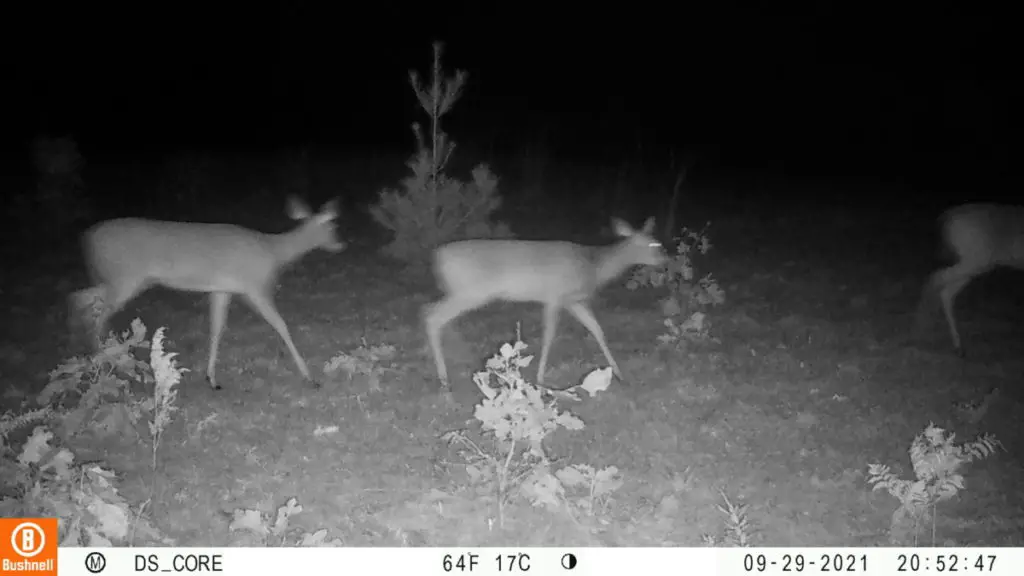 The photo below is another picture of a fox, trotting across the camera's field of view. While in general it is hard to eliminate motion blur on moving objects during nighttime photos, you can obviously see that the quality is far from good.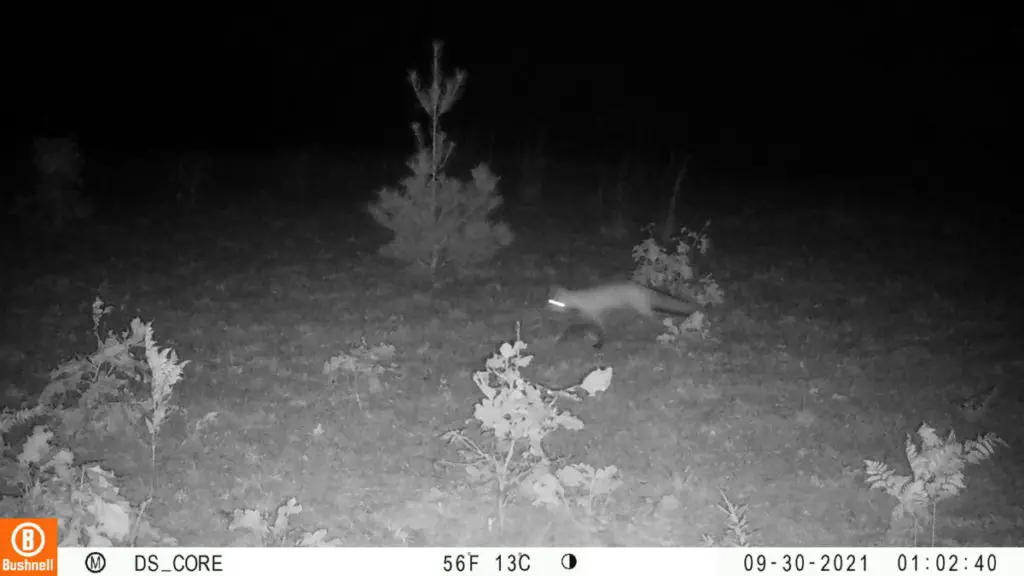 The best photos that the Core DS takes is during the grey light that occurs during sunrise and sunset. In the photo below there is still not enough ambient light to take color photos, and so the IR flash is still active. The quality and clarity of these photos are much improved compared to the other nighttime photos.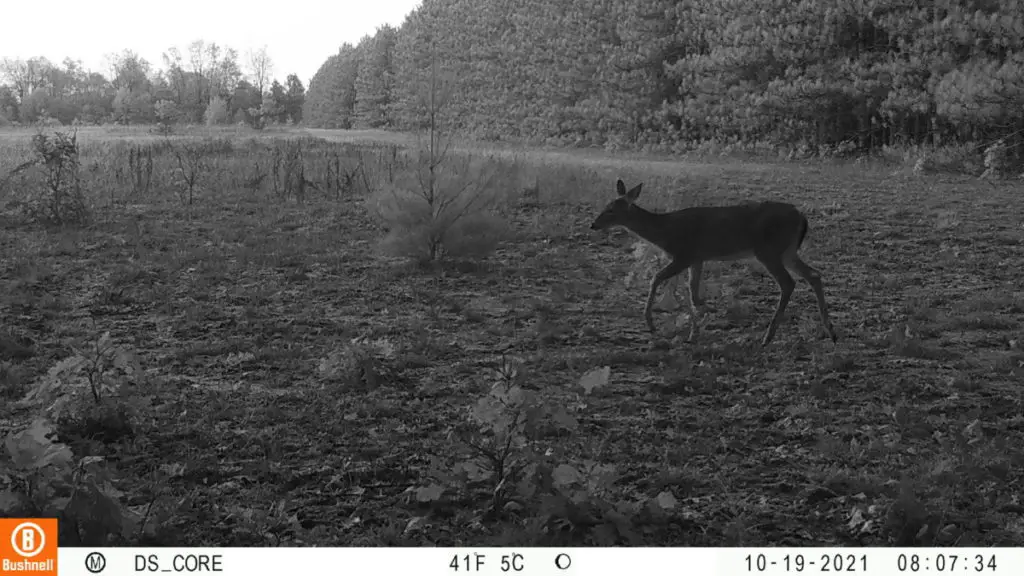 Video Quality
Score: 8/10
The video quality is where you get your money's worth with this camera. With a resolution of 1080p filmed at 60 frames per second, the video quality far exceeds the photo quality. While there is still some pixilation problems with the night time video, it is still of high quality.
Video mode is also equipped with dynamic mode, meaning that the camera will record video as along as there is movement in front of the camera. This eliminates both the disadvantage of missing something when the camera stops recording too soon, and long videos of virtually nothing at all.
Check out the video below of examples of the Core DS video mode.
Timelapse Mode
Score: 7/10
When it comes to timelapse mode, there are very few cameras we review that exceed the score of 7/10. Simply, there just isn't a lot of exciting features that can be put into this mode. However, the timelapse is a very important part of a trail camera strategy, and should be looked at in depth.
The three things that actually stand out with this camera:
Active PIR is enabled– having the ability to also use the PIR sensor while shooting in timelapse mode allows the camera to not only take pictures in its regular scheduled intervals, but allows the ability for animals passing by to trigger the camera as well.
Timelapse in video mode- Very seldom do we see the ability for a camera to record timelapse in video. Not exactly sure the reason you would want to do this specifically, but if the need ever came up, it has it
IR flash enabled- Having the infrared flash enabled, allows for the camera to be able to take photos in timelapse mode during nighttime hours.
Engineering
Score: 7/10
While all of the features are fun to explore, the engineering is where they all are all put to to the test. How does the flash distance and detection distance come together? Or how long does a set of batteries last in the field?
Battery Life
The battery life is one of the most sought after questions about every trail camera. If you set it in the woods, how long can it soak for? Well with this camera, you are more likely to need to change out SD cards than you are batteries. The average 32GB SD card will hold around 11,000 photos. From the testing that we have done, we were able to get 38,661 photos from Lithium ion batteries.
So, with this camera you never have to worry if it will have good battery life. The Core DS has one of the better battery tests that we have conducted on any trail camera.
Detection and Flash Distance
The daytime detection distance on the Core DS, is incredible. Measuring consistently at 115 feet detection distance, you could place this camera on the edge of a field and get good distance of detection during the day time.
The problem with having such an incredible detection distance is trying to match it with the flash distance during nighttime photos. The nighttime detection distance is over 80 feet, while the flash distance is around 65 feet. The problem with this combination is that you will often get triggers of animals just outside the flash distance, meaning you have a lot of photos where you can not see the animals.
Having such a strong detection distance also results in a lot more false triggers. Using so much of the power source to detect distance, forces the sensitivity to be much higher. Luckily, this camera offers different settings for sensitivity, which also affects the detection distance as well.
Field of View
The field of view is often overlooked when picking out a trail camera, but in my opinion it can be as essential as the detection distance. For those who are unaware, the field of view is the angle from the camera, in which is captured on a photo.
For instance if you had a camera that had a 90o field of view, you would need only 4 cameras in a circle to capture an entire 360o circle. For most cameras anything over 65o I would consider really good. The Core DS has a 35o field of view. This is a really small sliver that the trail camera would cover. You would need over 10 cameras to cover a complete 360o circle.
| | Observation | Comment |
| --- | --- | --- |
| Daytime Detection Distance | 115 feet | In long range mode this is a consistent measurement |
| Nighttime Detection Distance | 80 Feet | While the detection distance is nice, it exceeds the flash distance, making it overkill |
| Field of View | 35o | Due to the incredibly deep detection distance, the field of view is much more narrow than the average trail camera |
| Flash Distance | 65 Feet | For a nighttime flash this distance is on par with other trail cameras. |
| Battery Life | 38,661 Photos | Tested with Energizer lithium ion batteries |
Price
Score: 7/10
When breaking down the price structure of a trail camera, I take a look at all of the features a trail camera has, and compare them to the average price increase that each of those features has across the entire industry. For example, when a trail camera has a black flash illumination system, across the industry, that adds an average of $10 to the price of a camera.
With that piece of information, I have concluded that with all of the features and settings available on the Bushnell Core DS NG, the estimated price should be around $230. With a current MSRP of $209.99 this price comes in $20 less than our estimation. While it might not be a screaming deal, it is priced competitively.
Warranty / Customer Service
Score: 8/10
Warranty
All Bushnell trail cameras come with a 2 year manufacturer warranty. This covers any manufacturer defect that is detected within the first two years of the camera's life. In order to enact this warranty you must register the trail camera on their website within 90 day of purchasing the camera.
For quite some time, most trail camera manufacturers only offered a one year warranty, but over the past few years, you can find more and more cameras that are now supported by at least a 2 year warranty.
Customer Service
The customer service from Bushnell was a mixed bag. To start out with, if I have no issues with the trail camera, I will make up a scenario that I already know how to fix, and see what the customer service is able to do get to a conclusion.
I first emailed the customer support address from their website, to put it simply, I am still waiting on a response. I did receive an auto generated email saying that they received my email and a customer service rep will respond shortly. Still waiting.
Next I made a phone call to talk directly to a representative. The person I talked to was extremely helpful and knew the answer to almost every question I had for him. There was, however, one question that he did not know the answer to, and placed me on hold for a few minutes so that he could research the question.
When he returned, he still did not have an answer for the question, and took my contact information, so that he could dig deeper and get back to me with an answer. He was true to his word, and within less than a half hour he had called me back and had gotten every bit of information I could possibly need. It was a good interaction and would recommend anyone having problems with a Bushnell camera to simply contact customer service directly by phone.
Conclusion
In the end the Bushnell Core DS NG, is a solid camera. I expected better quality from the photos, especially with dual sensor technology, but I feel that for anyone looking for a solid trail camera to record video, this is a good option.
As a company, Bushnell has been around the outdoor industry for many years, but has always had a focus more on the optical side of things rather than trail cameras.
There are better overall trail cameras on the market in this price range, but very few offer the same options and settings as the Core DS.