Overall Score: 40/100
The Wildgame Innovations Terra Extreme 2.0 is a standard stand alone SD card trail camera with 16 MP interpolated image resolution, and 720p video resolution. Equipped with a low glow infrared flash and a .7 second trigger speed, this camera comes in with an MSRP price of $59.99.
Overview
I particularly despise writing bad trail camera reviews. I feel as a content creator that creating reviews that are in a negative light, has very little upside for me as whole. It sheds certain trail camera companies in a not so flattering light, despite my intentions. I do, on the other hand, owe it to our readers to write truthful reviews regardless of any upside for our company.
With that said, the Wildgame Innovation Terra Extreme 2.0 is not a great trail camera. From poor photo and video quality, a limited warranty, and lack of camera features, this camera is probably a pass for most trail camera users.
However, the Terra Extreme 2.0 does have some very good redeeming qualities with incredible battery life, and is very easy to setup and use. If you are not in the market for either an easy to use trail camera or one that has fantastic battery life, this camera is not the ideal choice. You can check out our recommended trail cameras and see other cameras that we do have a much higher opinion of. For everyone else, lets plunge forward.
Manufacturer Specs
| | | | |
| --- | --- | --- | --- |
| Megapixels | 16 MP | Timelapse | No |
| Video Resolution | 720p | Photo Bursts | 1-3 Photos |
| Detection Distance | 60 ft | Flash | Infrared |
| Flash Range | 60 ft | Audio Recording | No |
| Trigger Speed | .7 Seconds | Power | 8 AA Batteries |
| Warranty | 1 year warranty | MSRP | $59.99 |
Review Process
Our review process consists of testing a trail camera against the 10 most important categories of a trail camera that users care about. Within each category, there are 10 separate aspects we test, giving us a total of a 100 point checklist. The total score as always is out of 100.
We review each and every trail camera, using the same checklist, giving you clarity and the ability to compare cameras. As per our policy, we never will review a trail camera that we do not own, and have not used. This way you are assured to get a complete and fair review from someone who has first hand knowledge of the trail camera.
Below is the scoring breakdown of the Terra Extreme 2.0 :
| | Score | Comments |
| --- | --- | --- |
| Design | 5/10 | Durable Trail Camera. Size dimensions: 5.49 H x 3.96 W x 2.40 D = 52.17in3 |
| Ease of Use | 8/10 | Simple to set up, has a few preset modes making it easy to set and go |
| Features | 4/10 | Very few adjustable features available |
| Daytime Photo Quality | 1/10 | Poor quality photos, with a lot of grain and considerable amount of motion blur |
| Nighttime Photo Quality | 3/10 | Solid flash source, but poor photo quality, with a lot of motion blur |
| Video Quality | 3/10 | Records 720p resolution @ 30fps. Pretty poor quality video and does not record audio |
| Timelapse Mode | 0 | Camera does not have Timelapse Mode |
| Engineering | 5/10 | With all of its shortcomings, it does have an incredible battery life |
| Price | 7/10 | MSRP of $59.99, but can easily find better deals on Amazon |
| Warranty / Customer Service | 4/10 | 1 year Manufacturer warranty |
| Total | 40/100 | |
Pros and Cons
Pros
Incredible battery life. Was able to get almost 74,000 photos on one set of batteries
Simple to setup and use
Its MSRP price of $59.99 is a fair market price
Cons
Poor photo quality day and night
No audio recording on videos
Does not have timelapse mode
Only a 1 year manufacturer warranty
Design
Score: 5/10
Size
The Terra Extreme 2.0 measures in at 5.49 H x 3.96 W x 2.40 D resulting in 52.17in3. This overall size situates this camera in the middle of the pack when it comes to size amongst 2022 released trail cameras. There are much smaller cameras such as the Moultrie micro series, but the Terra Extreme is about average.
Mounting

Like all trail cameras this camera comes with a mounting strap that is 6′ x 1″. However the buckle that comes along with it, is by far our least favorite. It is called a cam lock lever buckle, and in this case is even made out of plastic. In our experience these buckles tend to break the easiest, and we have had a harder time keeping them tight against the tree.
The Terra Extreme 2.0 also comes with a 1/4-20 thread for the ability to hang the camera with after market camera mounts. The strange thing about this camera in particular is that most cameras have these threads on the bottom, as most after market mounts are made for bottom mounts, but because of the placement of the battery tray, they placed the threads on the back of the camera.
I particularly prefer the mounted threads on the back of cameras, as it gives me more options for mounting, but it is slightly odd compared to the rest of the industry.
Durability
Aside from simply the ascetics of the design, we look heavily into the durability of the trail camera. More specifically we look at the overall quality of the material, the strength of the latches, and the ability of the camera to keep moisture out of housing door. This camera passed all of those tests.
One thing that did not have affect on the tests, but I thought was worth mentioning was that on the outside of the camera the lens is recessed into the camera. The recession is slightly ribbed, which was instrumental in collecting water around the camera lens.
While this did not affect the durability of the camera, it did often promote moisture buildup and created condensation on the lens of the camera. Not exactly a deal breaker as far as the camera goes, but was a curious choice of a design, that held no functional advantage, and quite frankly became a nuisance at times.
Ease of Use
Score: 8/10
Despite some of the quality issues, one of the things you can always say about Wildgame Innovations' trail cameras is that they are simple to use. With a simple to navigate menu system, easy to use navigation buttons, and a few preset features, everything you need to operate this camera is simple and easy.
One of the nice added on bonuses that the Terra Extreme 2.0 has built into their trail cameras is that if you were to have the camera menu options, and forget to exit out before walking away from, after 30 seconds of inactivity, the camera automatically turns into camera mode. For those who have ever came back to a camera months later only to realize its still in the menu option, this is an incredible bonus.
Features
Score: 4/10
As you will often find with lower priced trail cameras, there is not a lot of features that are customizable. There are no adjustments on trigger speed, flash power, or motion sensitivity. Below are the few settings you can adjust though.
Photo Settings
| Settings | Options |
| --- | --- |
| Resolution | 4 MP, 8 MP, 16 MP |
| Burst Count | 1-3 Photos |
| Delay | 5, 10, 15, 30, 60 Seconds |
Video Settings
| Settings | Options |
| --- | --- |
| Video Length | 5, 10, 20 Seconds |
| Delay | 5, 10, 15, 30, 60 Seconds |
Daytime Photo Quality
Score: 1/10
The photos from this camera are just really bad. Aside from the fact that you are able to see what animal it is, there is really nothing that we could find that we liked about the photos.
Below are some examples of photos we got from the Terra Extreme 2.0, and a little commentary on what we see from these photos.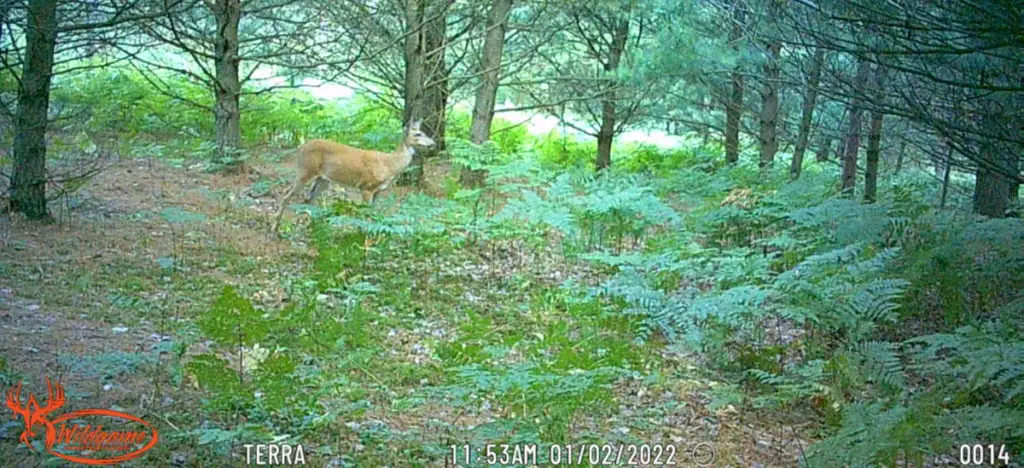 As you can see from the above picture it is a deer, and for some that is all they want from a camera. But the photo has a lot of grain. Everything in the photo is actually extremely pixelated. The vegetation throughout the entire photo is out of focus and nothing seems to be crisp and clean.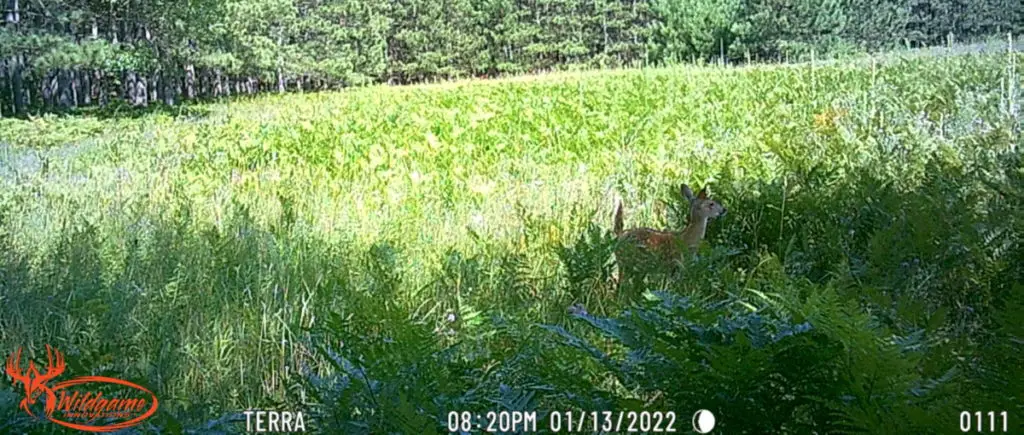 Again, you can see more of the same from this camera. Every bit of the photo is pixelated, and nothing seems to be in focus. The trees in the background, the fawn, the tall grass in the front of the photo, all have an out of focus grain to them.
Of the thousands of photos that we had captured with the Terra Extreme 2.0, this photo is the most clear. Even though there is a little bit of motion blur in the deer's face, there does seem to be a little more clarity in the grass to the left side of the photo.
With this being the example of the best photo we captured, how can we grade it as a quality camera?
Nighttime Photo Quality
Score: 3/10
While the photo quality isn't much better in the nighttime photos, there are a few different aspects that we have to account for. Most importantly the IR flash distance and even distribution of that flash across the photo. Both passed our tests, resulting in a higher score than daytime photos, despite still having very poor quality photos.
Here are a few examples of photos that we gathered: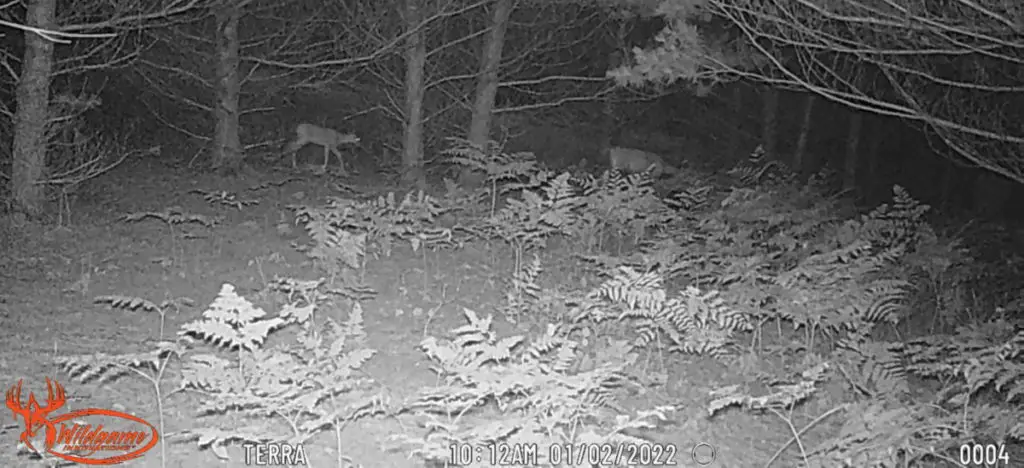 As you can see in this photo above, there is an even distribution of IR light across the entire frame. There is no noticeable arc created by poor lighting, which is a much needed plus with this photo. As you can tell, there is a lot of grain or pixelation in the frame. What we found strange is that even the logo in the left hand corner, which is added with the time stamp after the photo is taken, is coming out blurry.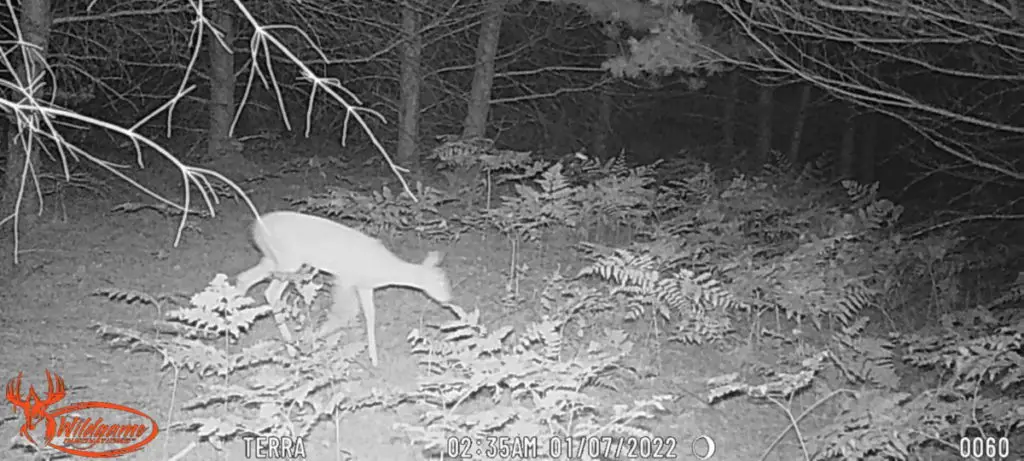 This picture of a young doe walking, is a great example of the constant motion blur that we received from this camera. The deer is obviously walking, and to create so much blur from a walking photo, makes us believe that not only did they set the camera with too much ISO (to increase brightness in the photo), the shutter speed on the camera is set too slow as well.
Typically when the ISO on a camera is turned up, to create more light in a photo, it results in a bit of noise or pixelation in the photo. This is often done on purpose in order to allow a camera's shutter speed (ultimately hindering the amount of light in the photo) to increase to avoid motion blur. In this camera they did not match the two together well at all, almost as if they were doing neither intentionally.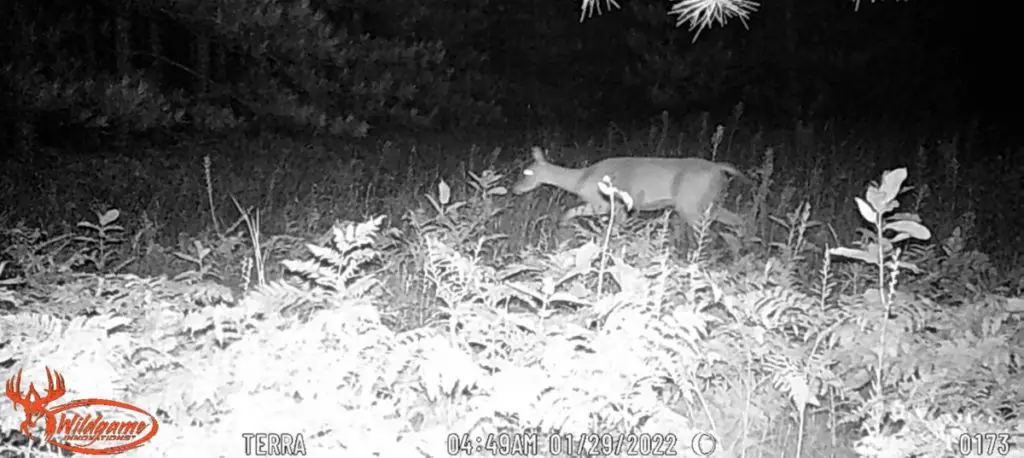 This photo is much better when it comes to both motion blur and pixelation. However, as you can see, the result of a better photo is due to a large amount of whiteout on the tall grass in the foreground of the photo. Most of the IR light was absorbed by the taller grass, giving the deer in the photo a much less aggressive light, resulting in less motion blur. This photo is a positive result because of camera placement, not as much a result of a good photo.
Video Quality
Score: 3/10
The video quality is slightly better than the photo quality. Most often with less expensive trail cameras this is the case. When running a camera in video mode, it allows the shutter on the camera lens to stay open, resulting in the more light entering the image sensor, and eliminating motion blur.
However, there is still quite a bit of pixelation in the 720p resolution video. The 30 frames per second the camera records in doesn't seem to help the overall smooth recording of the video. The lack of audio recording doesn't help its overall grade either.
Below is a short video of clips we had taken from the Terra Extreme 2.0. You can judge for yourself.
Engineering
Score: 5/10
The engineering of a trail camera is the backbone of the camera's success. This is where we are able to test all of the different assets of a camera, from battery life to detection distances to field of view. Everything that we report in the Engineering category is tested multiple times to ensure accuracy.
Battery Life
The battery life of this trail camera is probably its biggest asset. If you are looking for a camera that you can set and leave for months on end, this is actually a really solid option. In our testing using Energizer Lithium ion batteries, we were able to get 73,953 photos from a single set of batteries. This is an incredible feat, so much so that it ranks 3rd in all of the 2022 released cameras on the market.
Field of View
The field of view on a trail camera is the angle of area the camera takes a photo. A wide angle field of view would show a lot more in a photo than a camera with a smaller angle field of view.
The Terra Extreme has a field of view of only 42o . This is angle is right on par with the industry standard for field of views.
Flash and Detection Distances
The detection distance measures how far away an animal can be, and still have the camera trigger a photo. The daytime detection of 72 feet and the nighttime detection of 73 feet, are not horrible distances, but are still slightly below the average of all 2022 models.
The nighttime flash is the distance the IR flash is able to illuminate. This camera did fairly well in that category of a distance of 81 feet. What we liked is that when you match the nighttime detection distance with the flash distance you will have a flash that exceeds the detection distance. This assures that animals outside of the visible nighttime distance will not trigger the camera. Giving you less photos of animals standing in the shadows.
Trigger Speed and Sensitivity
The trigger speed on this camera is .7 seconds. While this is much slower than we like to see, it is often the case with less expensive trail cameras.
The sensitivity on cheaper trail cameras tends to lend toward more false triggers. With this camera, we actually were surprised that there was much fewer false triggers (8.3% of photos taken) than we had expected.
Below is a quick breakdown of the tests we performed
| Tested | Results |
| --- | --- |
| Battery Life | 73,953 Photos |
| Field of View | 42o |
| Daytime Detection Distance | 72′ |
| Nighttime Detection Distance | 73′ |
| Flash Distance | 81′ |
| False Triggers | 8.3% |
Price
Score: 7/10
The price of a trail camera is always the hardest to review. Our scoring of price is based on the value of the camera against the MSRP. We have set up a database of all trail cameras over the past 10 years, and determined that certain features, on a industry standard, raise the base price of a camera on average the same amount.
For example, if we were to take the MSRP of the Terra Extreme 2.0 of $59.99 as an low glow infrared trail camera, and made the exact same camera with a black flash option, this would raise the price of the camera by $10. This is not an opinion, based on our database set, this is industry standards.
We do this process with all of the features a camera has to offer; image sensor, flash, video resolution, film rate, warranty, trigger speed, flash distances, etc. This is based on the just the features a camera has to offer, not their overall performance.
With the Terra Extreme 2.0, we out data sets have determined that the fair market value of this camera would be around $70. With an MSRP of $59.99 this camera comes in slightly below our models, making it a good buy. However, buying it from amazon you have the ability to find it much cheaper.
| | |
| --- | --- |
| Camera Base Price | $50 |
| Image Sensor | $0 |
| Flash | $0 |
| Video Recording | $0 |
| Film Rate | $20 |
| Expected Price | $70 |
Warranty / Customer Service
Score: 4/10
All Wildgame Innovations' trail cameras come with a 1 year manufacturer's Warranty. While its nice to have any warranty, some of the more reliable trail cameras often come with at least a 2 year warranty. A longer warranty doesn't necessarily equate to a more reliable trail camera, however, it is a nice piece of mind for the customer when a manufacturer backs up their product.
When it comes to customer service I have had many phone calls, and exchanged multiple emails with Wildgame Innovations, and to say the least, each time I have come away feeling as though a trip to the dentist for a root canal would have been more pleasant.
Without rehashing an entire conversational experience with this company, you can check out the warranty and customer service section in our Terra Extreme Lightsout review.