Overall Score: 71/100
The Strike Force Full HD is the infrared version of the Browning's Sub Micro series trail cameras. The Sub Micro series is Browning's mid tier camera series that offers higher quality features in a smaller compact design.
As its name suggests the Strike Force Full HD is equipped with 1080p Full HD video recording. The resolution alone is not the most impressive feature, the 30 frames per second film rate, in combination with the Full HD resolution makes the video solid in quality.
Add in a long range flash and detection distance, a fast trigger speed and a solid camera recovery speed, this camera is loaded with customizable features to make it work and operate the way you need.
Manufacturer Specifications
| | | | |
| --- | --- | --- | --- |
| Megapixels | 22 MP | Timelapse | Yes |
| Video Resolution | 1080p | Photo Burst | 1-8 Photos |
| Dectection Distance | 80ft | Flash | Infrared |
| Flash Range | 110ft | Audio Recording | Yes |
| Recovery Speed | .5 Second | Power | 6 AA Batteries |
| Mounting | 1/4″-20 | Trigger Speed | .135- .7 Second |
| Warranty | 1 Year | MSRP | $139.99 |
Review Process
Our review process is very simple. We have compiled the 10 most important categories to trail camera users. Within those 10 categories we have a 10 point check list in which we we test each and every camera against.
With this 100 point check list we are able to acquire a comprehensive score we can use to compare trail cameras.
Oh, and most importantly, we never review a trail camera that we do not own, use and test first hand, ensuring that you get honest first hand information.
Here is the breakdown of our scoring sheet for the Browning Strike Force Full HD:
| | Score | Comments |
| --- | --- | --- |
| Design | 7/10 | Dimensions: 4.43H x 3.75W x 2.23D= 37.04 in3 |
| Ease of Use | 8/10 | Simple to use menu options, and easy to adjust different features. |
| Features | 7/10 | Infrared flash camera, with fast adjustable trigger speeds, and adjustable detection and flash distances |
| Daytime Photo Quality | 7/10 | Good color, and lack of motion blur, it does have a few issues with images being pixelated |
| Night Time Photo Quality | 8/10 | Very little motion blur, coupled with a quality night time flash, produces very good photos |
| Video Quality | 8/10 | Records video in 1080p with a frame rate of 30 fps |
| Timelapse | 6/10 | A basic timelapse, but does not have a working PIR system so motion does not trigger photos |
| Engineering | 9/10 | More than 44,000 photos on a set of Lithium batteries |
| Price | 5/10 | MSRP of $139.99 is slightly overpriced for this camrea |
| Customer Service / Warranty | 6/10 | Only a 1 year manufacturer warranty |
| Total | 71/100 | |
Pros and Cons
Pros
Micro series camera coming in at a modest 37.04 in3
Simple to use and setup, great menu structure
1080p video resolution filmed @ 30 fps
87′ tested detection distance
Cons
Native image sensor is only 1.6MP
Only a 1 year manufacturer warranty
Above average cost for what you get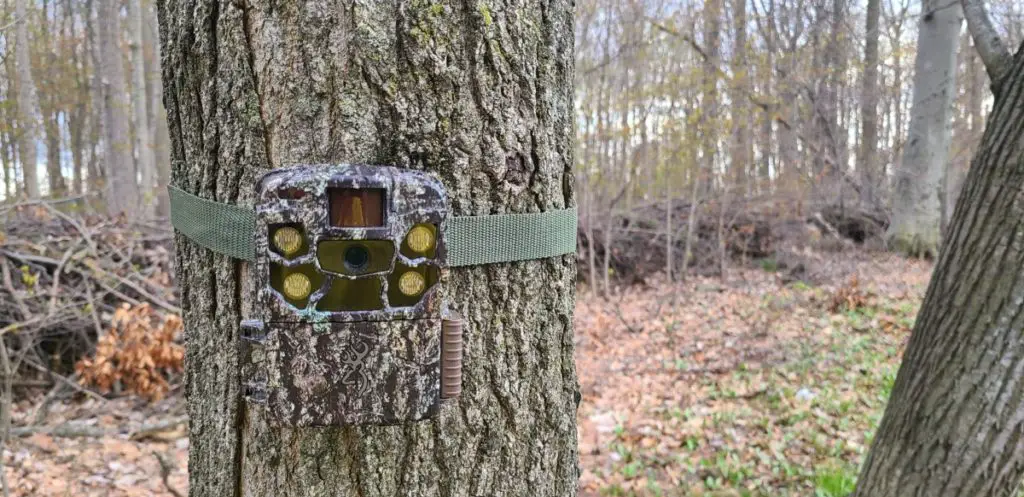 Design
Score: 7/10
Looking at the simple category of Design, you might instantly think of the the way it looks. While the overall appearance does have some value to the user who might need to hide their cameras, with camouflage, or a smaller profile, the design is much more than simply its appearance. It is the way it was constructed the durability, and its overall function from a mechanical standpoint.
Size
Coming in at 37.04 in3 (4.43H x 3.75W x 2.23D) this camera lives up to the micro series label. With a small profile combined with a real looking camo pattern, it is much easier to conceal than the average trail camera.
Mounting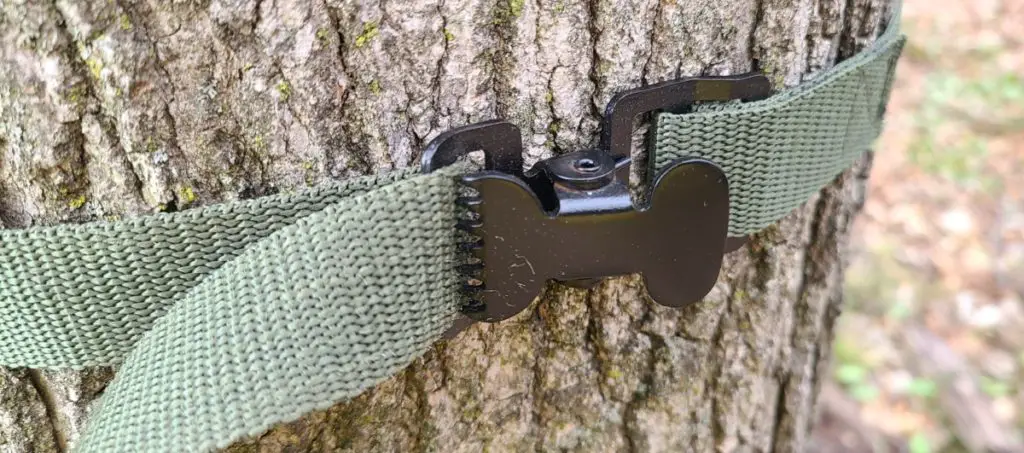 Like all Browning Trail cameras, the Strike Force FHD comes equipped with a 1″x 6′ durable webbed mounting strap, with a metal cinch tight clasp, that makes mounting the cameras simple easy.
Aside from the manufacturer provided strap system, these cameras are also equipped with 1/4-20″ bottom mounting threads. This gives you the ability to have flexibility with using aftermarket camera mounts.
Durability
Aside from the glass, which is a weak point of any camera, there are no durability issues with the Strike Force FHD. With a single hinged housing door and a single clasp latch, there is a tight sealed door, leaving very little chance of moisture to work its way into the housing.
The battery compartment is located separately on the bottom of the camera, making it impossible that any possible battery leaks could make into the housing of the camera, creating further problems.
Both the housing door and the battery tray are lined with a sealed tight rubber gasket for additional protection against the weather, making water damage less likely in normal circumstances.
Ease of Use
Score: 8/10
Like all Browning trail cameras they have a very easy to follow menu. Each option in the menu gives you direct control over that one aspect or function of the trail camera. Some other trail cameras often have a menu option for working time, and another for timelapse time. This is not a problem with the Browning menus. Everything you need to control one function is under one menu option, making it simple and easy to set up.
The only knock I have ever had on the ease of use of Browning trail cameras is that they do not have any pre-set features. Making it not as user friendly for those who are just beginning to use a trail camera for the first time. While with the Browning menu system, it is a short learning curve, they could do better to help those who are just learning.
Features
Score: 7/10
The Browning Strike Force Full HD has many unique features that are identical to the Browning Dark Ops Full HD, with the one exception that it does not have black flash. The Strike Force is an infrared (IR or red glow) trail camera.
Like all Browning Trail cameras they have two options for multi shot modes: Standard and Rapid. Here is a quick breakdown of the two
Standard- this burst mode is typical of almost any trail camera on the market. You choose the number of photos you want each time the camera is triggered, and it will take each photo 3 seconds apart from one another.
Rapid Fire- this burst mode is different in the fact that it will allow the camera to take all of the photos you selected to take within a very short amount of time. How short? Well each photo is taken .3 seconds apart. This is ideal for those who are using the trail camera for photographing fast moving items such as birds.
Below we have broken down some of the more interesting features for Photo and Video that this camera has to offer:
Photo Settings
Settings
Options
Resolution
2MP, 4MP, 8MP, and 22MP
Burst Count
Standard: 2-8 Photos
Rapid Fire: 2-8 Photos
Delay Settings
1, 5, 10, 20, 30 Seconds
1, 5, 10, 30, 60 Minutes
Trigger Speed
Normal: .7 Seconds
Fast: .135 Seconds
Motion Sensitivity
80ft and 60ft Range
Flash Range
Long Range, Fast Motion, Economy
Video Settings
Settings
Options
Video Resolution
720p @30fps
1080p @30fps
Video Length
5, 10, 20, 30 Seconds
1 and 2 Minutes
Smart IR Recording up to 5 Minutes
Audio Recording
Yes
Delay Settings
1, 5, 10, 20, 30 Seconds
1, 5, 10, 30, 60 Minutes
Motion Sensitivity
80ft and 60ft Range
Flash Range
Long Range, Fast Motion, Economy
Daytime Photo Quality
Score: 7/10
When we review photo quality for trail cameras, there are many different aspect that we take into account, such as the field of view, depth of field, motion blur, and low light quality, but sometimes we just need to pass the eyeball test. To most of you, that is all that really matters.
For a quick look at some of the tested photo specifications:
Field of View – 40o
Image Sensor – 1.6MP
Motion Blur- 8.4% of daylight photos had motion blur
For the rest of us, who prefer the eyeball test, here are a few photo samples from the Browning Strike Force Full HD, and a little bit of commentary on each photo, to explain some of the aspects that we look at in determining a quality photo.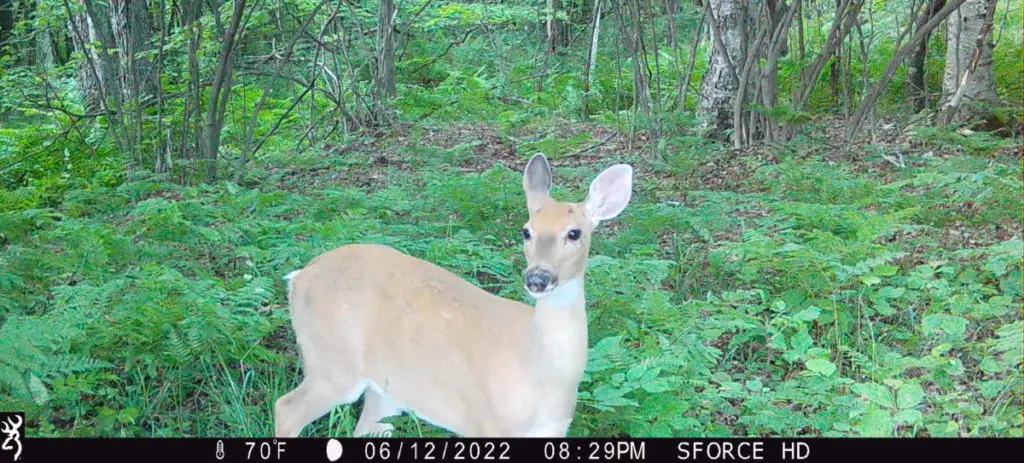 When it comes to photo quality the above picture is a great example. The whitetail deer in the frame is clear with good quality color. The soundings have good quality color as well, although they are not as sharp in clarity.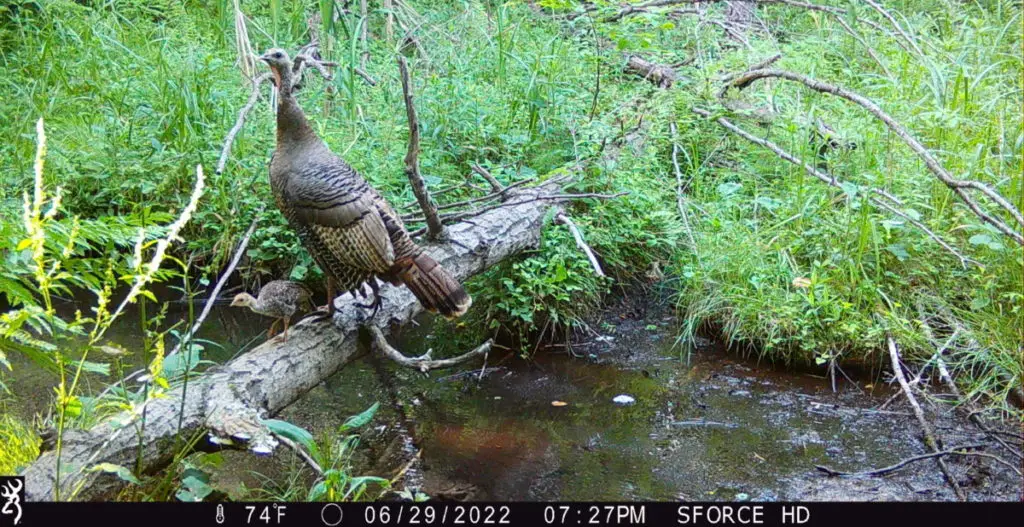 The turkey in the above photo, is easily recognizable, which is what most trail camera users care about. However, in this photo you can see quite a bit of grain especially in the water and the surrounding vegetation.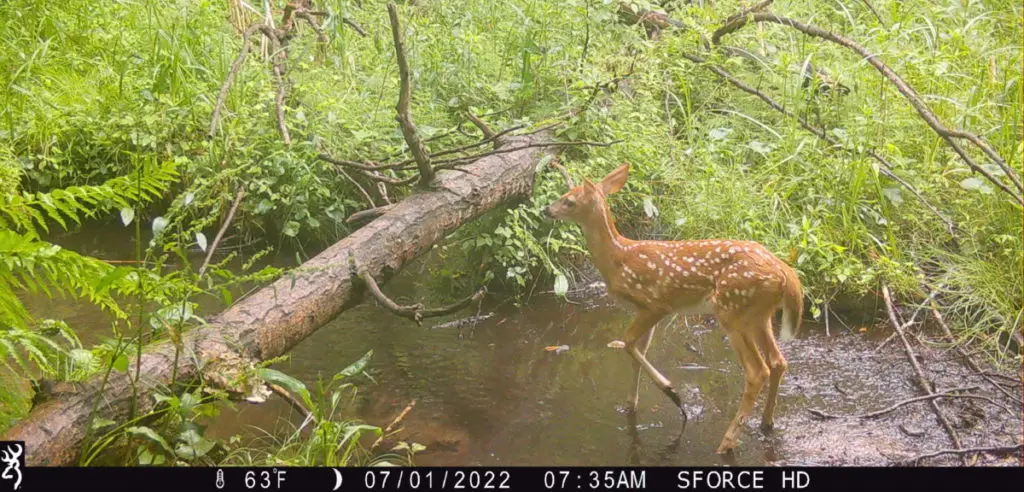 The fawn in this photo has fairly good quality. The day is an overcast day, so the color in the photo, especially in the surrounding vegetation is a bit blurred, which is to be expected.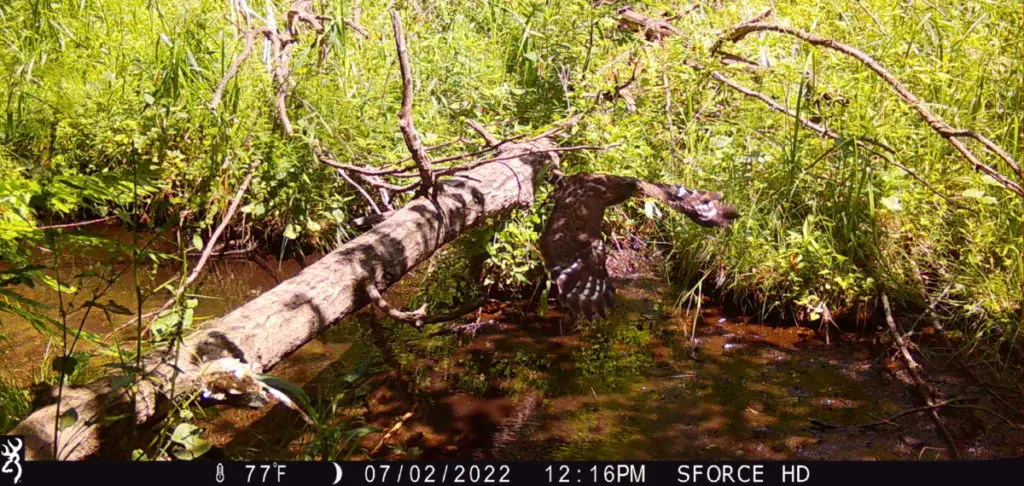 This photo of a hawk is a great action photo to show lack of motion blur. While the tips of the hawks wings are not as crisp and clean as you would seen by a professional photographer, in the context of a trail camera, the fact that this camera is able to capture this still moment, from a fast moving object is quite remarkable.
Nighttime Photo Quality
Score: 8/10
When it comes to nighttime photos, there are a handful of different aspects we look at to determine a good photo. The biggest things, that are most important to trail camera users are motion blur, eye glow, halo effect from the IR flash, and the difference between the flash and detection distance.
Here are a few examples of nighttime photos from the Strike Force Full HD: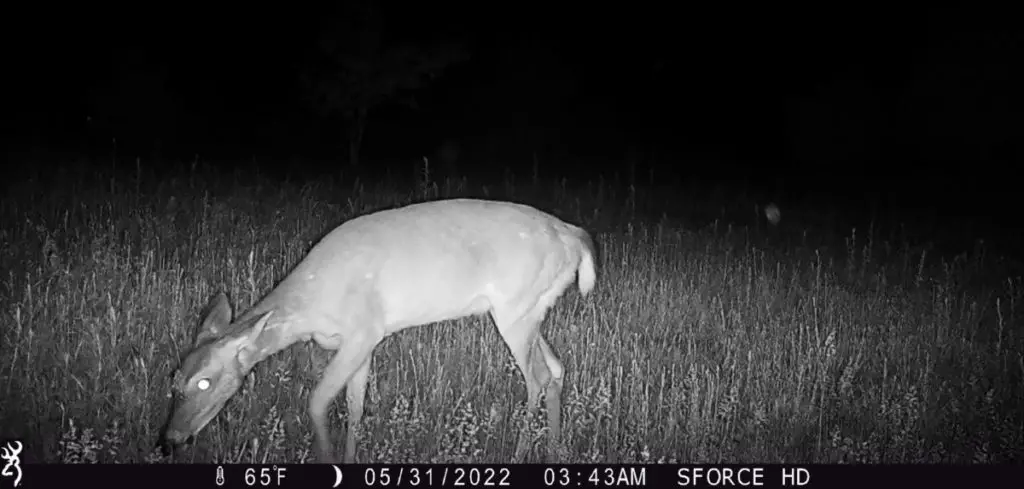 Although closer to the camera, the clarity of this doe at night is crisp and clean. The eye glow in the photo does not glow beyond the eye socket, and the IR flash does not create an arc, but rather seems to be evenly distributed across the photo. This is a good quality nighttime photo.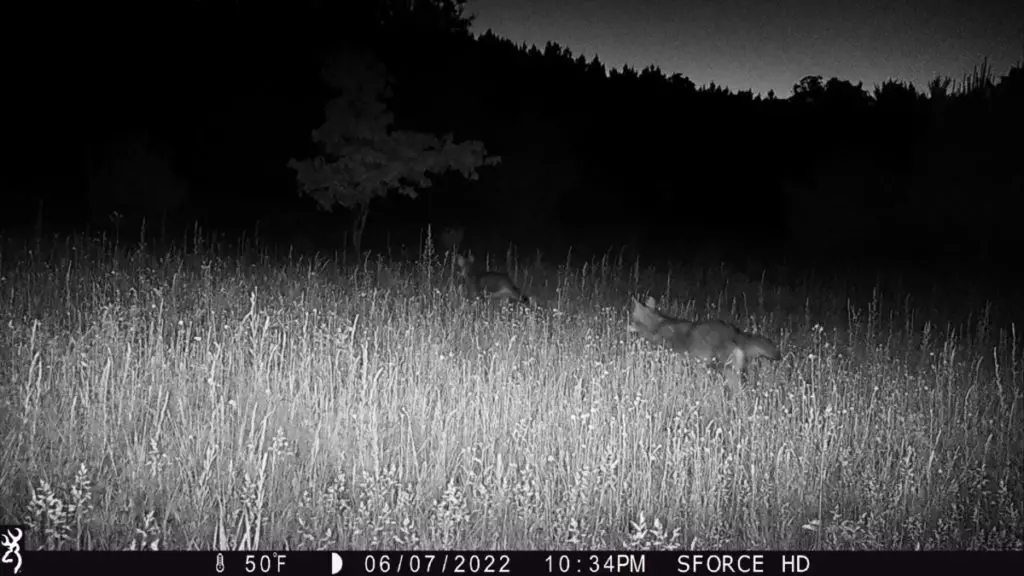 In the photo above the pair of coyotes are moving through tall grass, which as you can see creates a slight bit of motion blur. The motion blur is not bad, but it is there. Considering the speed in which a coyote moves, this amount of blur is to be expected. Again, in this photo you can see that there is no arc created by the flash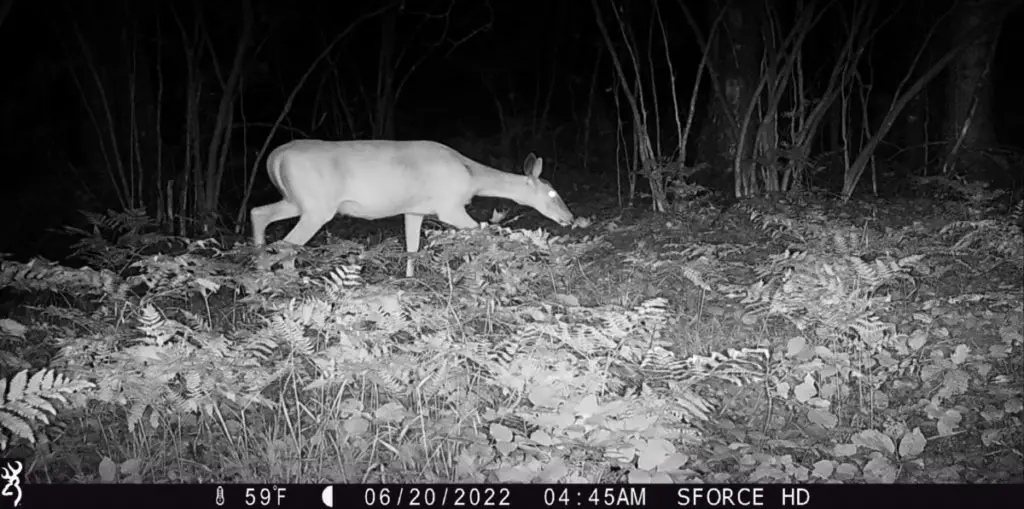 Again, this is another good quality nighttime photo. There is no excessive eye glow from the doe, and the image is clear. The surrounding vegetation in front of the deer is a bit blurry, but overall another quality nighttime photo from the Strike Force Full HD.
Video Quality
Score: 8/10
The video quality of the Strike Force Full HD is slightly better than its close sister camera the Dark Ops full HD. It comes with the same specs:
1080p @ 30fps
Quality Sound
Smart IR detection
The only difference between the two cameras, is that the nighttime quality is better than we got from the Dark Ops.
Take a look for yourself in the video examples below.
Timelapse
Score: 6/10
The timelapse feature for most trail camera users goes unused. It is often a forgotten tool in a trail camera's arsenal, but its quality is important for those who do take advantage of this feature. This camera however is missing a few available features within the timelapse mode, that keeps it from being ranked any higher than just average.
Some of the glaring weaknesses that we found are:
You can not use the regular PIR feature along with timelapse
The light meter is disabled during Timelapse mode, making it useless to use at night
You can not timelapse with video, it only supports photo options
Aside from those emissions from the timelapse option, it does come with buck watch software, which allows you to play back timelapse photos in a video form making checking your photos much easier than going through each photo independently.
Due to the lack of options it is simply just a basic timelapse feature, which is why it received an average score.
Engineering
Score: 9/10

While buying a trail camera, most look for good photo quality, and dynamic video, the one aspect that is probably the best indication of a good trail camera is what happens on the back end, the engineering.
With Engineering we look at all of the non visual aspects such as, detection distance, battery life, field of view, and flash distance. We run all of these items through a vigorous test, and here is our results. (not the specs printed on the box, but what the camera truly tests out as).
| | Manufacturer Specs | Tested |
| --- | --- | --- |
| Daytime Detection Distance | 80 ft | 87 ft |
| Nighttime Detection Distance | 80 ft | 84 ft |
| Field of View | NA | 40o |
| Flash Distance | 110 ft | 95 ft |
| Battery Life | NA | 44,719 Photos |
As you can see the detection distance in both nighttime and daytime, exceeded the manufacturer's specs. The flash distance however, underperformed by 15 feet in our tests. The battery life of 44,719 photos (set on 8MP photo resolution) on a set of AA Energizer lithium batteries, however, is very good battery life for a camera that only uses 6 batteries.
Price
Score: 5/10
When it comes to determining the price there are many factors that are analyzed to determine if a camera is a good buy or is over priced. Every feature, design, and performance is averaged out to determine the industry average in price based on the current market.
For instance a camera that has a black flash has a increased price of $10 compared to a low glow IR flash. Any camera that has a white flash would be an increase of $20. All of features and performances are placed into our data base that averages out the price for each individual camera.
After pouring over the industry standards we have determined that the Strike Force Full HD should come out to a MSRP of $120. The list price from Browning has this camera set at $139.99, an inflated cost of $20. So we determine that while there are places such as Amazon in which you can buy this camera at a cheaper price, the Browning MSRP is more expensive than the industry standard.
Customer Service / Warranty
Score: 6/10
While the warranty and customer service have very little to do with the overall performance of a trail camera, we have determined that it does in fact have a lot to do with the overall product. A company like Browning who warrants their trail cameras for only one year, creates a lesser value for the camera than a company such as Reconyx who has a 5 year warranty.
In the case of Browning, we have determined that while the camera is not covered passed one year, which ultimately lead to a lower score here, their products are not inferior to other cameras. In fact after many conversations with different manufacturers we have felt for a long time that Browning's low warranty is a business decision that helps them manage inventory.
Let me explain. Browning as a company produces a new lineup of trail cameras every year. After two years of being on the market, that camera is replaced by another new line. So essentially Browning has two years worth of camera lineups on the market at all times. If a customer is to buy a camera that is on its second year, and 2 years down the road that camera has a problem, Browning would be warranting cameras that have been out of production for 2 years. Making it a logistical nightmare for them as a company.
Now, whether they should produce a new line every year, just to capture market shares, is another conversation all together, but the point is that the warranty does not correlate directly to longevity of their trail cameras. The Warranty does, however, affect their customers, which is ultimately why it received a lower score.
Their customer service on the other hand has been nothing but solid for me. I have called up on numerous occasions with made up issues to test their customer service knowledge and overall helpfulness. Each time I was helped quickly and efficiently.
Their email service on the other hand is a bit slower. Having to wait multiple days to get responses to basic questions. But if you need assistance with a trail camera, calling is always the best option.