Overall Score: 70/100
The Browning Dark Ops Full HD is a part of Browning's 2022 line of trail cameras. It is their lowest end model that is equipped with a black flash. While it might not be Browning's top of the line trail camera, there is an expectation of quality that comes with Browning trail cameras, and this camera lived up to that name.
Overview
Very seldom do you find a trail camera that tests better than the manufacturer advertises. In fact, I believe it has happened only one time previous to this trail camera, but the Dark Ops Ful HD surprised us in many areas.
From detection distance to battery life, this mid tier camera outperformed some of its high end competitors. With that being said, the MSRP for the Dark Ops FHD is its major drawback. Coming in at $20 over what we would expect to pay for these features, gives this camera a black eye in an otherwise well performing camera.
Manufacturer Specs
| | | | |
| --- | --- | --- | --- |
| Megapixels | 22 MP | Timelapse | Yes |
| Video Resolution | 1080p | Photo Bursts | 1-8 Photos |
| Detection Distance | 80ft | Flash | Invisible Infrared |
| Flash Range | 90ft | Audio Recording | Yes |
| Recovery Speed | .5 Second | Power | 6 AA Batteries |
| Mounting | 1/4″-20 | Trigger Speed | .135 – .7 Seconds |
| Warranty | 1 Year Warranty | MSRP | $149.99 |
Review Process
Over the past few years we have created a list of 100 of the most important, features, designs, and quality, that trail camera users desire. That list is broken up evenly into 10 separate categories, that we check the camera against.
Our process is very simple: we use each and every trail camera in the field. That might seem like an obvious step in the review process, but the truth is, for many review sites its not normal practice.
We vow to never review a trail camera that we do not own, use and test. This way you know you are getting the most accurate information from someone who has their hands on the camera, and truly cares about how they perform.
Below is a chart of our scoring system on the Browning Dark Ops Full HD.
| | Score | Comments |
| --- | --- | --- |
| Design | 7/10 | 37.04 in3 is one of Browning's smaller cameras on the market |
| Ease of Use | 8/10 | Standard high quality menu and navigation we expect from Browning |
| Features | 8/10 | Black flash camera, with fast adjustable trigger speeds, and adjustable detection and flash distances |
| Daytime Photo Quality | 7/10 | Solid photo quality, but only a 1.6 MP image sensor |
| Nighttime Photo Quality | 7/10 | Quality light source, but still has some issues with motion blur |
| Video Quality | 7/10 | Records 1080p @30 frames per second, with audio |
| Time Lapse Mode | 6/10 | A fairly standard Time Lapse camera, that still has the option of using PIR sensor to take photos as well |
| Engineering | 9/10 | Great battery life, and one of the better detection distances in 2022 trail cameras. |
| Price | 5/10 | MSRP of $149.99 almost $20 more than we would expect to pay for the quality and features of this camera. |
| Warranty / Customer Service | 6/10 | 1 year Manufacturer Warranty |
| Total | 70/100 | |
Pros and Cons
Pros
Simple to use menu and setup
Great battery life, collecting 51,000 images on a single set of batteries
Has a detection distance over 100 feet
Completely adjustable to fit your situation from, detection distance and flash power to trigger speed and camera delay
Cons
1 year Manufacturer Warranty
The MSRP of $149.99 is $20 higher than we would anticipate a camera of this quality with these features.
Design
Score: 7/10
Size
Measuring in at 4.43″H x 3.75″W x 2.23″D for a total of 37.04in3 the Dark Ops Full HD is one of Browning's smaller trail cameras on the market. This smaller size is not only good for hiding the camera from game and thieves it gives you a versatility that some of the larger trail cameras on the market don't provide.
Being able to fit this camera in the crook of a tree, or use after market camera mounts in tight locations, gives you the flexibility to place the camera where you want, not just where you can.
Mounting
When it comes to mounting, not all trail cameras are built the same. The Full HD comes with a 1in x 6ft durable webbed strapping, and a metal cinch tight buckle to assure that your camera is mounted securely to the tree.
While I truly have always appreciated the quality of the Browning buckle, I feel that this year they used tighter springs to give it a stronger hold in the field.
While in theory using higher quality materials would make sense, I have found the when pulling the tag end of the strap to cinch the camera tight, the springs are so much tighter that they dig into the strap creating abrasion between the buckle and the strap. Something that might cause durability issues down road.
Of course, the Dark Ops Full HD is also equipped with a 1/4″-20 female thread on the bottom of the camera, giving you the option to use trail camera mounts as well.
Durability
Aside from the previously mentioned possible abrasion problem with the strapping, this camera is built to last for years to come. With a sturdy outer shell, and a tightly cinched housing door, it is ready to face the elements.
One thing that I have always liked about Browning trail cameras is that they have a separate housing for the battery compartment. This gives separation between the batteries and the electronics within the housing, in those instances where a battery might leak or corrode, giving you and extra layer of protection to the electronics.
Miscellaneous
The biggest markdowns that we had on this trail camera was that you can not lock the housing door, allowing it available for less honest people to steal your SD cards. This is one thing that Browning has yet to incorporate into any of their trail cameras.
The other markdown is that it does not have a playback screen. While this is not typical on most cameras that are not in the higher price range, it is a nice feature to have a 2-3″ screen to not only play back photos and videos right at the camera, but it helps in aiding you in setting up the camera at the right angle for the shot you are looking for.
Ease of Use
Score: 8/10
Menus
One of the biggest things that we look for when determining the ease of use is how user friendly are the menus within the camera. Are they easy to navigate? Are the settings options categorized correctly, saving you time trying to find all of the options for one specific setting? And are the terms used universal and easy to understand?
With all of Browning's trail cameras that hit the market in 2022, each one of these boxes are checked. Everything is easy to find and navigate, and the terms are very standard terms such as it tells you exact megapixels rather than a generic, low, high, and ultra megapixel setting that some trail cameras use.
Navigation Buttons
One of things that drive me crazy with some cameras is when they have navigation buttons that are not simple and easy to understand. For instance some have an on/off button that simply says "OK" that you have to hold to even turn on.
I have seen some cameras with right and left arrows, but what happens when you want to toggle up and down? And don't get me started on placing the on/ off switch on the bottom of the camera, where you have to practically stand on your head to make sure you are switching to the right position
With Browning trail cameras, you don't have to worry about any of this. with a full navigational pad on the front of the camera, a separate menu button, and an enter button, you never question if you are changing the correct setting.
Pre-Set Features
The only negative thing that we found on the ease of use with this camera is that everything is customizable. For some that is the way it should be, but for others, especially just getting into using trail cameras, having a few pre-set options is much easier.
With some cameras they have 3 or 4 options for a quick set. Those options may look different depending on the camera, but they often involve a few different photo options and maybe a video option, where the settings are completely set.
The Dark Ops Full HD does not have this option. You need to set not only the mode in which you want to use, but also the burst count, recording time, resolution, and delay settings. While it gives you more available options, which I can not fault Browning for, it doesn't make it simple for a beginner.
Features
Score: 8/10
The Browning Dark Ops Full HD has a nice bag of features from Invisible infrared, video and audio recording, and timelapse, to adjustable trigger speeds, detection distance and flash distances. This camera is completely customizable to the surroundings and finished product you are looking for.
The one thing that Browning trail cameras do not have is a hybrid mode of both video and still photos from the same trigger.
But like most Browning cameras they have two different multi shot modes for photos: Standard and Rapid Fire. Here is a quick breakdown of the difference between the two:
Standard- this burst mode is typical of almost any trail camera on the market. You choose the number of photos you want each time the camera is triggered, and it will take each photo 3 seconds apart from one another.
Rapid Fire- this burst mode is different in the fact that it will allow the camera to take all of the photos you selected to take within a very short amount of time. How short? Well each photo is taken .3 seconds apart. This is ideal for those who are using the trail camera for photographing fast moving items such as birds.
Below we broke down some of the most interesting features for Photos and Videos
Photo Settings
Settings
Options
Resolution
2MP, 4MP, 8MP, and 22MP
Burst Count
Standard: 2-8 Photos
Rapid Fire: 2-8 Photos
Delay Settings
1, 5, 10, 20, 30 Seconds
1, 5, 10, 30, 60 Minutes
Trigger Speed
Normal: .7 Seconds
Fast: .135 Seconds
Motion Sensitivity
80ft and 60ft Range
Flash Range
Long Range, Fast Motion, Economy
Video Settings
Settings
Options
Video Resolution
720p @30fps
1080p @30fps
Video Length
5, 10, 20, 30 Seconds
1 and 2 Minutes
Smart IR Recording up to 5 Minutes
Audio Recording
Yes
Delay Settings
1, 5, 10, 20, 30 Seconds
1, 5, 10, 30, 60 Minutes
Motion Sensitivity
80ft and 60ft Range
Flash Range
Long Range, Fast Motion, Economy
Daytime Photo Quality
Score: 7/10
Sometimes simply giving all the statistical measurements doesn't mean too much, and you just have to allow the photos to pass the eyeball test. That is the way the Dark Ops Full HD photos are.
We could go over all the statistics of a 1.6MP image sensor, and smaller 40o field of view, and a high interpolation rate of all the photos. But the truth is, if the photos come out looking nice, with minimum motion blur and solid color, the rest simply doesn't matter.
While the photos might not be as sharp as some other cameras, it simply gets the job done, with very good quality. Take a look at the photos and give it your own eyeball test.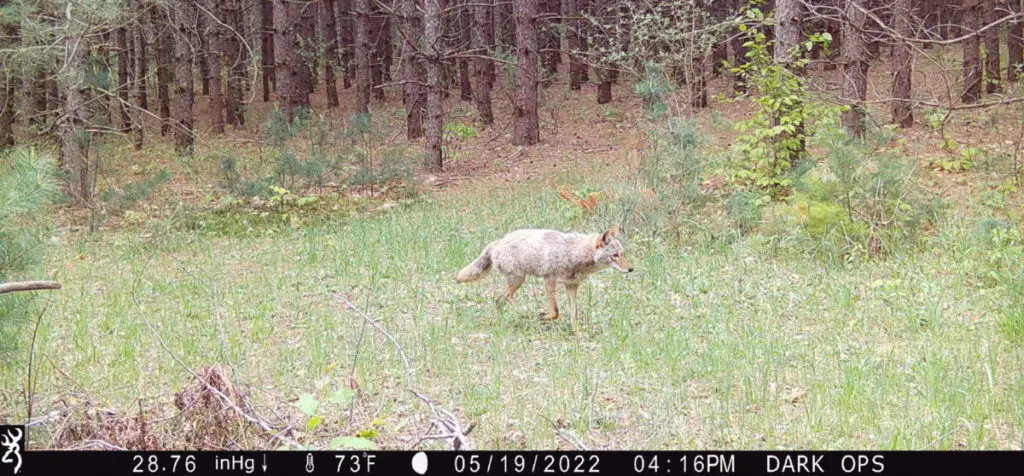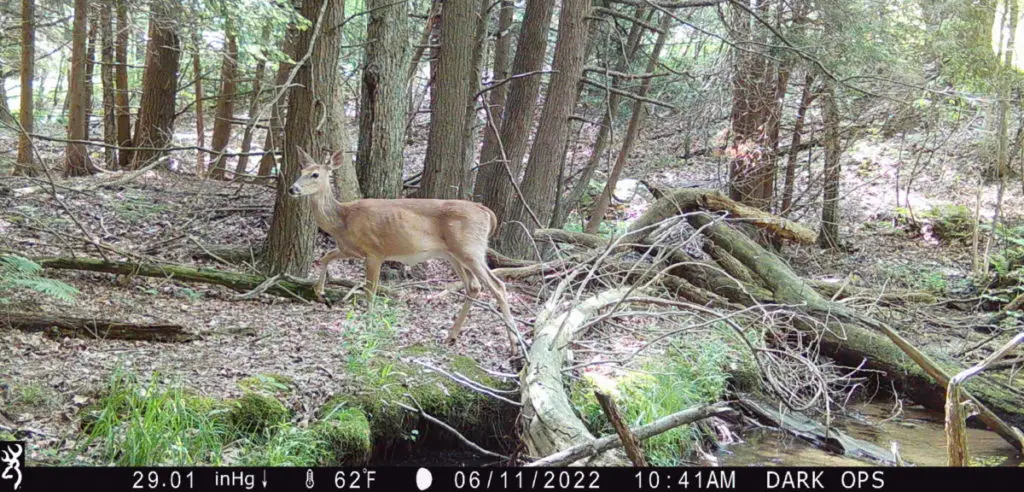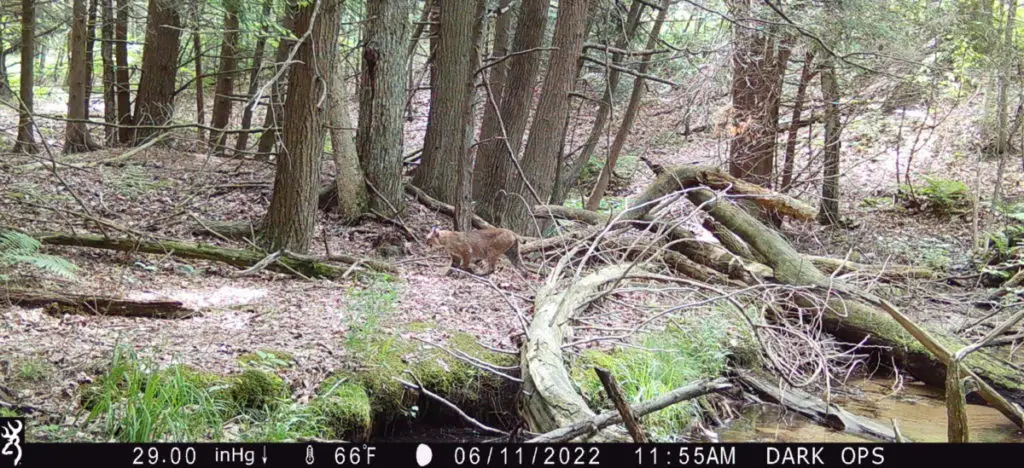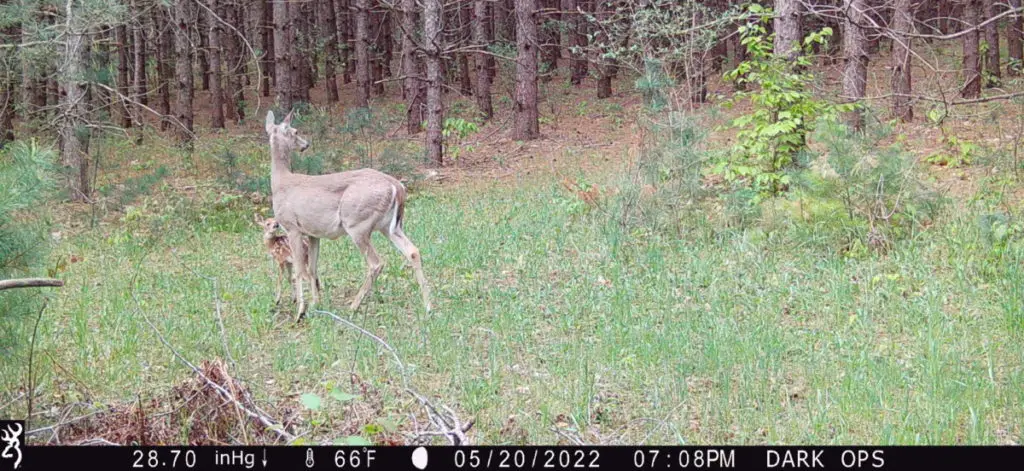 Nighttime Photo Quality
Score: 7/10
For any trail camera, despite the quality or the price of the camera taking nighttime photos is simply just difficult to master. There are a lot of considerations when it comes to light manipulation, trigger speed, brightness, and depth of field. When taking still photos from an automatic camera you will just simply never get a perfect nighttime photo.
The Dark Ops Full HD did do a very good job with their nighttime photos though. There is very little grain in the average photo, the light distribution is even across the camera and there are no whiteout situations where the light was manipulated too much.
With that being said, there was a fairly large amount of motion blur on animals that moved quickly across the field of view. This camera also had a hard time with getting the right about of flash and exposure of photos taken during the early dawn and late dusk.
Take a look at some examples of nighttime photos below.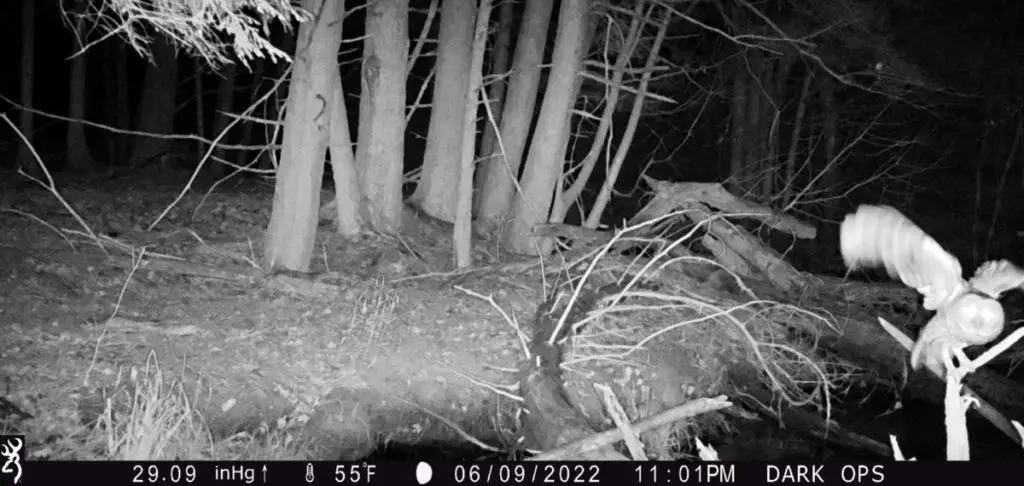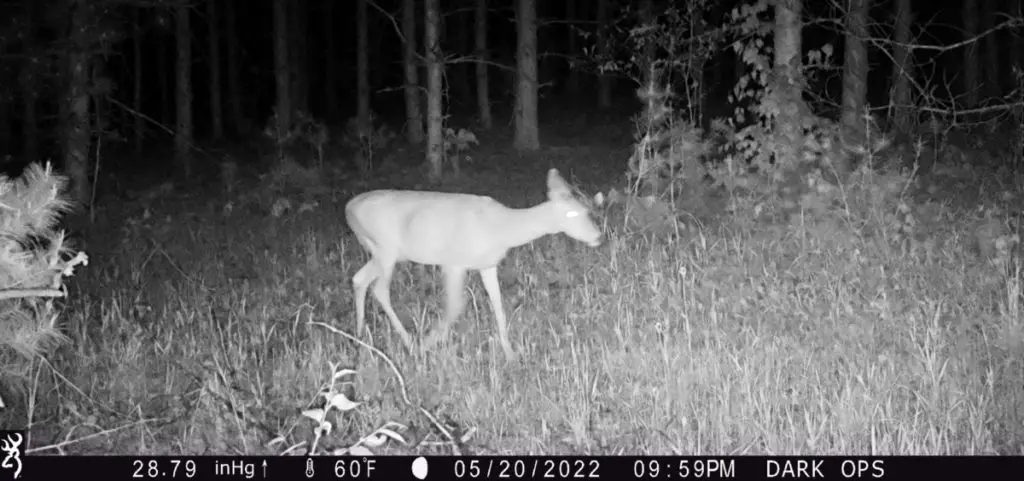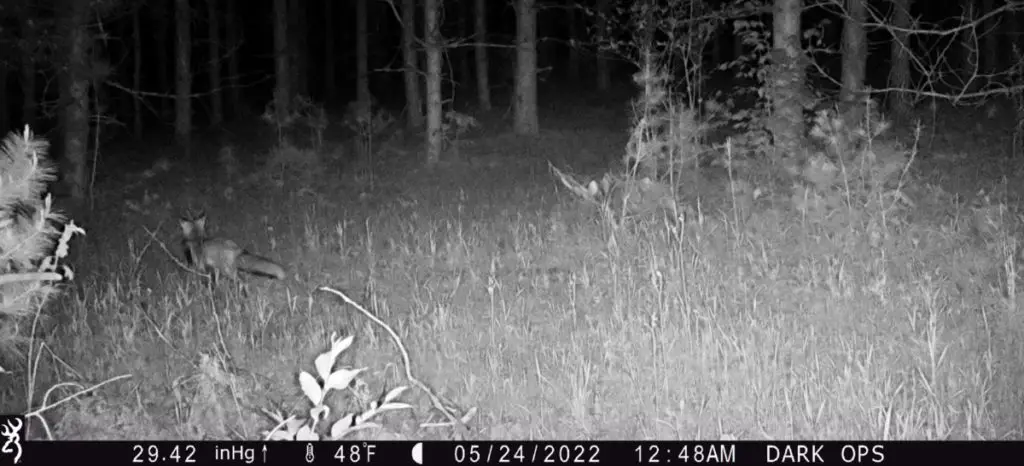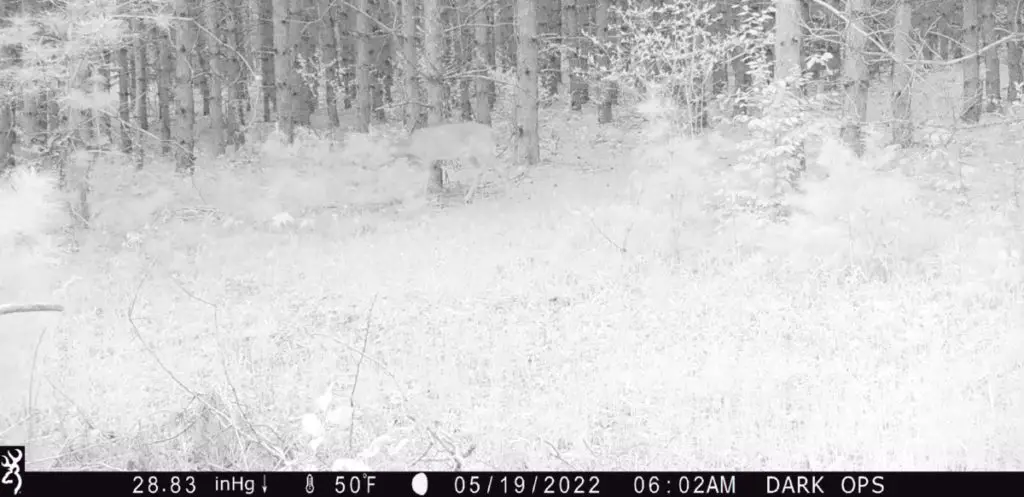 Video Quality
Score: 7/10
The video quality of the Dark Ops Full HD is pretty on par with what we are finding from just about every aspect of this trail camera: its fairly good quality. While it is not exceptional, for most people who run trail cameras, the quality is definitely acceptable.
Video is filmed with a 1080p resolution at 30 frames per second, which also includes audio recording. It has the ability to use Smart IR, which films only as long as there is an animal in front of the camera. This can include video from 5 seconds up to 5 minutes, saving you space on your SD card of any videos with false trigger.
The short video below is some examples of the video quality you would expect.
Timelapse Mode
Score: 6/10
In general, most timelapse features on trail cameras operate about the same. You set the time you want the camera to work, the amount of time in between photos, and the time you want the camera to stop working.
Its the little things that make some trail cameras much more appealing to use in timelapse mode than others. For instance, still having the ability to take photos using the PIR sensor, having a nighttime flash that allows timelapse photos into the night, and the ability to using video as well as photos.
The Browning Dark Ops Full HD has none of those features. However, what it does have is good quality photos, multiple operating hours, a downloadable timelapse viewer, and a sensor that learns the amount of daylight in the day, and adjusts the start and stop times accordingly.
Engineering
Score: 9/10
The Engineering of a trail camera is likely one of the most important aspects in our review process. While having all of the features is nice, how they perform is most important, and we test everything. Detection distance, battery life, flash distance, field of view, are all ran through our vigorous tests.
The Browning Dark Ops Full HD performs very well in almost all of these categories. In the chart below is some of the test that we preformed, to give you an accurate expectation.
| | Observation | Comment |
| --- | --- | --- |
| Daytime Detection Distance | 100 ft | Outperformed the Manufacturer specs by 20ft |
| Nighttime Detection Distance | 84 ft | Good distance for nighttime detection |
| Field of View | 40o | More narrow than most trail cameras |
| Flash Distance | 65 ft | The long distance setting, reaches up to 65 ft |
| Battery Life | 51,001 images | Very good battery life |
Price
Score: 5/10
There are many features, designs, and performances that go into figuring out the expected price of a trail camera. Each of which, we have given an average price increase based on the current market. For instance, a camera that uses black flash has an average increase in price of $10, while a camera that uses white flash will have an increase of $20.
After pouring over each and every one of these features, we were able to determine that based on averages, this camera should retail at around $130. However, Browning has the MSRP set at $149.99.
Even the better deals on Amazon have the sale price higher than what we would determine a good value purchase.
Warranty / Customer Service
Score: 6/10
One of the most overlooked aspects of a trail camera may be the warranty. For most manufacturers they will only warranty a camera for the amount of time they expect the camera to last. It wouldn't make sense to warranty a camera for 10 years if it has an expected field life of 2 years, that is just bad business.
I mention this because with Browning, I feel like their one year manufacturer warranty isn't a case of expected life span of their cameras, but rather an attempt at inventory management. Every year they release a new fleet of cameras, and the idea of honoring a warranty from two years prior, with a camera they no longer produce, would turn into a logistical nightmare as a company.
With that said, they still only pass down a one year manufacturer warranty to the customers, and that is obviously below industry standards.