With the hundreds if not thousands of choices for trail cameras on the market, how do you decide?  Do you go with a brand name, with high megapixels? Or maybe an expensive camera with a fast trigger speed?  The choices are endless.  
We have spent years running, testing and figuring out what makes a great trail camera.  We focus on quality, longevity, and the ease of use.  With basic trail cameras, ones that we classify as simple set and shoot, the object is to have a quality camera that takes excellent photos, that wont break the bank.
Here are our recommendations of Basic Trail cameras that we know you will love as well
Browning Dark Ops Pro XD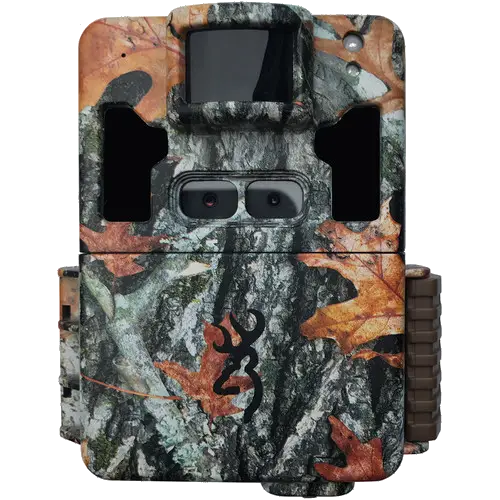 With the Dark Ops Pro XD, Browning pulled out all the stops on possibly their best trail camera to date. Stuffed full with all of the features we have grown to love about Browning, fast trigger speed, easy set up, and the buck watch time lapse technology, they have added some new features that could fundamentally change the trail camera industry.
Beginning with the camera lens, one of the most difficult aspect of photography is to match the correct aperture with the right shutter speed and ISO. While this might seem like technical jargon, it is a very intricate problem that causes motion blur during night time photos. What Browning has done, is in order to capture the right amount of light from the aperture of a fixed lens, they created a lens for day light, a well as one for night time. The dual lens system allows for the firmware to create the best settings for daytime pictures and night time pictures. The best of both worlds.
If you enjoy running video mode on your trial camera, you have undoubtedly had moments where the video stops recording at the very moment a nice buck walks into view. Most video modes are set up using a set recording time from the moment the PIR is activated. Not any longer with the Dark OPS Pro XD. This camera is equipped with their very own Smart IR video technology. This technology allows the video mode to record whenever there is heat and motion. Meaning video mode will always capture the entire action that happens in front of your camera, whether it be 5 seconds of a squirrel climbing a tree, or 3 minutes of two bucks sparing. As long as the PIR system can detect heat and motion, the camera will stay rolling.
Along with their Smart IR technology, their video recording at 60 frames per second is an industry leader creating a smooth video experience. If you enjoy using video modes on your trail camera, this camera is the best in the industry to date
With adjustable night flash intensity, 1.5″ color view screen, and an all steel adjustable tree mounting bracket (that I find as convenient as any of the technology), the Browning Dark Ops Pro XD has it all, and is worth every penny.
| | |
| --- | --- |
| Megapixels | 24 MP / 16 MP / 10 MP / 4 MP |
| Camera Modes | Image / Timelapse plus Trigger Pictures/ Video |
| Trigger Speed | .15 second |
| Detection Distance | 80 Feet |
| Flash Type | Invisible Infrared |
| Flash Distance | 80 Feet |
| Video | 1080p @ 60fps / 1080p @ 30fps |
| Battery Requirements | 6 AA Lithium |
| Warranty | 1 Year |
Exodus Trek
The Trek, made by Exodus Outdoor Products, is one of our favorite cameras for static sets, such as scrapes, mineral stations, food plots, and staging areas.  This camera is a scaled down version of the Exodus' flagship camera the Lift 2.  
With a .7 second trigger speed, extra long battery life (20,000 images) and a 50′ no glow black flash range, this price competitive camera is every bit as good as some brand named higher priced cameras.  
What we like about the camera the most, aside from the excellent photos, is simply the company that stands behind it.  Exodus as a manufacturer is an excellent producer of cameras, but as a customer service provider, is in a league of their own.  With a  5 year "No BS" warranty, you have the pleasure of knowing your camera will be in the field for years to come.  
Aside from backing their trail cameras with an industry leading warranty, they also back their customers from the gut wrenching experience of having a trail camera stolen, with their 5 year 50% off theft and damage policy.  From a consumer stand point, that is the type of company I enjoy supporting.  There is not another camera on the market that is made with this quality, with a 5 year warranty for under $150. Make sure you pick up your Exodus Trek today.   I am positive that you will be satisfied with your choice. 
Megapixels
12MP/ 8MP / 6MP / 2MP
Camera Modes
Image / Video / Timelapse / Hybrid
Trigger Speed
.7 Seconds

Detection Distance
55 feet
Flash Type
No Glow
Flash Distance
50 feet
Video
720p 30FPS / 1080p 15FPS
Battery Requirement
8 AA Lithium
Battery Life
20,000 Images
Warranty
5 Year "No BS" warranty
5 Year 50% off theft and damage policy