The 2022 Wildgame Innovations trail camera lineup has been released and at Trail Cam Junkie, we will be reviewing each and every trail camera from their lineup, along with cameras from multiple other manufacturers. To start we look at the Terra Extreme Lightsout trail camera.
The Terra Extreme Lightsout, comes in two different models, the 18MP and the 20MP. Before we begin to break down these two cameras, it is important to emphasis that these two cameras, although sold as different models, at two different prices, these cameras are the same exact camera. The only difference between the cameras is the maximum megapixels.
They both have the same outer shell, operating system, number of black flash lights, detection distance, video quality, image sensor and flash distance. The only thing that separates them is the interpolation on the back end of the camera, which makes no difference in the quality and functions of the camera.
If you would like to read more about this, please check out our article: Why trail camera megapixels are not important.
With that bit of knowledge out of the way, the Terra extreme is a camera that is good for a beginner or someone who is looking to place out a lot of trail cameras, at a reasonable price, as both models come only in 2 packs. Throughout our review process we constantly kept shaking our heads at some of the simple options, such as timelapse mode or hybrid mode, that simply were excluded.
In the end, the Terra Extreme Lightsout scored /100 during our review.
Review Process
Our review process is very simple. We purchase the camera, use it in the field, test all the manufacturer's specs, and the abuse it a little to make sure it holds up to the elements. Each and every trail camera we review is checked against our 100 point checklist. A list made created from the most 100 most important aspects of a trail camera. This way, each camera has the same review process and is evaluated the exact same way.
We vow that we will never review a trail camera that we have not owned and used extensively, assuring that you get a fair and unbiased review.
Score
(20MP)
Score
(18MP)
Comments
Design
7/10
7/10
Aside from the general appearance it is a sturdy quality built camera
Ease of Use
9/10
9/10
Very simple, basic menu, with multiple quickset options available
Features
5/10
5/10
Very few adjustable options outside of the typical burst count
Daytime Picture Quality
1/10
1/10
Almost all of the photos are pixelated, with poor color quality
Nighttime Picture Quality
3/10
3/10
Mostly pixelated photos, with a lot of motion blur during nighttime photos
Video Quality
5/10
5/10
Video records in 720p @30 frames per second, but does not record sound
Timelapse Mode
0/10
0/10
Camera does not have timelapse option
Engineering
6/10
6/10
Extremely good battery life
Price
9/10
9/10
The only downside is you have have to buy a 2-pack making the overall price higher. MSRP for the 2 pack is $99.99
Warranty / Customer Service
3/10
3/10
1 year Manufacturer warranty
Total
48/100
48/100
Pros and Cons
Every camera from every manufacturer has its areas in which it performs well and and areas in which it needs to improve upon. Here is a quick break down of those things that stood out to us.
Pros
Extremely good battery life
Price per camera is well under market value.
Very simple to set up and use
Cons
There is no time lapse feature
Photos have a lot of grain and motion blur
There is no audio recording during video mode
Very poor customer service, and only a 1 year warranty
Manufacturer Specs
Megapixels
20 MP (20MP)
18 MP (18MP)
Timelapse
No
Video
720p @30 fps
Video Length
5,10, or 20 seconds
Flash Range
60 ft
Detection Distance
60 ft
Trigger Speed
.7 Seconds
SD Capacity
32 GB
Wireless Connection
No
Time Stamp
Date, time, moon phase
Warranty
1 year Manufacturer
MSRP
$99.99 (20MP 2-pack)
$119.99 (18MP 2-pack Combo)
Design
Score: 7/10
Appearance
The general overall appearance of the Terra Extreme Lightsout, is pretty bland. There is not camo pattern, to help blend the camera into the surroundings, the finish color is simply a matt gray, and the texture is a cheap looking rendition of gray bark.
Mounting
The mounting options are basic options with a 1″ x 6′ weaved strap with a plastic cam buckle. The buckle being made of plastic keeps the hardware from rusting in the elements, but the cam buckle is one of our least favorite types of buckles. It doesn't tend to hold as tight as the spring buckles that we prefer. However its easy to use and tends to get the job done.
The Terra Extreme also comes equipped with a standard 1/4-20 thread on the bottom of the camera making it simple to use aftermarket mounting brackets, if that is your preference.
Size
Measuring at 5.3″T x 3.8″W x 2.4″D, this camera comes in at 49.27in3 , which is below our maximum acceptable size. While there are obviously much small cameras on the market, the Terra Extreme seems to fit in the average size category.
Durability
Quite often when dealing with cheaper priced cameras, durability becomes an increasing issue. Surprisingly enough durability with this camera did not seem to be an issue. The housing door latches tight, and is combined with a solid flat gasket to keep the moisture out.
The outer shell of the camera is a hard durable mold, and the batteries have a separate compartment to keep an extra layer of moisture protection to the power source. It checks all of the boxes for strength and durability, that will keep this camera in the field for a long time to come.
Ease of Use
Score: 9/10
Cameras that tend to have less settings often score much higher on the ease of use. This often is the case do to the lack of menu options needed to get the camera up and running. In the case of the Terra Extreme, you simple set the date, time, setting (video or photo), burst mode, delay and resolution and you are set to go. There is no excess menu options, everything is controlled through one continuous loop on the main menu.
If setting the camera up in custom mode is too confusing, this camera also offers 3 preset modes where you only have to set the time and date, and the camera will take care of the rest of the settings for you.
Its simple and easy to set up and run, making it perfect for a beginner.
Features
Score: 5/10
In the same way that cameras with less settings tend to score well on ease of use, those cameras that are extremely easy to use, have less features. This camera is no exception. Wildgame Innovations simply eliminated basic functions of a typical trail camera such as timelapse or adjustable flash power, and had very few options with other features such as photo bursts and video recording lengths.
Mode
Options
Comments
Photo Mode
4 MP , 8MP, 18MP*, 20MP*
*The 18 MP is available only on the 18MP model
and 20 MP is available only on the 20MP model
Photo Bursts
1-3 Photos
3 Photos as the max burst number is quite small.
Video Mode
720p @ 30fps
This is the only option for Video resolution
Video Recording
5, 10, 20 Seconds
In most circumstances 20 seconds is long enough for video recording, but for a camera that does not offer a smart IR recording option, 20 seconds is very low.
Delay
5,10,15,30,60 Seconds
While a lot of cameras offer delays that extend minutes and even hours long, the delay length of 60 seconds max, is more than enough for most trail camera users.
Daytime Picture Quality
Score: 1/10
For some, just being able to identify an animal in a trail camera picture is all they are looking for. If that is you, this camera is adequate. You can tell a turkey is a turkey, a deer is a deer, and as long as they are not moving, a bobcat is a bobcat.
I personally, however, have looked at literally millions of trail camera photos, and can instantly tell the difference between a quality photo and poor photo. The Terra Extreme produces a poor quality photo.
The color profile that it produces is dull, and the clarity of the photos lacks a sharpness that you would hope from a trail camera.
As you can see in the photo below, it is quite obviously a turkey fanning, but when you look at the head specifically, there is no contour difference between the wattle and the crown of the head. If it wasn't for the bright red color you would be able to tell the difference. While it might not mean much to some people, it becomes a much more difficult problem when you are needing photos to see details, such as counting antler points, or identifying facial features of a trespasser.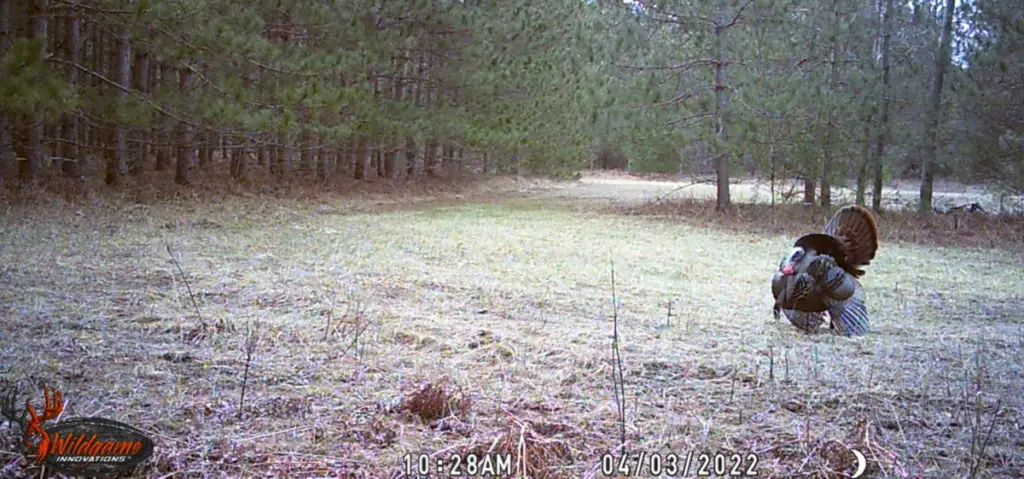 As you can see in this picture of a bobcat, motion blur, even in the daylight, is a large problem with this camera. Almost every photo where an animal is moving, has motion blur.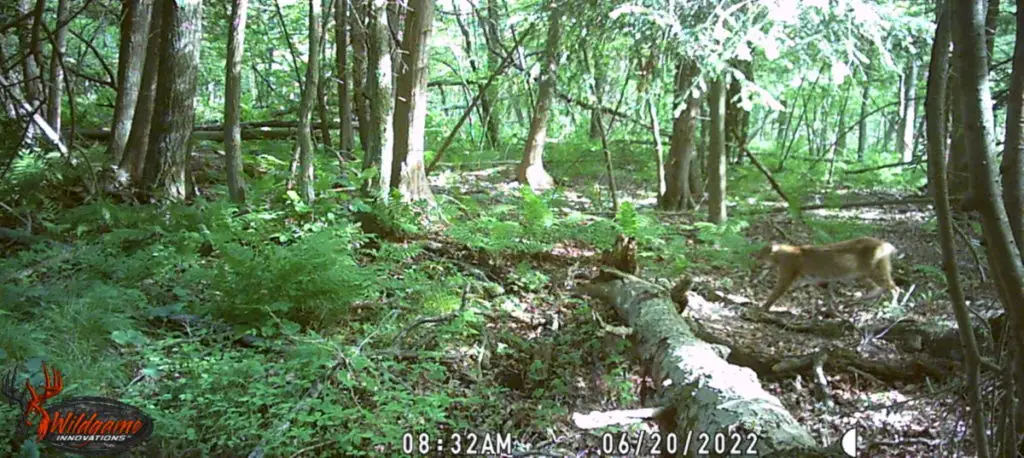 This photo below is a good example of poor definition in the photo. While the deer is very close to the camera, you can see that all of the background blends together. You would be hard pressed to pick out one specific leaf, or fern. This type of definition in the photo becomes frustrating when there are other animals in the background.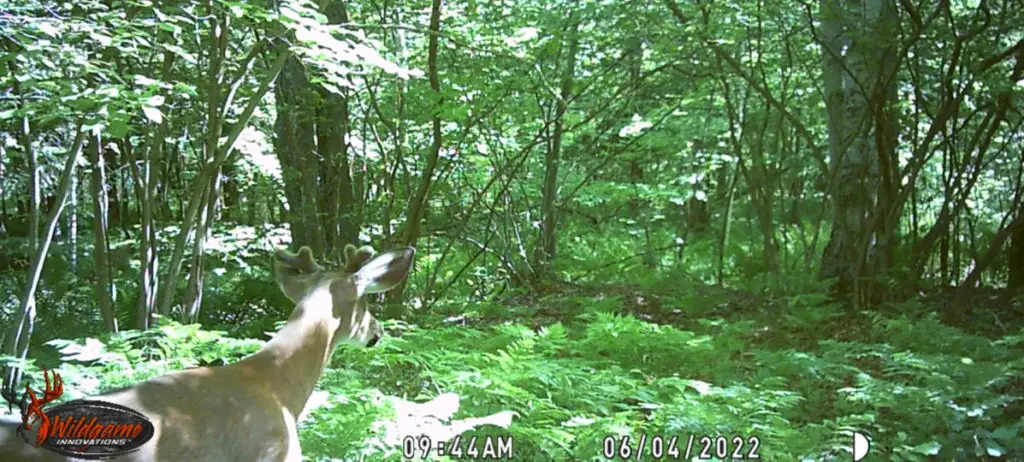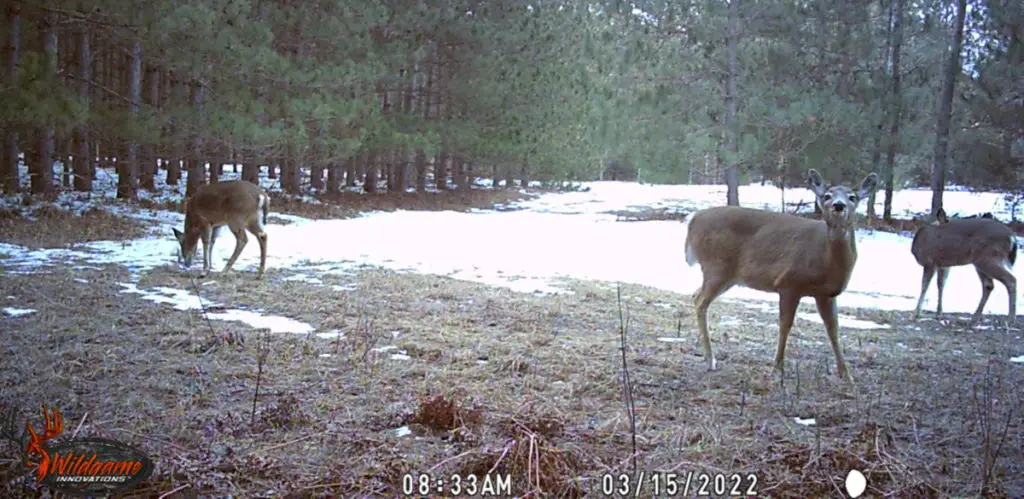 Nighttime Picture Quality
Score: 3/10
The nighttime photos rated slightly higher than the daylight photos, mostly because of circumstances around the flash. The IR flash is distributed evenly across the photo, not creating a halo effect, and the detection distance and the flash distance both measured in at 73 feet.
However, as you can see in the photos below, objects close to the camera create a whiteout, there is a huge problem with motion blur, and you can visibly see the grain in the photo.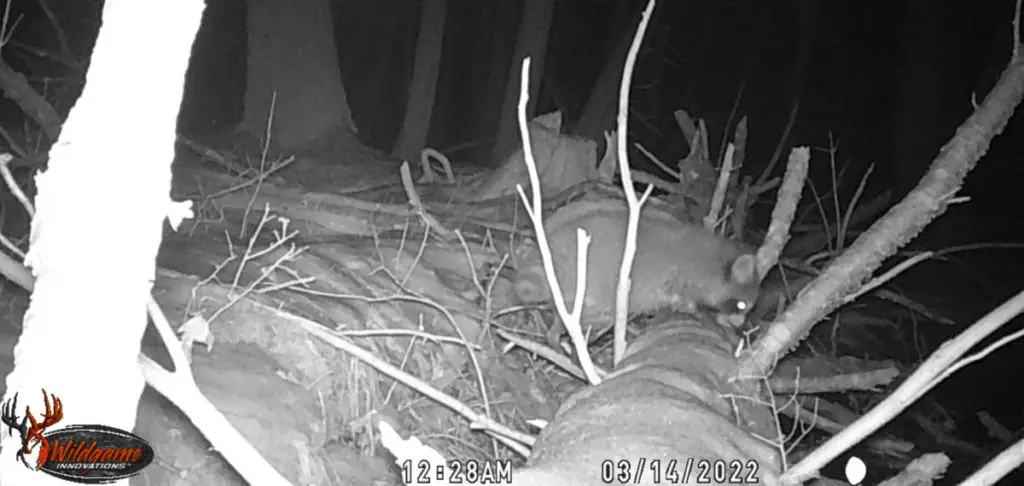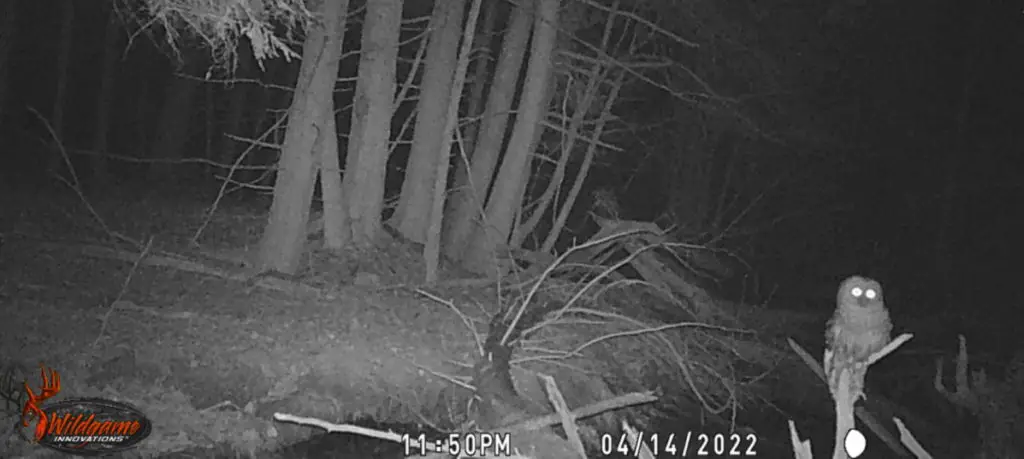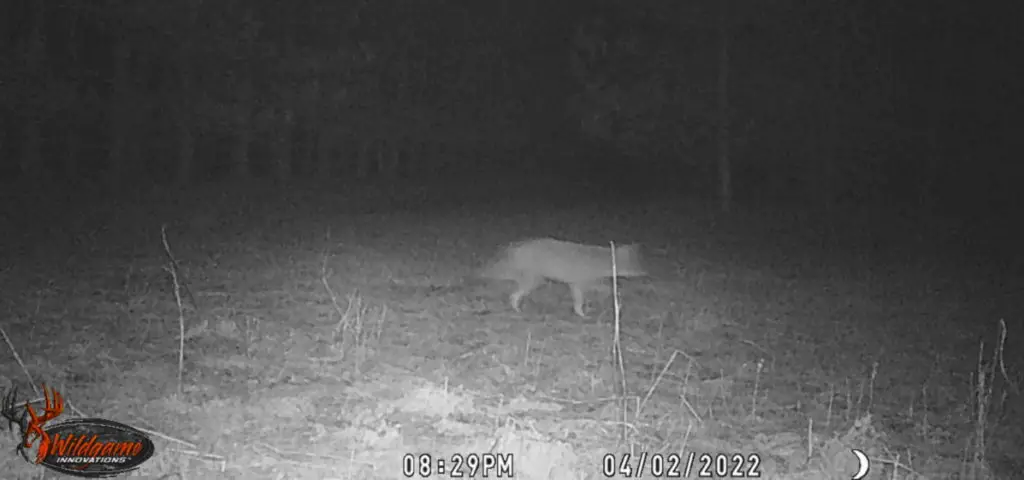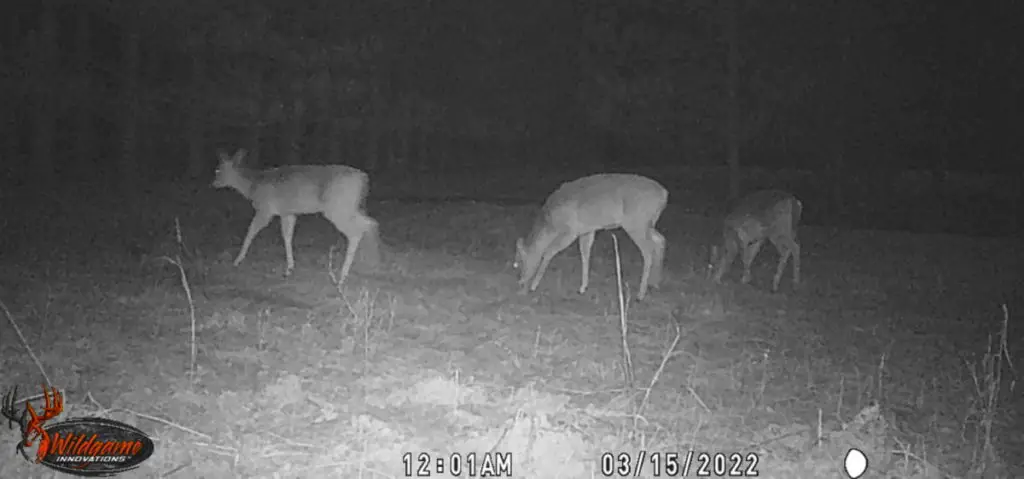 Video Quality
Score: 5/10
The video quality is the best of the group. It records at 720p @ 30 frames per second. As you can see in the video below, the color and clarity of the video is about the same as the pictures, but the video recording is fairly smooth and there is no issues with motion blur.
Engineering
Score:6/10
While the features category, explains to you what the camera has to offer, the engineering category is here to test and find out how those features perform. Because as we know, just having a black flash camera, doesn't translate into quality flash distances.
Field Tested Specs
With every camera we test every aspect of a trail camera that we can. This includes the battery life, field of view and detection distance among others. This way, when you make your purchasing decisions, you are not reliant only on the manufacturer's spec, but true in the field testing.
| | Observation | Comments |
| --- | --- | --- |
| Daytime Detection Distance | 81ft | For the price of these cameras, the 81ft detection distance was a much appreciated surprise. |
| Nighttime Detection Distance | 73 ft | The detection at night, was predictably not as good as the daytime, but it did exceed 70ft and matched the flash distance perfectly. |
| Field of View | 42o | Often with longer detection distances, the field of view tends to be smaller, there is no exception in this case |
| Flash Distance | 73ft | The flash distance was surprisingly really effective. Matching the detection distance, eliminates triggers of animals outside the flash range. |
| Battery Life | 57,598 Photos | The Battery life on these cameras was remarkable. In the end, could be the best battery life of any new 2022 trail camera on the market |
Price
Score: 9/10
When determining the price of a trail camera, it becomes a long endeavor to figure out the after price increase for each feature a camera has. For instance, the cost of a black flash camera, industry wide, averages out to being about $10 more than a red IR camera. Having 1080p video recording adds $20 and a warranty every year beyond1 year adds an additional $10. The list goes on and on.
With this camera, however, the average price per camera is around $50, and the break down of features would result in a camera like this to be around $100. This is a great deal! The only issue that presents itself is that the Terra Extreme only comes in 2 pack bundles. So despite the great deal you are having to pay $100 anyway, but you do get to cameras for the price of one.
Warranty / Customer Service
Score: 3/10
Most often when we review the customer service and warranty of a trail camera, we come up with a score somewhere between 6 and 9. The customer service that I was awarded can only be described in two words: "Oh My!"
My interaction started with purchasing a few cameras from their website. The transaction had seemed to go through, but in typical fashion I did not write down the order number. At no point did I receive a confirmation email, nor was my credit card charged. When I got back onto their website, it still showed that that I had 4 items in the cart, but when I clicked on them it said my cart was empty.
This gave me a great opportunity to contact customer service and get this confusion of the order figured out.
I started with writing an email. After explaining the situation I hit send on the email and this error popped up: The reCAPTCHA was invalid. Go back and try it again.
The customer service email thought I was a bot, yet there was no where to correct this. So I wrote another email, and another, and another. Each time receiving the same error. Obviously the customer service email was broken, since I am not a bot, and was given no way on how to prove that I was not.
This lead me to using the customer service phone number. After explaining the situation, and explaining to the lady at the other end of the line that I just wanted to make sure the order had gone through, the conversation went like this:
Customer Service: Ok I can check it for you, what is the order confirmation number?
Me: Yeah I mentioned that I didn't have one. I didn't receive an email, nor did I write down the order number at the time of purchase
Customer Service: Oh ok, well you should be able to go into your email and look at the confirmation email we sent you.
Me: I just told you I didn't receive one. I just need to make sure that the order went through
Customer Service: Oh sure, I can check that for you, what is your order confirmation number?
Me: I don't have one
Customer Service: Did you make an order?
Me: I tried, I am trying to confirm with you that the order went through
Customer Service: Oh I understand now, I can look that up, what is your order confirmation number?
Literally the conversation of who is on first went on for a couple more rounds, until I finally hung up the phone and called back, and received a different customer service agent, who was equally confused, but after 10 minutes was able to take my name and address to confirm the order.
To say the least, the conversations and the their ability to rectify my problems, as minor as they were, was unimpressive.