The Strike Force HD Extreme camera is a part of Browning's Strike Force trail camera line. This infrared flash trail camera specializes as a low profile trail camera that is simple to use, and is loaded with customizable features that allow you to set the camera up for your specific needs.
We put this trail camera to the test in the field, and it performed fairly well accumulating an overall score of 72/100. Take a look at our in depth review of the Browning Strike Force HD Extreme, and see if this camera is right for you.
| | Score | Comments |
| --- | --- | --- |
| Design | 8/10 | Compact camera, with no durability issues |
| Ease of Use | 8/10 | Simple setup, and easy to use menu |
| Features | 7/10 | Loaded with quality features, only thing it is missing is Hybrid Mode. |
| Daytime Picture Quality | 7/10 | Better quality of photo when the subject is closer to the camera. |
| Nighttime Picture Quality | 7/10 | Motion blur in some nighttime photos, but good low light photo quality |
| Video Quality | 6/10 | Films at 720p @ 30 FPS |
| Time Lapse Mode | 9/10 | Camera learns amount of daylight and starts and stops time lapse mode accordingly |
| Engineering | 7/10 | Below average battery life, but has some adjustable features that allows you to set the camera up to your liking |
| Price | 7/10 | MSRP of $129.99 . However you can find this camera cheaper at Amazon, making it a much better deal. |
| Warranty / Customer Service | 6/10 | 1 Year Manufacturer Warranty, that covers manufacturer defects of workmanship and materials |
| Total | 72/100 | |
How We Review Cameras
When it comes to online reviews, there is nothing more aggravating than reading a review from someone that simply copies and pastes the manufacturer's provided information. We vow to never write a review of any product that we do not own, use, and test first hand.
How we review a camera is simple: we put them in the field and let them perform. There is no better way to see how a trail camera works then allowing them to do their job. Only after we have had enough time to test every setting and feature, we give them a grade.
We break down the camera into ten separate categories from design and features to image quality and ease of use, then grade each one based on our 20 point checklist. The overall grade is based on an accumulative score from these 10 categories.
Oh, and we grade tough. Just like that high school teacher that you had that never gave out an "A", we believe there is always room for improvement, and the perfect camera has yet to be made. So, don't expect many cameras to be in the 90's.
Manufacturer Specs
Megapixels
16 MP
Sound Recording
Yes
Flash Range
100 ft
Memory Card
Up to 512 GB
Trigger Speed
.4 Second
Power
6 AA
Time Lapse
Yes
Flash
Infrared
Photo Burst
1-8 Photos
Time Stamp
Time, Date,
Temperature,
Moon Phase,
Camera ID
Video
720 p
Recovery Time
.6 Seconds
Mounting
1/4 – 20
Warranty
1 Year
Detection Range
80 ft
MSRP
$129.99
Design
Score: 8/10
The design of the Browning Strike Force Extreme is very well thought out, with quality latches, easy to access pull out battery tray, and a quick cinching medal buckle on the mounting strap. This is a small compact camera that is easy to hide.
Appearance
Size
The size of this camera is a little bigger than the manufacture specs provide. We measure it at 4.64″ L x 4.04″ W x 3.06″ D. This however, is still a very small camera that virtually fits in the palm of your hand.
Color
While Browning doesn't claim to use Mossy Oak camo patterns, the color wrap on this camera is very similar. It blends in nicely with surrounding cover, especially in hardwood settings.
Mounting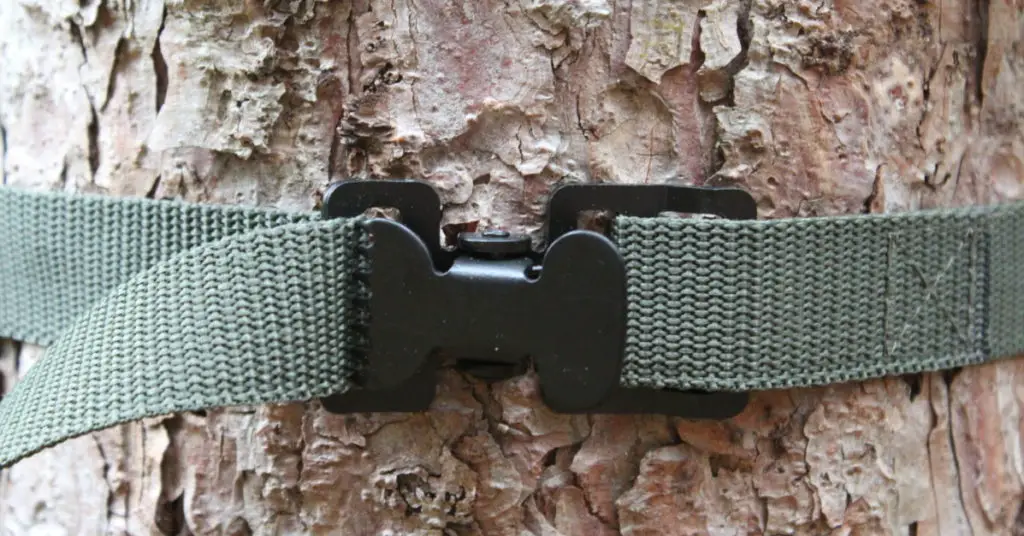 The Strike Force Extreme is equipped with 1/4 -20 threads on the bottom of the camera housing, making it easy to use a camera mount. I typically like to see a thread on the back of the camera as well, but that is simply a personal preference.
The buckle on the strap is metal, and made for easy cinching, making hanging the camera by using the strap as simple as possible, and allows you to get a tight fit to the tree.
Battery Compartment / SD Slot
The battery compartment is a slide out tray that attaches through the bottom of the camera housing. These trays make changing batteries simple and easy, allowing you to leave the camera strapped to the tree.
The SD card slot is located on the side of camera just inside the housing door. There is plenty of room to get your fingers in, allowing for easy loading and unloading even during colder weather.
Durability
There was very few questions about the durability of the camera. Browning has been using the same single hinge housing door, and design for years, and this design has yet to cause any durability issues on any of their models that we have used.
Ease of Use
Score: 8/10
This camera is very simple to use. With an easy to navigate menu, it is simple to set the camera quickly and get on your way.
On / Off
Inside the housing door, on the face of the camera is the on and off switch. Unlike some other manufacturers that tend to place the switch on the bottom of the camera, the placement of the switch is simple and easy.
The switch, also only has on and off, and does not have a setup option on the switch. While this is simply a preference, we like the simplicity of only the two options. It makes it simple, and you never have the mistake of switching the toggle too far, and then having to switch it back.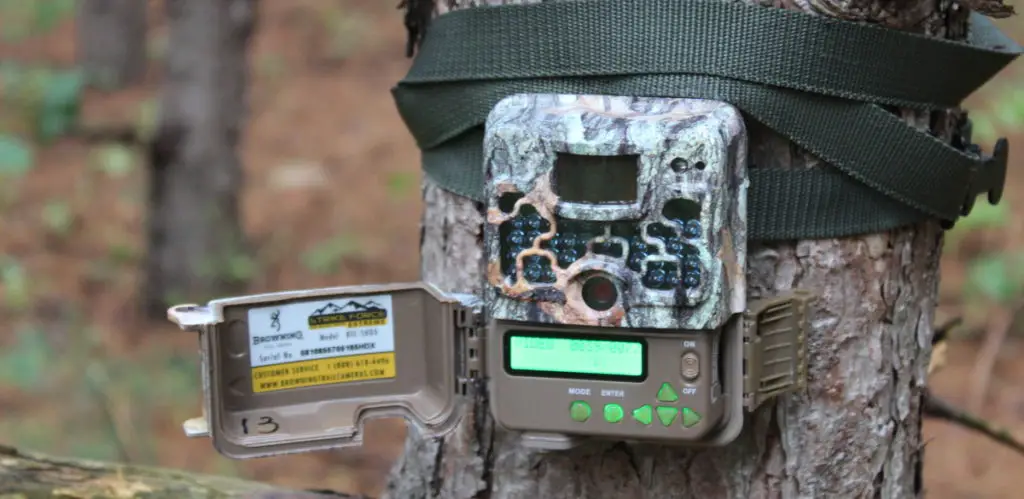 General Settings Menu
Once you have the camera turned on, simply pressing the mode button on the front of the camera brings you to the menu settings. From here you can use the up and down buttons to toggle through the menu options.
Pressing the enter button will allow you to change that setting, and pressing the enter button again, will bring you back into the menu. It really is that simple.
Setting Up
Once you are familiar with how the menu setup works, and the order of the menu options, it should take less than a couple minutes to change all of the settings that you need. Once the camera is set to the way you want it, simply pressing the mode button which will bring you back to the main screen where the camera will start counting down before it goes live.
There are a few things that are slightly confusing when setting up your trail camera. The first is the Smart IR video mode. The smart IR is a patented technology that uses the PIR sensor to determine the video duration. This feature is not in the same menu option as the video length, but is instead toward the end of the menu settings. This feature should be included with the other video settings.
Trigger speed is the other option that is confusing. The options in the menu are Normal or Fast. We simply dislike the wording of this, for the simple fact that it does not tell you what normal or fast mean. In order to find out, you need to look in the owners manual to see that normal is .7 second trigger speed and fast is .3 second. They could easily change the wording to make this more transparent.
Features
Score: 7/10
This camera is loaded with features that allow you to customize your camera to your specific needs. Everything from Smart IR video recording to adjustable trigger speed, and compression quality on the videos. The only thing that was keeping this camera from having a better score is the lack of having a hybrid mode with both photo and video. Otherwise it is loaded with quality features.
Photo Settings
The photo settings for the Strike Force HD Extreme is fairly standard. You are given 4 different megapixel resolutions to choose from, as well as 10 different delay settings.
The one thing that is different than most trail cameras is that you have the option of running your photo bursts in two different modes: Standard and Rapid Fire. The standard burst mode is simply taking you designated photo count every two seconds. The Rapid Fire option however, will take your photos every .3 seconds, giving you more flexibility to run a high burst count in areas where animals move through quickly.
Settings
Options
Megapixels
2 MP, 4 MP, 8 MP, 16 MP
Photo Burst
1-8 Standard Photos
1-8 Rapid Fire Photos
Delay Settings
1, 5, 10, 20, 30 Seconds
1, 5,10, 30, 60 Minutes
Video Settings
One of the things that we love about running Browning trail cameras in video mode is their Smart IR Feature. The Smart IR takes away the guessing game of how long you should set your video length, and gives the camera the ability to record as long as there is an animal within the detection zone.
This eliminates not only the frustration of cutting a video too short, but also stops recording once the animal is out of view of the camera, giving you less wasted space on the SD card of video that is not recording game.
With the Strike Force Extreme, however, the video only records in 720p video resolution, but gives you the option of using the Ultra or High options. These options are both based on the amount of compression that the camera uses when loading the video onto your SD card.
The Ultra gives you less compression, and better quality, but takes up more space on the SD card. Conversely, the High gives you more compression, a little less quality of video, but frees up more space.
Settings
Options
Video Resolution
1280 x 720 @ 30 FPS Ultra
1280 x 720 @ 30 FPS High
Trigger Delay
1, 5, 10, 20, 30 Seconds
1, 2, 10, 30, 60 Minutes
Video Length
5 Sec, 10 Sec, 20 Sec, 30 Sec, 1 Min, 2 Min or
Smart IR
Time Lapse Mode
The Time Lapse Mode has the basic frequency and duration that you would have for any other trail camera. It is fairly simple to set and it also offers motion activation photos as well, making it so that you don't have to choose just time lapse mode.
Settings
Options
Frequency
5, 10, 20, 30 Seconds
1, 2, 5, 10, 30, 60 Minutes
Period
1, 2, 3, 4 Hours or All Day
Other General Settings
Aside from the traditional camera settings, Browning also offers a few unique settings you can choose from to set up your camera specifically for you.
You have the option of setting the detection range of your camera from either 60 ft or 80 ft. This option is convenient if you are getting mostly night time photos, and you want to keep your detection range within the limits of the flash distance, eliminating photos of animals moving outside the perimeters of your flash range.
You can also choose the Trigger speed of your trail camera from either normal (.7 seconds) or fast (.3 seconds). This is actually a nice feature if you are moving your camera around into different environments. In areas such as scrapes or mineral sites, you might want to use a slower trigger speed, which allows for a slower shutter speed resulting in better exposure of the photo. Or if you are monitoring a trail where deer are moving quickly through the area, a faster trigger speed would be in order.
The last setting the the Strike Force Extreme offers is SD card management. This is actually an important feature for those who are leaving their cameras out for an entire season. What this feature does is it allows the trail camera to overwrite the oldest photos on the SD card with the newest photos it is taking. This assures that you will never check your camera and find that the SD card had been filled for months.
| Settings | Options |
| --- | --- |
| Detection Range | 60 feet, 80 feet |
| Trigger Speed | Normal, Fast |
| SD Management | On / Off |
Daytime Picture Quality
Score: 7/10
The daytime photos are of solid quality. What I found though is that images of animals that are closer up, not only have better clarity in the photo, but have more crisp color as well. This is a result of a shallower depth of field in the aperture on the camera lens. Which is not neccassarily a bad thing, it just creates a bit more motion blur of images that are farther from the camera.
We ran most of our photos at 8 MP photo resolution to give only a 4x interpolation of the 2 MP native image resolution. Those photos that were taken with 16 MP were much more blur when zooming in.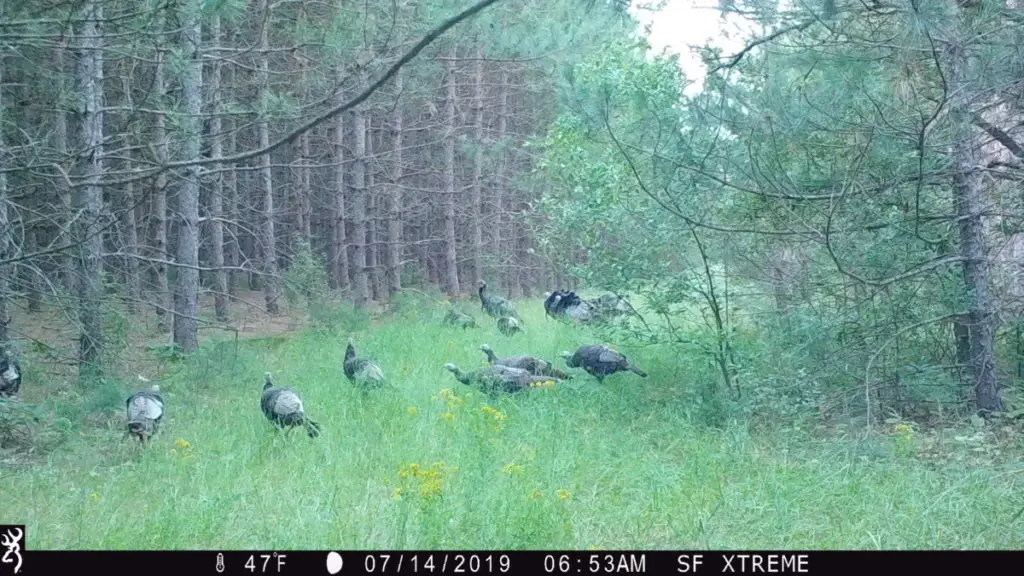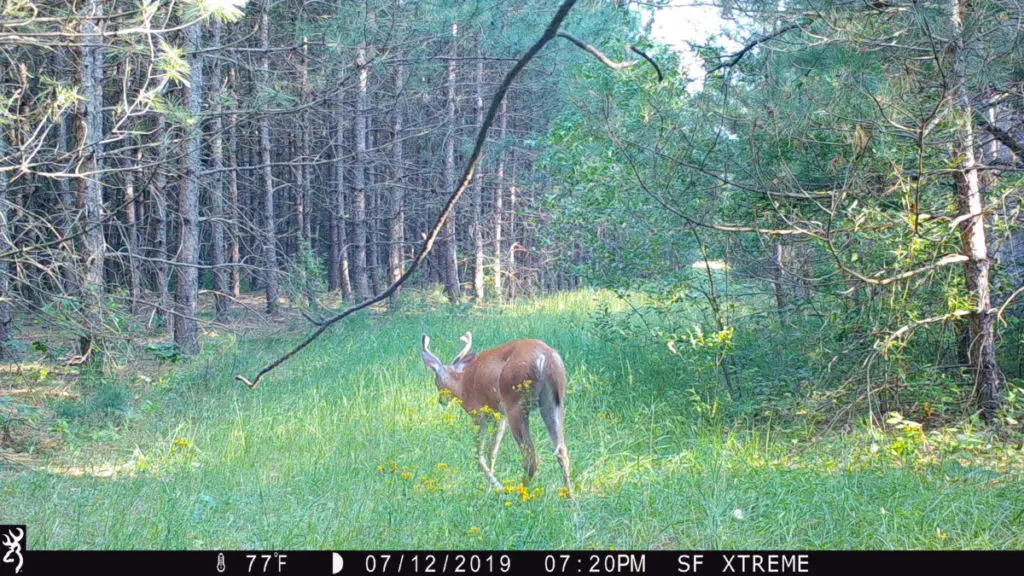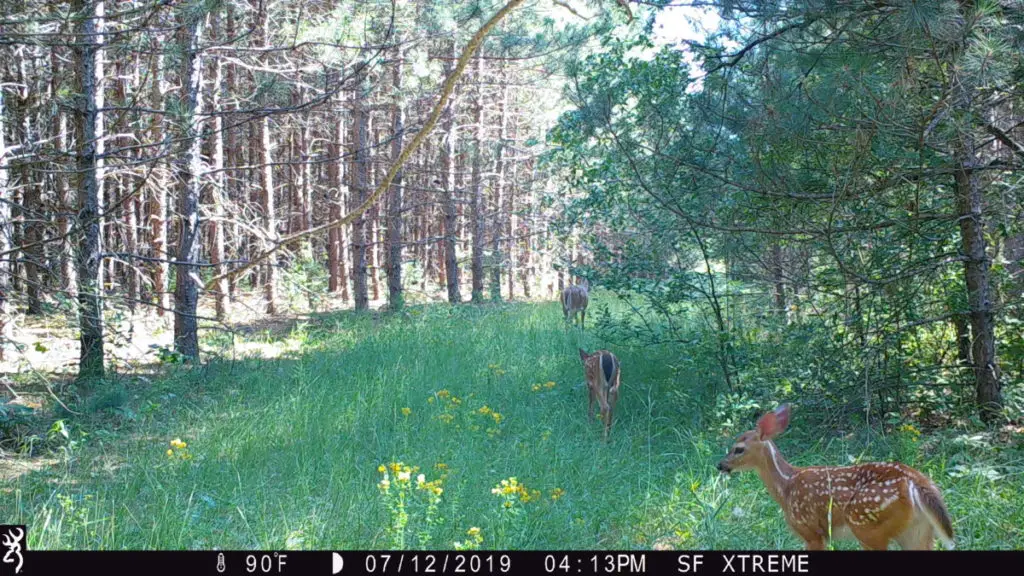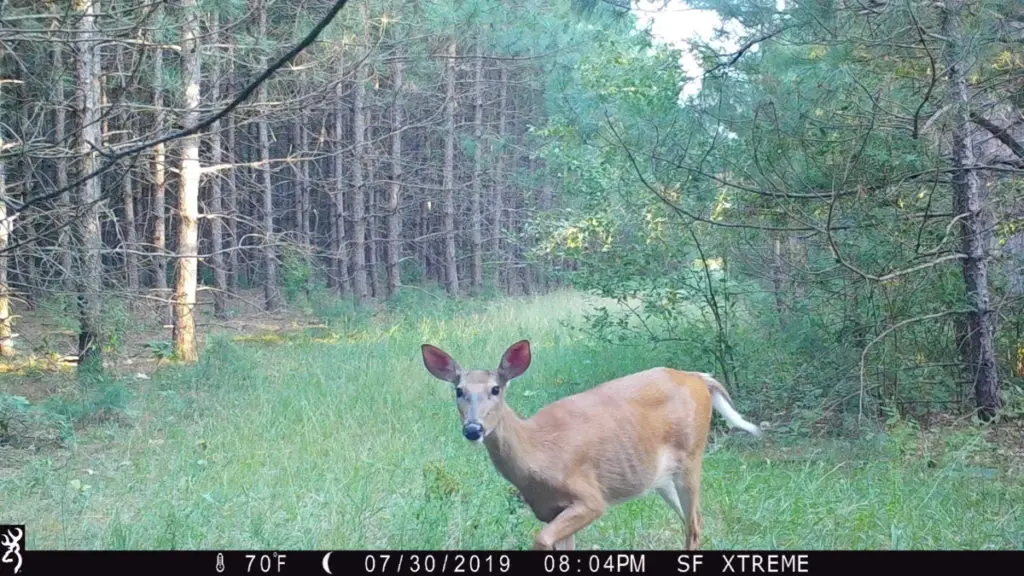 Nighttime Picture Quality
Score: 7/10
The nighttime photo quality is decent. As with most Infrared trail cameras the Strike Force Extreme has a solid light source, which illuminates the entire field of view nicely.
The photos tend to be slightly grainy which you can expect, and there is a noticeable motion blur in some photos where the animal is moving. However, in other cases the motion blur seems to be very minimal, giving us a mixed bag of results.
Low light conditions, seems to be very good quality, as we didn't have any motion blur in these photos.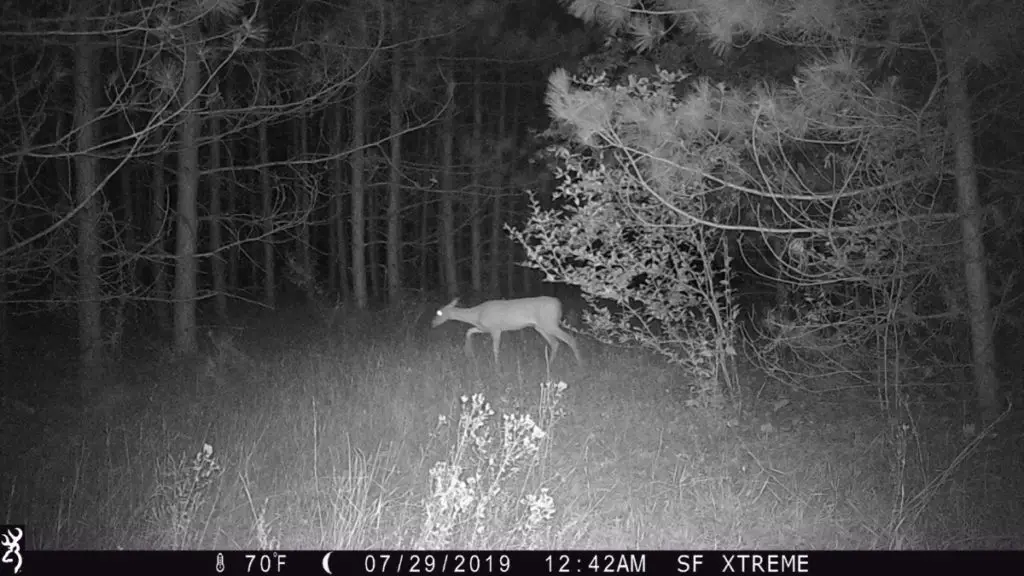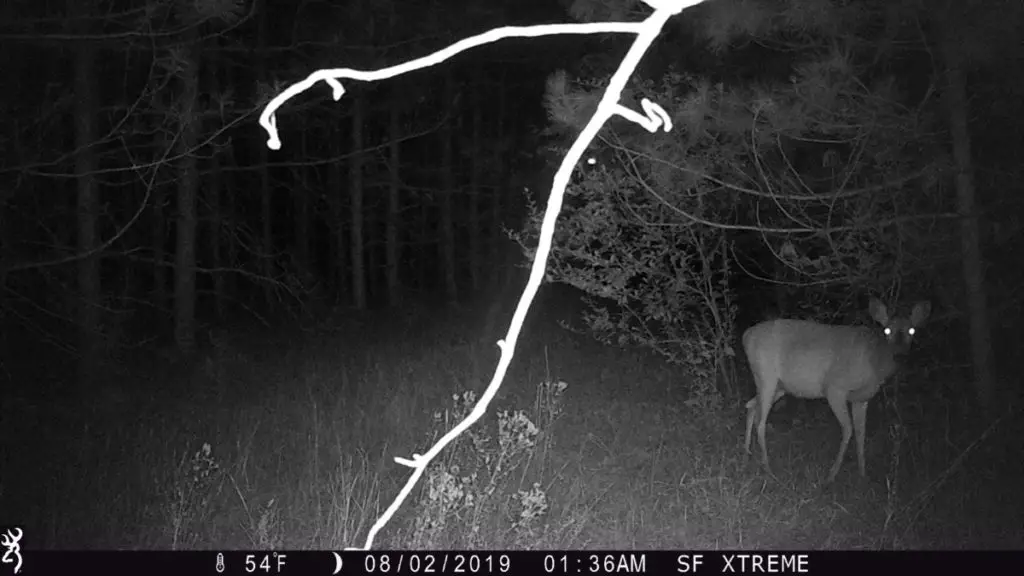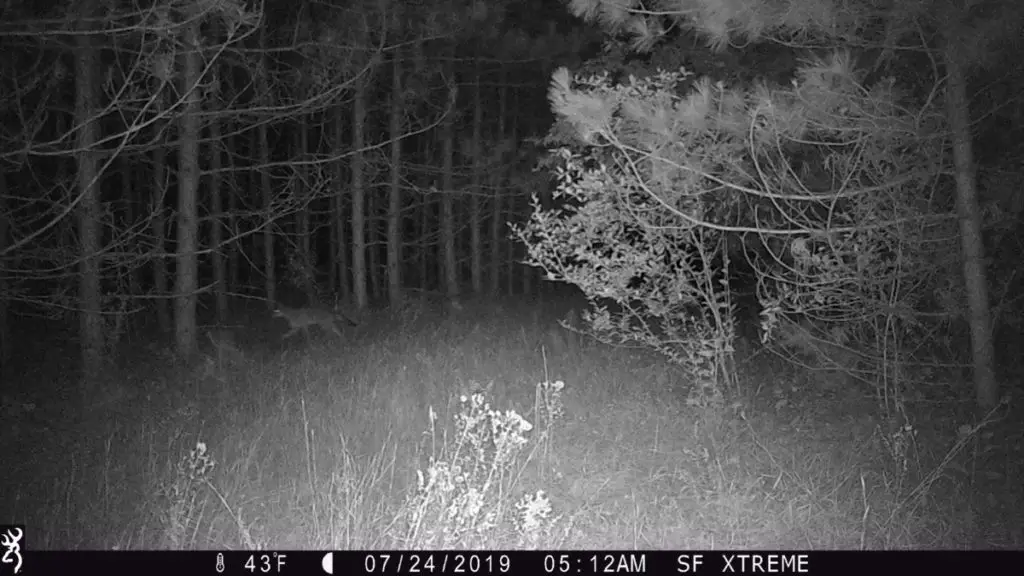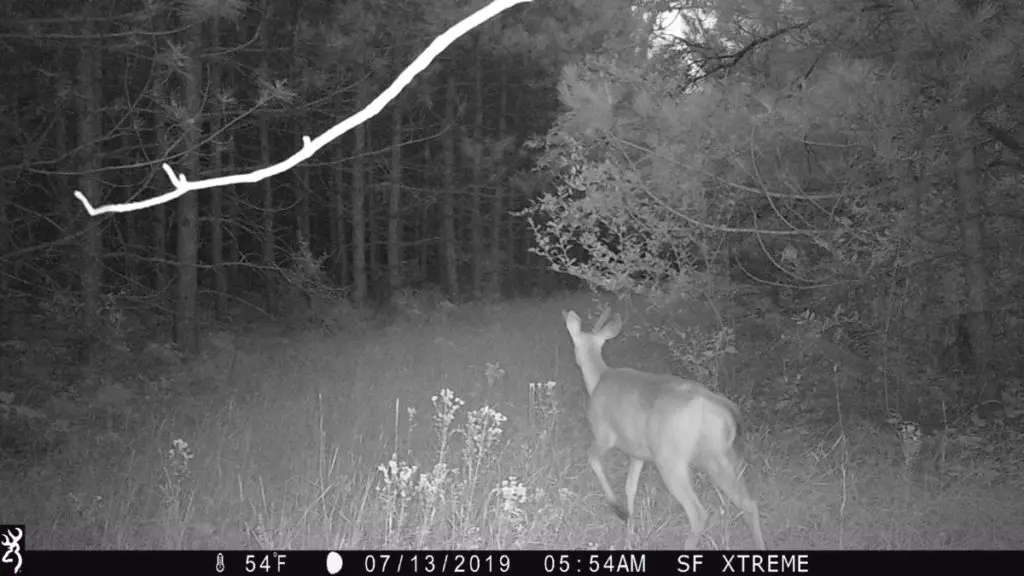 Video Quality
Score: 6/10
The Browning Strike Force Extreme only films in 720p resolution, but films at 30 frames per second. The video itself is adequate, but the picture has quite a bit of grain to it.
Because it films at 30 FPS it is less choppy than some other 720p cameras. The smart IR feature is also a nice addition to running video mode, allowing the camera to determine when to stop recording, rather than setting a predetermined time.
Timelapse Mode
Score: 9/10
Typically when we do a review of a trail camera, the Timelapse mode scores a standard 6/10 or 7/10 based on whether it offers the use of the PIR sensor while in time lapse. Almost all trail cameras that have Time Lapse capabilities have the same standard features: duration, frequency, and start and stop times. This is an area of trail cameras that has always lacked a little innovation. Until now.
The Browning Strike Force Extreme indeed has the basic features of duration, and frequency of photos, and does have the ability to use the PIR sensor to take photos of deer that walk by, giving you coverage of the area all day. But what is truly unique of this camera is that you do not need to set start and stop times, in fact the camera learns the length of day, and will continually adjust operation start and stop times.
While this might seem like a simple thing, think about setting your camera's start time 1 hour before dark to survey a field. Now in 2 months, is that start time still 1 hour before dark? As the length of day changes throughout the year, the answer is likely not. This camera will automatically make those adjustments by learning the amount of light in a given day, and incrementally make those adjustments for you.
For that reason, this small innovation, earned this camera a 9/10 in time lapse mode.
Engineering
Score: 7/10
Trigger Speed
The trigger speed on the Browning Strike Force Extreme is adjustable, making it easy to set the camera to the situation you are using it. On the fast end you can set the speed to .3 seconds, and for those situations where trigger speed is not a concern, you can slow it down to .7 seconds.
Having an adjustable trigger speed is probably overlooked by many users, but having this ability can increase the quality of the end results.
Battery Life
Due to the overall size of the trail camera, there just wasn't enough room to fit in 8 batteries, forcing Browning to design this camera with only 6 AA. While this isn't the end of the world, it does have an effect on the life of the battery.
On average we were able to get about 6 months worth of battery, making this portion of the engineering sub par compared to other trail cameras, that average about 8-10 months of battery.
Detection Distance
As we have previously discussed, the Strike Force Extreme has the ability to adjust the detection distance from either 60 ft or 80 ft. While having this ability is yet another way that you can set to your personal liking, most users will not take advantage of this option.
In an extensive test of the detection distance, we were periodically able to get a trigger at distances of 80 ft, but it was never a consistent trigger. In most cases the extent of the detection range was around 74-75 feet.
Flash Distance
When it comes to flash distance, the one thing that we often look for is not only the quality of light available, but how the distance of the light compares to the detection distance. As a trail camera user, we always want a flash distance that is at least equal to the detection distance, making sure that during night time photos, every animal that triggers the camera, is illuminated, and nothing is hiding in the shadows.
With a 100′ flash distance, it passes the test of illumination beyond the detection distance.
Price
Score: 7/10
At an MSRP of $129.99, the Strike Force Extreme is a little high in price compared to other infrared flash cameras that record only in 720p video resolution. With that said, this camera is loaded with adjustable features, and has Smart IR video recording and intuitive time lapse mode, all are features you would not find on most base model trail cameras.
The price is fairly consistent with the quality you receive from this camera. You can however find a better price on Amazon, and their 2 day shipping with Prime membership, makes this camera a very good deal.
Warranty / Customer Service
Score: 6/10
All Browning trail cameras come with a manufacturer 1 year warranty. This warranty covers any manufacturer defects from workmanship or materials, when operating in normal conditions.
The customer service is adequate, yet if you want to get a hold of them, your best bet is to contact them via phone. Written emails takes time to get a response, and what I have found, is that it is frustrating to get an in depth response to an exact question.
Conclusion
From out vigorous field testing, we have compiled a list of what the trail camera does great, and where it missed the mark.
Pros
Easy to setup
Has intuitive Dawn and Dusk times, for Time Lapse Mode
Adjustable trigger speed
Smart IR video recording
Cons
No Hybrid Mode
Video Records only in 720p resolution
Only a 1 year Manufacturer Warranty
Below average battery life
The Browning Strike Force HD Extreme is a very capable trail camera, that will fit the need for most users who are looking for an affordable trail camera that takes solid pictures. If you purchase this trail camera from Amazon, you can find it for around $110, which is a pretty solid deal.