In 2019 the ATA ( Archery Trade Association) show was taken by surprise when Lone Wolf Custom Gear opened their booth. Owner Andre D'Acquisto, was once owner, and original founder of Lone Wolf tree stands, which he sold in order to focus on other endeavors.
When he sold the company, however, he was awarded the ability to hold the rights to the Lone Wolf name, and a decade later he returned to the scene with his new company Lone Wolf Custom Gear.
While this bold move not only became the talk of the show, D'Acquisto brought with him an entire line of hunting products that he thought would revolutionize the hunting industry. This line of products ranged everywhere from tree stands and sticks to backpacks and arrows, and of course, you guessed it a trail camera.
While some of his products such as the arrow has been eliminated from their line, other products such as his trees stands have expanded their line. Their trail camera the Lone Wolf Custom Gear Undercover, which I expected to fall out of their lineup, has held steady.
So, I finally bit the bullet and decided to fork over the $200 to buy and test out this camera, in order to give you a fair and honest review.
My initial thoughts about this camera was that it was overpriced. The original claims of all these new features, in combination with WiFi, digital zoom, and a new ball and socket mounting system seemed a bit over the top for a company trying its hand at its first trail camera.
What I ultimately found was that there are a lot of interesting and innovative features, I feel as though they missed on some simple things that really matter to trail camera users. All in all it is a solid camera that ended up scoring 74/100.
My Review Process
Unlike most trail camera reviews on the internet, I refuse to review a trail camera that I have not personally owned, used, and tested. The only way to get accurate, informative information is from someone who has put these cameras to the test, in the field, and use them the way they were intended to be used.
I have broken down trail cameras into 10 different categories that are the most meaningful to trail camera users. Each category has a 10 point checklist, that I test each and every camera with. The overall score is how the camera performed on each category, giving you a consistent standard to compare trail cameras with.
Here is a complete breakdown of my review of the Lone Wolf Custom Gear Undercover trail camera:
| | Score | Comments |
| --- | --- | --- |
| Design | 10/10 | Innovative Design |
| Ease of Use | 6/10 | This camera is not build for a beginner in mind, something you need to grow into |
| Features | 9/10 | This camera is absolutely loaded with features |
| Daytime Picture Quality | 9/10 | With a 5 MP image sensor day time photos are fantastic |
| Nighttime Picture Quality | 6/10 | A little bit of meat left on the bone when it comes to nighttime photos |
| Video Quality | 6/10 | 1080p @ 30 fps, but night time video only records at 15fps, causing a lot of grain in nighttime video |
| Time Lapse Mode | 8/10 | Able to use PIR sensor along with Time Lapse which is always a plus |
| Engineering | 6/10 | While the camera is well designed they put more effort into all their features rather than the things that matter the most to trail camera users |
| Price | 7/10 | An MSRP of $199 is about what you would expect to pay for a camera that is this rich in features |
| Warranty / Customer Service | 7/10 | 2 year Manufacturer Warranty |
| Total | 74/100 | |
Hits and Misses
Every trail camera, and every manufacturer have different things that they do really well and some things that they completely miss on. Before we dive deep into the review of each aspect of the Undercover, lets just highlight some of the hits and misses that this camera has.
Hits
The Design – They really thought outside the box of traditional trail cameras, from the top opening housing door, to the ball and socket mounting bracket, to the exchangeable outside shell, they really thought of everything.
5 MP image sensor – Most trail camera manufacturers use 1.6 MP and very few use 3.1 MP image sensors. The amount of trail cameras on the market that have a 5 MP image sensor can be counted on one hand.
Time Lapse – The best feature of their Timelapse mode is that the camera automatically turns the photos into a video that plays at 15 frames per second.
Misses
WiFi – I think they missed on the concept of WiFi. In order to connect to the WiFi, you have to be at the camera and press a button on the camera to allow it to connect. Then you need to connect the phone, via the app, to the specific camera.
Size – While the height and width of this camera are sufficient, the depth of the camera is nearly 5″ forcing the camera to stand out
Battery Life – The battery life compared to almost any camera on the market is very low. With Lithium ion batteries, I was only able to get just under 10,000 photos.
Flash Distance – The night time flash distance was very disappointing, coming in at a mere 41 feet
Manufacturer Specs
Megapixels
12 MP
Timelapse
Yes
Video
1080p @ 30 fps
Photo Burst
1-5 Photos
Flash Range
50 Feet
Audio Recording
Yes
Mounting
Ball and Socket swivel mount
Tree Strap and 1/4-20 threads
Power
8 AA
Warranty
2 Year Manufacturer
Time Stamp
Time, Date, Moon Phase,
Camera Name
Connection
WiFi
MSRP
$199.99
Design
Score: 10/10
The design of the Undercover was really well thought out. From the general overall appearance to the new innovative mounting system, and the top hatch housing door, there wasn't hardly one aspect of the design and look of this trail camera that didn't meet expectations.
Size
Before I get into all of the incredible things that this camera has to offer with design, I should start with the one thing that did not meet expectation, and that is the overall size (5.43″ T x 4.16″ W x 4.63″ D). The height and width are sufficient, but the depth of the camera, is nearly 4.75″. This depth makes the camera stick out from the tree, creating a very hard situation to keep it concealed.
With complete disclosure, typically not meeting the size requirement would deduct a point from our check list, this camera had so many extra things that were not on our list of requirements, that we let this one slide.
Appearance
The general appearance of the Lone Wolf Undercover is pretty solid. With a matte grey finish, and tree bark pattern, this camera is easy to blend in with surrounding colors and patterns in the woods.
What is the most unique thing about this camera's appearance is its soft rubber outer shell. The rubber can be changed from one color to another by purchasing another outer shell. They have multiple different colors to choose from, so you will never run into a situation where you can not find a perfect color match.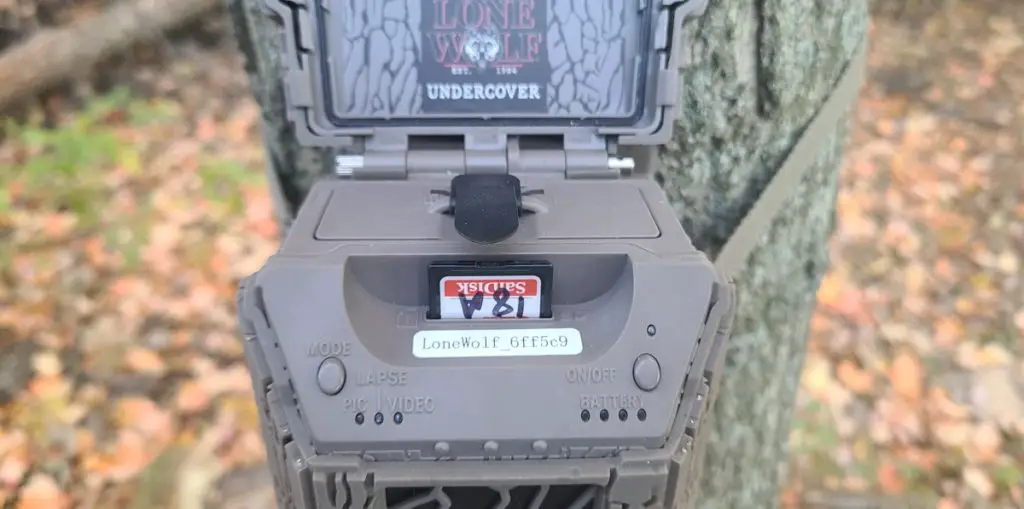 Housing Door
While most trail camera's housing door is accessible from the front of the camera, the Undercover is designed to have a top hatch to access the housing. This top hatch style door is slightly oversized from the rest of the camera, creating a protective canopy, similar to a roof and eve you have on your house. This design keeps water from having any chance of entering the housing unit.
The other interesting thing about this camera is that there is no latching system to mess around with on the housing door. The top style door sits firmly onto the camera and snaps in, making it unnecessary to use a cinched tight latch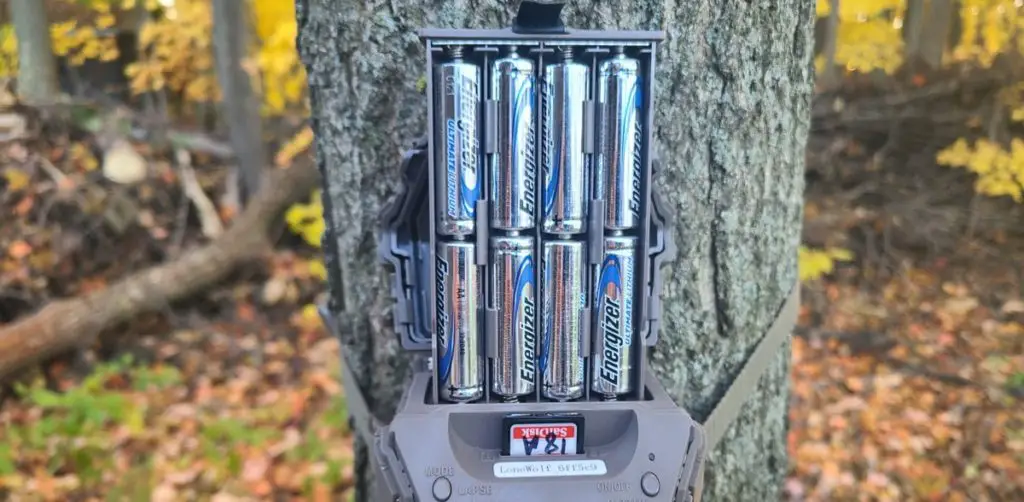 Battery Compartment
The battery compartment is different from most trail cameras. The Undercover uses a battery tray that is pulled from the top of the camera. This allows that tray to have the protection of the housing cover, as well as eliminates any springs that typically go bad in traditional bottom style battery compartments.
Mounting
In my opinion the best design feature on the Undercover camera is the mounting bracket. Created as a ball and socket, you can rotate the camera to fit literally any angle you need. This mounting bracket that is fixed to the camera allows you to hang the camera on horizontal, vertical, or any other angle tree you desire.
It allows you to angle the camera in any direction giving you the ability to always have the perfect angle for your camera, with no need to buy a third party mounting bracket.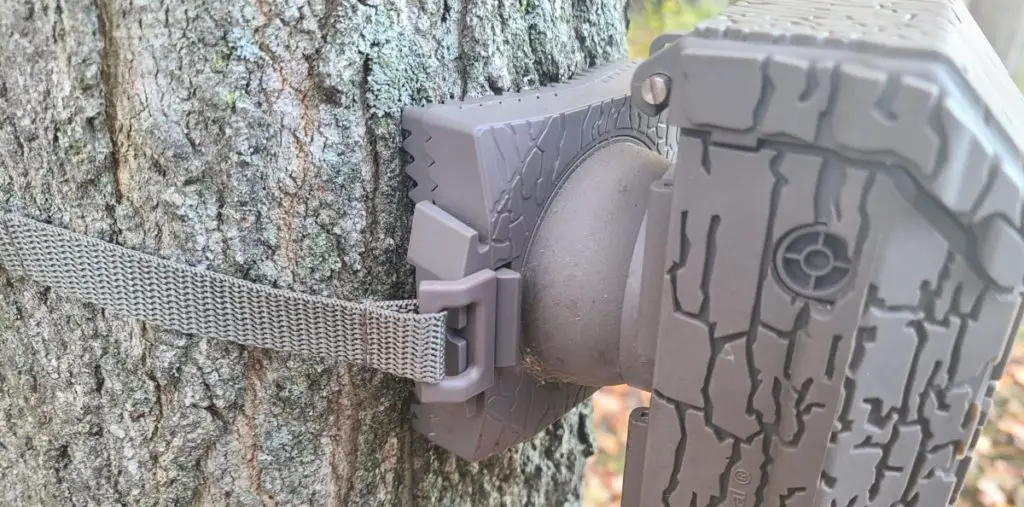 Ease of Use
Score: 6/10
Lets just simply say this camera is not for the beginner. There are tons of camera options that area all directly controlled by your smart phone via WiFi, and it takes time and effort to get familiar with the camera, and the linking process. With that said lets break down a few of the expectations I have for trail cameras.
Menu / Navigation
Once connected to the WiFi the menu and navigation of the camera are pretty simple to navigate. Each feature is easily labeled, without a ton of confusion, and its easy to change settings. While there are a ton of features with this camera, the menu page on the trail camera app is not as intimidating as some camera apps on the market.
When changing from Photo, to Time lapse, to video modes, there is a light on the top of the camera that lights up the various options as well, making it easy to see that you have successfully changed your setting
WiFi Connection
One of the things that I found complicated to understand is that the WiFi connection was not really a WiFi connection. Yes the camera connects to your phone, and yes you change all of the settings on the camera through the phone, and yes you even can look at all of the photos or videos right through your app. The problem I have with it is that you physically have to press a button on the camera to allow you phone to connect to the camera.
Once you press that button, you then have to go into your Undercover App and connect the camera to your phone. My biggest question is: Why even have the WiFi at all if you have to physically touch the camera? That would be like having WiFi in your home, but every time you want to use it, needing to bring your computer to your wireless router, and work directly next to the router the entire time you are using it.
At that point, why are we using Wireless connections? It would be less complicated to simply not have the WiFi all together.
The final aspect of the WiFi connection is that in order for the camera to go back into working mode, you must make sure you disconnect the WiFi from your phone, otherwise you will walk away from the camera, and it will not work.
Features
Score: 9/10
As I mentioned before, this camera is loaded with features. From your typical video, timelapse, and hybrid modes, to more advanced features such as digital zoom and white balance, this camera is easily set up to make it the way that you want.
The only true thing that the Undercover is missing is the ability to adjust trigger speeds. While in most situations adjusting trigger speeds is not much of a concern, I have run into a few specific instances in which that single feature has come in handy. And for the Undercover, it just doesn't offer that feature.
Photo Settings
With the 5 MP native image sensor, the smallest photo size you can use is 5 MP, which is native resolution. This may cause a bit more space used up on the SD Card than other trail cameras that allow for 3 MP photos. But lets be honest, most people use at least 2.5 times the native image size on their photos anyway, so for most, this shouldn't have any affect.
Having the ability to adjust the PIR sensitivity is always a nice feature, especially when you move cameras around. In open fields its more advantageous to use a higher motion sensitivity, as it not only detects lighter changes in infrared, it also has a longer distance it is able to detect.
At the same time, when monitoring a scrape, I like the ability to turn down the sensitivity, as the camera is focused on one single location. This will help avoid any possible false triggers.
| Settings | Options |
| --- | --- |
| Megapixels | 5 MP, 8 MP, 12 MP |
| Burst Count | 1-5 Photos |
| Delay Settings | 3 seconds- 24 Hours |
| Motion Sensitivity | High, Middle, Low |
Video Settings
The video setting options on the Undercover are fairly standard. It is nice that there is a 1080p full HD recording option, and audio recording. The only thing that might miss slightly is the video length options. While very seldom would I ever record a video over 60 seconds, the situation has arose.
| Settings | Options |
| --- | --- |
| Video Resolution | 1080p, 720p, 480p |
| Video Length | 5-60 Seconds |
| Audio Recording | Yes, Automatic Recording |
| Delay Settings | 3 seconds- 24 Hours |
| Motion Sensitivity | High, Middle, Low |
Digital Zoom
When Lone Wolf initially launched this camera, their addition of a digital zoom became a huge talking point. They pushed this option as one of the best new features that could revolutionize the trail camera industry. The truth is, it was a nice idea in theory, but I don't think it does, what they intend it to do.
First of all the zoom feature they use on the Undercover is a what is called a digital zoom. A digital Zoom, contrary to an optical zoom, is when the camera simply enlarges the area in the center of a photo and trims the outer frame. An example of this is when you open a photo in your phone and crop out the center, and then enlarge the remaining picture. The quality of the picture does not increase, it actually becomes more grainy because you are eliminating and enlarging pixels.
When adding a digital zoom to a camera, it simply takes those functions of cropping and enlarging, and adds them before you take the photo.
For comparison, when taking a photo with an optical zoom (where the lens of the camera zooms into the image) the entire image is still in full resolution, making the closer image in better quality.
As for the Undercover trail camera, you can have the exact same results if you were to not use the zoom feature, and simply just zoom in on the original photo on your computer. It does the exact same thing with the identical results of quality.
Needless to say, this feature was a selling point that literally does nothing to the value you are receiving as a customer.
Daytime Picture Quality
Score: 9/10
Most trail camera manufacturers use an image sensor that is 1.6 MP. You can find a handful of better quality cameras on the market that use 3 MP. But the amount of trail cameras on the market that use 5 MP image sensors can be counted on one hand, and the Undercover is one of those cameras.
What does that mean for the user? Well it is very simple the native resolution of the images that the camera takes is 5MP meaning you are likely to have been quality photos, and the ability to zoom in on photos to see details increases.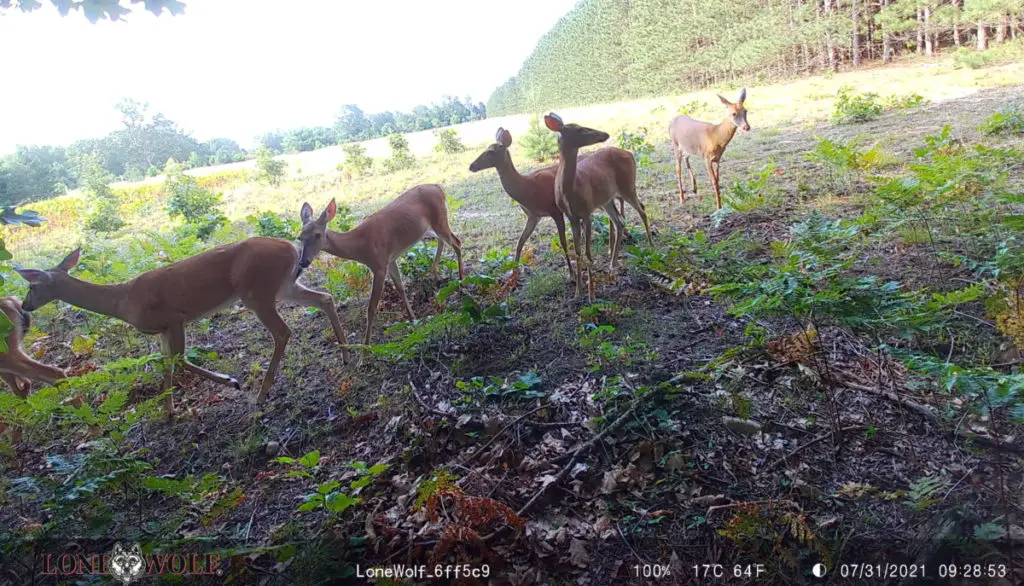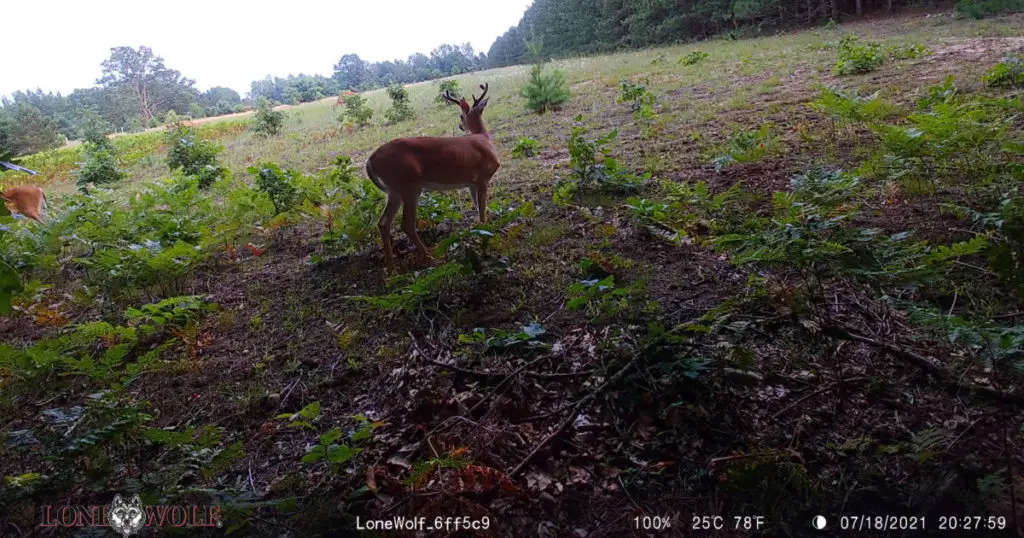 One thing that I have noticed with this camera is that during daylight photos, there is not much motion blur in the photos. As you can see in the photo below of the deer running, there is a slight distortion of the image, but the motion blur is at a minimum, and does not interfere with your ability to see the details of the antlers.
Even with photos in lowlight situations, before the night time flash in engaged, come out to be fairly clear, although dark in nature, as you can see in the photos below.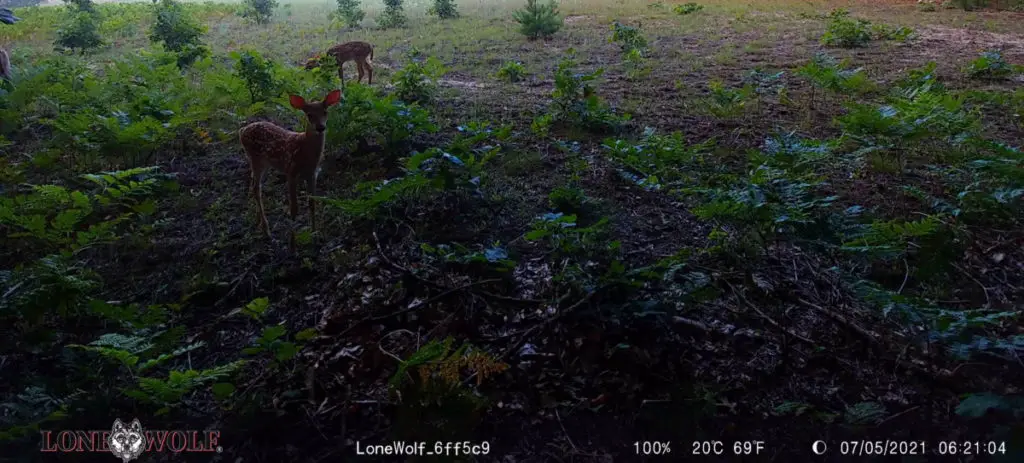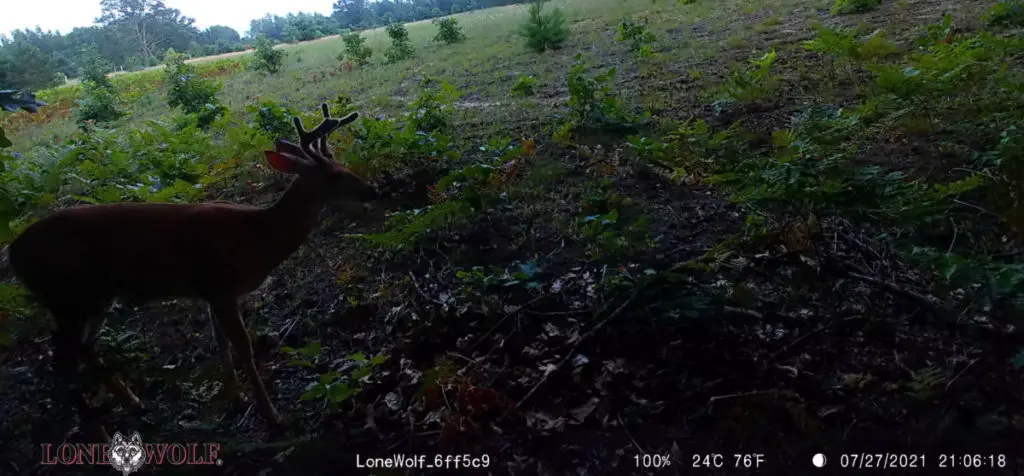 Nighttime Photo Quality
Score: 6/10
The Nighttime photos is where things begin to fall apart for the Undercover. These photos produce a lot of grain, and I mean a lot. As you can see in the photo below the pixilation is very noticeable, and the image produces a lot of grain.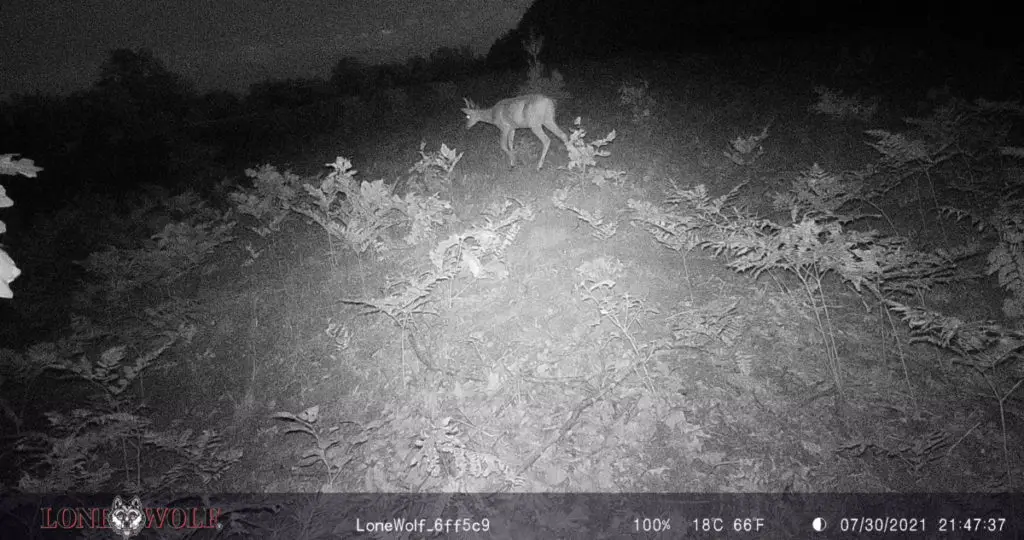 The night time flash also produces an extremely pronounced halo affect. As you can see in the photo below the flash produces almost a complete half circle known as a "halo." The problem with the lack of even distribution of light source comes in two stages
The halo, concentrates the majority of the light in the center of the photo. As the animal gets closer to the camera, there is a virtual certainty that the photo will become white washed.
When you have a halo affect that is as pronounced as this, the camera will still be triggered by animals within the detection distance on the peripheral of the lighted area, resulting in many photos of animals standing in the dark. And to me there are few things more frustrating than that.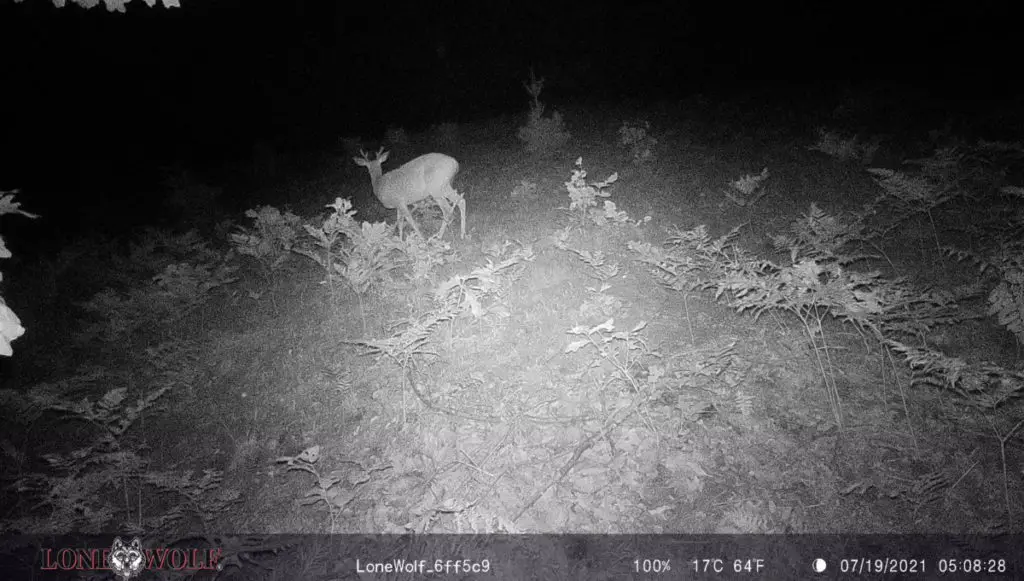 Low light situations, where the flash is activated is really solid quality though. As you can see the amount of grain that is produced has been cut down tremendously. Even though if you look closely you can see the concentration of flash directly in front of the camera, in the low light situations it doesn't have much affect on the quality of the image.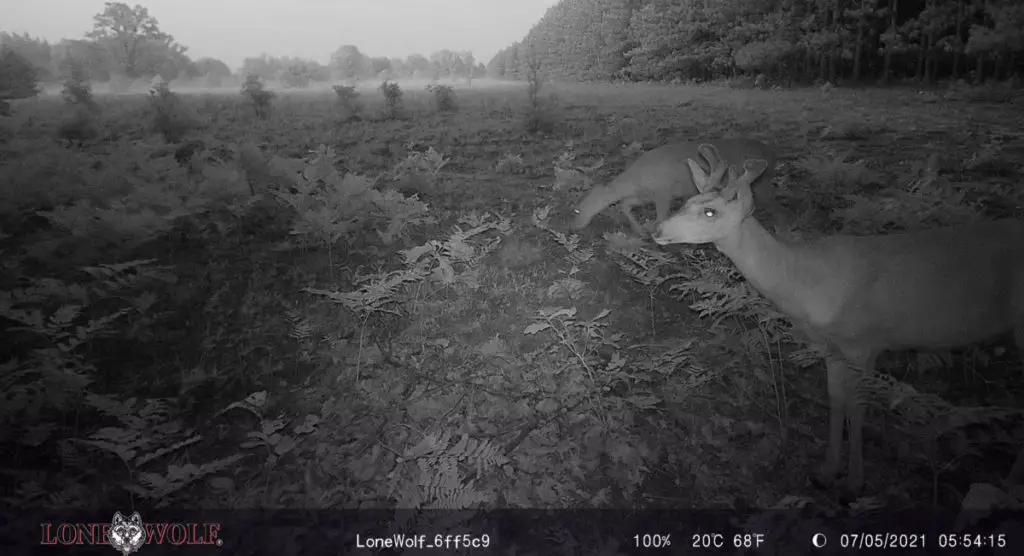 Video Quality
Score: 6/10
The Undercover records video at 1080p resolution at 30 frames per second. The quality however, is merely average. The daytime recordings are not nearly as sharp as you would expect from a 1080p resolution camera. The night time video is only recorded at 15 frames per second thus has a lot of grain to the picture.
Below you can see different video examples from the Undercover, and make that decision for yourself.
Timelapse Mode
Score: 8/10
The Timelapse Mode on the Undercover has some really good quality, and provides a few features that I really like.
The main things that I like to see in a timelapse option is the ability not only to be able to use the PIR trigger option in conjunction, but also allows the camera to enact the IR flash when it gets dark. So in those occasions when the timer is set past dark, the flash is still used, eliminating a card full of pure black photos.
Another feature that I really liked about this camera is that all of the timelapse photos, are put into a video automatically. The video plays photos back at 15 frames per second, giving you the ability to watch the timelapse as a video rather having to flip through each individual picture.
If you want, however you still can go through each photo the way that you normally would. This is a very innovative option that I truly appreciated.
Engineering
Score: 6/10
WiFi Connection
Typically I stray away from trail cameras that have WiFi or Bluetooth connections. Not for any negative reasons, just the fact that the practicality of using them doesn't typically fit well with my hunting situations, and the increase of price for a feature I do not need, is simply a waste.
With that said, the Undercover's WiFi is a really bad design. In my opinion the point of having WiFi is to connect to the trail camera when you are within range of the WiFi signal. This is not the case in this situation. You actually have to be at the camera, and press and hold a button on the trail camera in order for you to connect to your phone.
Everything after that point; setting the camera up through the app, and retrieving pictures directly onto your phone, work great, but I personally feel that all of this defeats the entire purpose of WiFi.
Field Tested Specs
With every trail camera I review, I test each and every specification, to give you the most accurate information of performance you will receive in the field. The following table is a list of the actual performance I observed and recorded.
| | Observation | Comments |
| --- | --- | --- |
| Day Time Detection Distance | 71 Feet | Exceeded the Manufacturer's listed specifications of 65′ |
| Night Time Detection Distance | 65 Feet | The detection distance out reaches the flash distance, resulting in some photos with animal being detected but outside the illumination. |
| Field of View | 60 Degrees | A little less than the average trail camera. |
| Flash Distance | 45 Feet | This is a really low mark compared to other trail cameras |
| Battery Life | 9,831 Photos | Poor battery life |
In complete transparency, other than a really well engineered PIR system, that eliminates almost every false trigger, this camera is engineered poorly. It under performed in many categories, especially battery life, which is literally the life blood of trail cameras.
Price
Score: 7/10
When I break down the price structure of a trail camera, I take a look at all of the features a trail camera has, and compare them to the average price increase that each of those features has across the entire industry. For example, when a trail camera has a black flash illumination system, across the industry, that adds an average of $10 to the price of a camera.
With that explained, according to our calculations, the cost of the Undercover should come in at $200. With an MSRP $199.99, this camera is priced right on the nose. You can obviously find better deals on cameras, elsewhere, just know that you are not overpaying.
Warranty / Customer Service
Score: 7/10
The Undercover, comes with a 2 year manufacturer warranty. 2 years is becoming the normal warranty duration within the industry. While, some manufacturers are still only providing 1 year of warranty, there has become a handful of companies that are now providing 5 years.
The customer service with Lone Wolf Custom Gear is fairly solid. They are knowledgeable and prompt in returning emails and phone calls.
The biggest drawback I had with their customer service is their lack of online information. Most companies have a substantial amount of information on their website and YouTube channels about their products, They simply did not. The only Video I was able to find from them was a promotional video about the camera.
There are no Q&A sections on their site about the camera, and other than reading the owners manual there is really no information about the camera, how to set it up, how to use the app, or how to trouble shoot common problems.
Conclusion
It was a good first attempt by Lone Wolf Custom Gear, but the best way to continue to make strides with their cameras, they need to scale back on the features and focus on the engineering. As a company, they are focusing almost all of their attention on their mobile tree stands, which is just fine. As a consumer though, I would prefer to buy a trail camera from a company who is putting those resources into trail cameras.
To me it seems as though the trail camera was simply a second thought in their overall company plan, and since its release they haven't thought to make any adjustments, or focus any of their research and development on pursuing a better camera.