Unless you are living under a rock, you probably know about the biggest craze in trail cameras: Cellular trail cameras. Cellular trail cameras, sometimes referred to as mobile cameras, wireless cameras, and even cameras that send photos to your phone, is not simply just a new technology, it can be a complete overhaul on how you scout and run trail cameras.
While hundreds of thousands have taken the plunge into using this technology , there are just as many of you that are reluctant (up until a year ago I too was reluctant). Whether it be the actual technology, the ethics, the price, or simply not having enough information to make an informed decision, it can be a an overwhelming decision.
As every major trail camera manufacturer is producing at least one cellular trail camera, I find it important that regardless of your decision, that there is a simple, easy to follow guide on what cellular trail cameras are, how to set them up, how to effectively use them, and all of the purchasing decisions you will make.
Before You Start
Before you jump neck deep into the world of cellular trail cameras, I find that it is important to start at the beginning. First of all what are the trail camera laws in your state? And how do you feel ethically about using them?
Lets run through those two important questions before we dive deep into the workings of a cellular trail camera.
Trail Camera Laws
If you are using your trail cameras for hunting purposes, it is most important to understand and follow you local and state regulations. You need to dive deep into your hunting regulations to find out the legality of using cellular trail cameras.
Some states such as Alaska, ban the use of cellular trail cameras in the taking of game. Other states such as Arizona have banned trail cameras all together. Read your regulations, and feel free to contact your state's game agency with any questions you might have.
We wrote an article about the legally using trail cameras during hunting season, which is a great place to start your research.
Ethics
The next question you will want to answer is how do you feel ethically about using cellular trail cameras? This is one question I can not answer for you. But I will walk you through my thought process, and maybe that will help you work through this for yourself.
First of all, lets discuss what ethics really are. It is not a set of laws. There are a lot of things in this world that are lawful, but are not ethical. Instead, ethics are the moral principles that govern a persons behavior. I am certain there are things that I do, that you might consider unethical based on your own personal morals, and vise versa.
When it comes to trail cameras, what do you personally think is ethical? For me, I use cellular trail cameras on hunting properties that I have a difficult time accessing on a regular basis. This might be some places that are quite a distance from my house, or areas that are just simply difficult to access.
I personally wouldn't feel ethical about having a cell camera 100 yards from my front door, and while I am watching football on a Saturday afternoon, have it alert me that there is a buck walking by my stand.
You personally need to find your own boundaries. Think long and hard about what you feel is an ethically responsible use of cellular trail cameras, and stick to your beliefs. This will keep you from using them in ways that will make you feel less responsible as a hunter.
With that out of the way, lets talk about what you really want to know about, a detailed guide about cellular trail cameras.
What is a Cellular Trail Camera?
When it comes to cellular trail cameras most people who are just starting out, get overwhelmed with the idea of all the technology that comes along with a trail camera that is sending photos to your phone. The single most important aspect to remember when first starting out is that a cellular trail camera is in fact just a simple trail camera.
Just like traditional trail cameras, cellular trail cameras have the ability to adjust different settings, such as photo burst, photo delay, megapixels, and PIR sensitivity. They take the same standard SD card as traditional trail cameras, and they use the same AA lithium batteries.
A cellular trail camera, is the exact same as a standard trail camera, with the exception that it transmits photos to your mobile device via an app.
Price of Cellular Trail Cameras
As you have likely noticed, the price of cellular trail cameras are more expensive than regular trail cameras. In fact we did an in-depth study about the price of trail cameras, and concluded that cellular trail cameras on average cost twice as much ($335.80) as the average cost of traditional trail cameras ($164.05).
Why is there such a disparity in price? Well for a manufacturer to implement the technology of cellular service, keep their cameras up to date with cellular providers guidelines, and continue to work on research and development, it simply just costs twice as much to produce.
If you are familiar with traditional trail cameras, understanding the price structure is very simple. Take the price of a cellular trail camera, and divide it by 2. This is the similar quality of camera you would get with a traditional trail camera.
For instance, if there is a $100 cellular trail camera. Take the 100 and divide it by 2, giving you a price point of $50. Look at traditional trail cameras in the $50 range. That will be the type of quality camera you would get with a $100 cellular camera. In that range you are likely to find some of the cheaper Wildgame Innovations cameras, or maybe a white label camera from Amazon.
Don't let the price of a cellular trail camera scare you off though. Check out an article we did on if cellular cameras are worth the price. It will break down the exact amount you would pay compared to a traditional trail camera, including gas, time spent, and battery consumption.
Cellular Trail Camera Plans
When it comes to cellular trail cameras, I have to believe that setting up cellular service, is when we lose most new cell camera users. To some the process seems daunting, and others might look at it as another bill. Whatever the case may be, trust me, it is not nearly as difficult as you might think.
We will talk in-depth about setting up your camera with service a little later in the step by step guide, but until then, it is important to think about two things: the cost of cellular services and the coverage.
We made the cost very simple by putting together an up to date list of all of the major manufacturer's cellular trail camera plans. Just scroll through the article and get a basic understanding of what service plans cost. Knowing that basic information will help make some of your trail camera purchasing decisions down the road.
The service coverage is a little bit different animal to tackle. Almost all manufacturers offer both an AT&T and Verizon version trail cameras. The cameras themselves are the exact same, but the SIM card they place inside the camera is specific to the service provider. So before you purchase your cellular camera, you are going to want to have an idea of which provider you want to use.
Please note that it does not matter which cellular company you use for your personal cell phone service. A cellular trail camera is on its own plan, and works with any cellphone you use.
It does however matter which camera service you choose. Before I purchase a cellular trail camera, it is important for me to know a general area in which I want to use the camera. The service in that particular area is the determining factor on which service provider I choose.
If you are not sure if there is any cellular service in your area, your best bet is to take a walk around the area with your phone. Try sending a few pictures with your phone at various different locations around your area. If it works consistently, then you should be fine. If you are struggling to send photos, your trail camera will too.
This may go without saying, but it is important to say: You need cellular service in order for cellular trail cameras to work properly.
Buying a Cellular Trail Camera
It would be easy for me just to give you a broad recommendation of which cellular trail camera I find to be the best quality, reasonable price, and ease of use (ahem… Spartan GoCam). However, not every trail camera user has the same needs and preferences that I have. So, what I recommend is to do your own personal research.
Start with visiting our Trail Camera Selection Guide. It will walk you through each step of choosing a trail camera that will help you focus on what things you are looking for in performance and price. All you will have to do is answer simple questions and it will lead you to a handful of really good options depending on your preferences. This beats visiting every trail camera manufacturer's website and trying to figure out the subtle differences from each one.
Next it is important to look at the data packages available for these cameras. We have a great resource that provides updated cellular pricing packages by manufacturer. Look at the options, compare all of the prices, the amount of photos you get per month and the cost of downloading full resolution images. All the information you need in pricing is on that one page.
At this point it is likely you have narrowed your selection down to just a handful of options based on price, quality, and cellular service. Aside from those important details, there is nothing more vital to a cellular trail camera than the app. Take the time and download each app, watch YouTube reviews and get comfortable with how the apps operate, how to change settings, and how to download photos.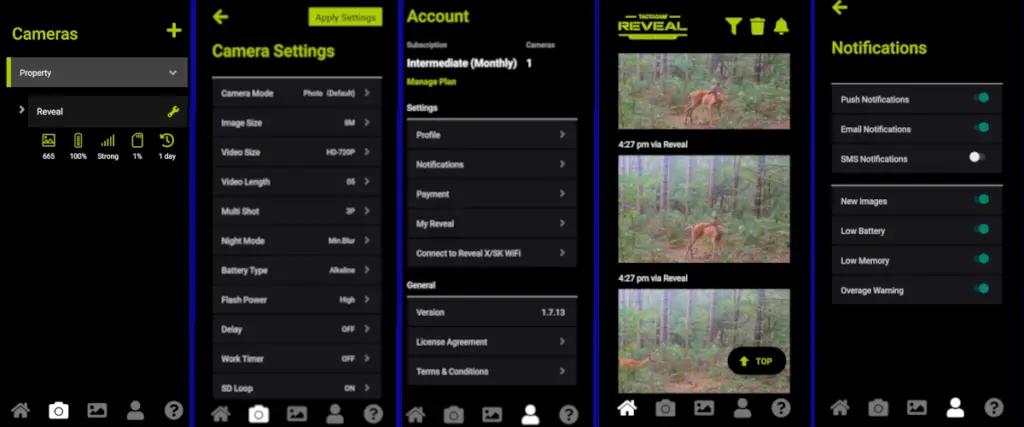 You will spend more time working with the app than you will with the camera itself, so it is important to truly like the format, and how it operates. The farther you dig into the workings of the app, the easier your choice of cellular trail camera will be.
Setting Up Your Cellular Trail Camera
Setting up your cellular trail camera plan is much easier than most people believe. Most of the information you need to get started is laid out in step by step instructions on the manufacturer's websites. Each manufacturer might have a slightly different way of setting up their cellular cameras, but almost all cell cameras plans are set and ran directly through the manufacturer.
Here is a basic breakdown of what you need to do to get your cellular trail camera up and running:
Register Your Camera – On the manufacturers website there will be a pulldown tab that allows you to register your trail camera. This not only activates the warranty for your trail camera but this also allows you to activate your camera.
Download The App – Every manufacturer has their own personalized app. This app allows you to control all of the features and settings of your trail camera. Now that your camera is registered you can log into the app, with your camera's information
Select Your Cellular Plan – Most camera manufacturers have the ability to select the cellular plan directly from the website. Some however are beginning to move all of these functions related to the camera onto the app. When you are selecting your plan, be conscience of how many photos you will actually need. I know when I first started running cellular cameras I thought that I would need at least 1,000 photos a month. What I quickly realized was that I really needed about a 150. Don't stress out about choosing your camera package, it is not written in stone. You can always upgrade or downgrade your package at any time.
Setup Your Camera – All cellular trail cameras settings are set up through their mobile app. Go into the apps settings on the home screen and there you will be able to set up, delay settings, burst modes, photo quality, and upload frequency. The upload frequency is how often you will receive photos onto your app. Most cameras have the ability to upload in real time, every few hours or once a day. All of these setting can be changed via the mobile app at any time, anywhere, and will be automatically changed on your cellular camera.
Test Your Camera – The most important step in learning how to use cellular trail cameras, is to test the camera in your yard. Make sure you know how to change settings, make sure the camera connects to the cellular service, and make sure that it is transmitting photos to your app. It is always a lot easier to fix a problem when you and your camera are in the same space, rather than miles apart.
Other Things You Should Know
While cellular trail cameras are not nearly as overwhelming as you would originally think, there are a few other things that you should be aware of before venturing into the cellular trail camera game.
Battery Life is Poor – When I say poor battery life, I mean really poor battery life. The life span of a cellular trail camera is about 25% of what you would get from a traditional trail camera. With this being the case, it is common practice to try and use an external power source such as a solar panel to increase the life of the battery.
You Need Cellular Signal – This might go without saying, but in order for a cellular trail camera to transmit photos, it needs adequate cellular service. Hanging cell cams five miles deep into a swamp might not be beneficial unless that swamp gets good quality cell service.
Transmitted Photos are Thumbnails – All photos that are transmitted to your app, are just thumbnails. While some manufacturers give you the ability to request full resolution photos for an extra fee per photo, what you will get is small resolution photos. This means that when you try and zoom in on photos it will not have the same quality as an original photo, giving you a lot of grainy looking photos. Your camera however does store the original full resolution photos on your SD card, you will not get those photos until you retrieve your SD card.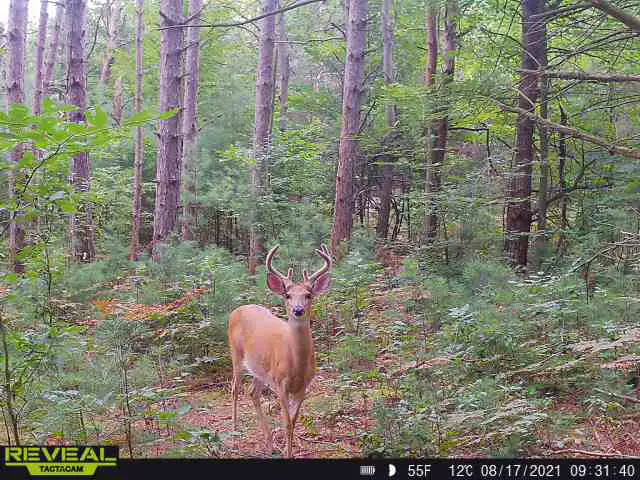 Thumbnail
Sent From Trail Camera directly to the app
Resolution: 640 X 480
Noticeable Pixilation around the nose and with the surrounding vegetation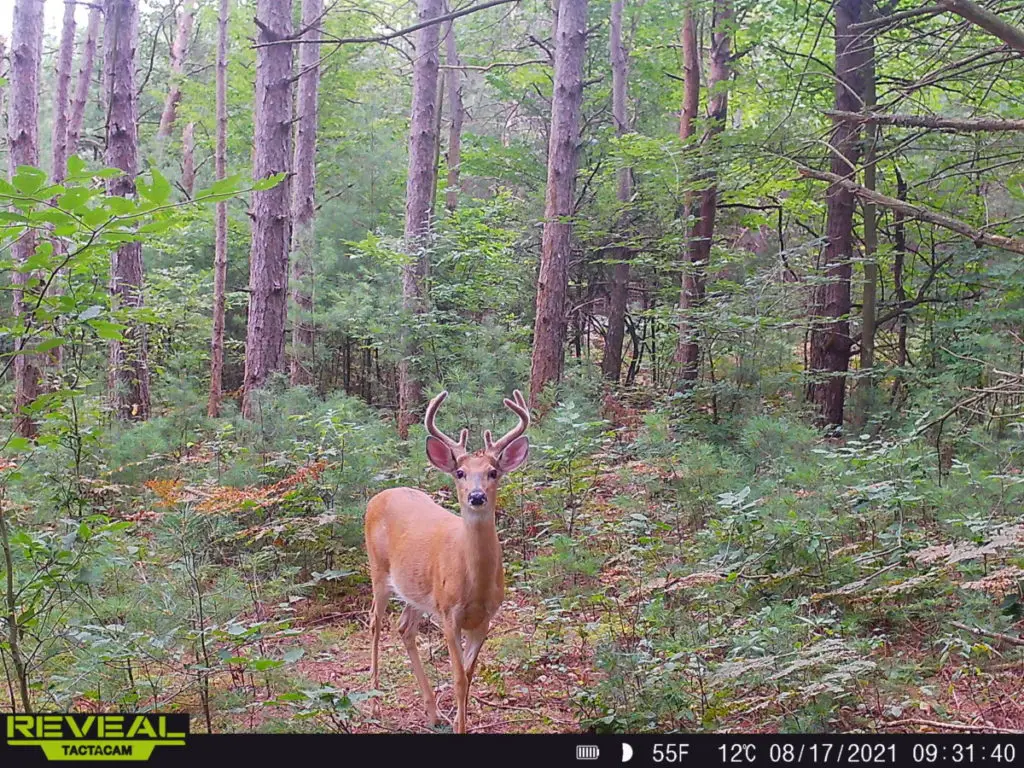 Full Resolution
Downloaded directly from the SD card
Resolution: 3264 X 2448
Clear Image, making it easier to zoom in for details
Recommendations for Cellular Trail Cameras
While I encourage you to try out our trail camera selection guide to find the cellular trail camera that is right for you, I want to leave you with two recommendations that I personally use.
Spartan GoCam
When it comes to cellular trail cameras, Spartan is in a league of their own. Nearly their entire lineup of cameras is cellular, allowing them to specialize in cellular trail cameras. Their app is well designed and easy to maneuver, and the transmission of photos is nearly flawless.
The Spartan GoCam is not only available in AT&T and Verizon service providers, but is also available with Cellcom and Bluegrass Cellular as well.
It takes high quality photos and is extremely customizable to your liking.
While the GoCam is a little bit more expensive than an entry level trail camera (around $300) it is a camera that you will quickly fall in love with and will grow into in no time.
| | | | |
| --- | --- | --- | --- |
| Image Resolution | 3MP, 5MP, 8MP | Video Resolution | 1024 x 576p |
| Trigger Speed | .6 Seconds | Detection Range | 80 ft |
| Field of View | 52 degrees | PIR Sensitivity | High, Normal, Low |
| Burst Mode | 1-3 Photos | Mounting | Dual Mounting Threads |
| Dimensions | 6 x 5 x 3.5 inches | Warranty | 2 Years |
Cellular Plans
With Spartan trail cameras, it may be a little confusing at first to see the plans are provided in data used rather than photos transmitted. The reason Spartan does this is not to confuse you as a customer but simply because with Spartan cameras you have the ability to transmit video as well.
Transmitting video using cellular service obviously takes more data usage than simply transmitting a still photo. Therefore, for purposes of transparency they provide the about of data that is available with each plan rather than a set number of transmissions.
For a reference we like to point out that for every 1 GB you can transmit roughly 5,000 photos.
| Plan | Duration | Price |
| --- | --- | --- |
| 500 MB | 1 Month | $15.99 |
| 1 GB | 1 Month | $22.99 |
| 2 GB | 1 Month | $32.99 |
| 1 GB | 3 Months | $35.99 |
| 3 GB | 3 Months | $64.99 |
| 6 GB | 6 Months | $109.99 |
| 12 GB | 12 Months | $199.99 |
Tactacam Reveal X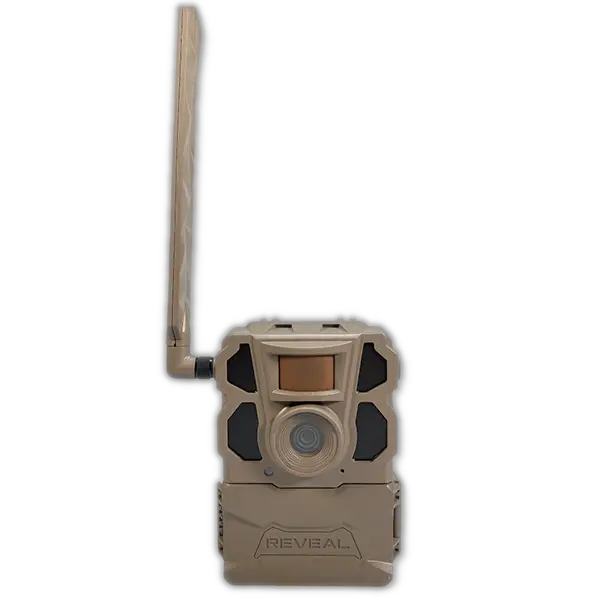 While the Spartan GoCam is one of the best cellular trail cameras in the industry, it is a little bit pricey, especially for those who are just starting to try cellular cameras. A good solid camera to get your feet wet, at a very entry level price is the Tactacam Reveal X.
With a MSRP of $139.99, not only is this camera a good budget camera, it is simple and easy to set up, and takes quality photos. The only problem with this camera is that Tactacam has a difficult time keeping them in stock, due to such high demand.
| | | | |
| --- | --- | --- | --- |
| Image Resolution | 8MP, 12M, 24MP | Video Resolution | 1080p |
| Burst Mode | 1 – 5 Photos | Video Length | 5-60 Seconds |
| Mounting | Bottom Threads | Flash | Black Flash |
| Warranty | 1 Year | MSRP | $139.99 |
Cellular Plans
While the Reveal X does not have a lot of options for their cellular packages, the options they do have are cost effective. For a beginner you have the ability to get into a cellular service for just $5 a month, that is an incredible deal for someone who is just testing the water of cellular cameras.
| Plan | Monthly Photos | Paid Monthly | Paid Yearly |
| --- | --- | --- | --- |
| Starter | 250 | $5 | $55 |
| Intermediate | 500 | $8 | $85 |
| Pro | Unlimited | $13 | $120 |