Over the past few years, the use of trail cameras for hunting purposes have been under attack in legislative processes. Terms such as fair chase, animal stress, and unfair advantage, have been floated around to justify the new restrictions on the increasing trail camera technology.
While all of this has been debated at the local and state levels, trail camera manufacturers continue to advance the technology of trail cameras, reducing costs, increasing quality, and expanding on cellular trail camera lines, making it easier and more accessible to everyone.
With the friction of the two opposing sides coming to a head, where will the future of trail cameras head from here? Will there be continuous rule changes to counteract the emerging technology in trail cameras? And what are those trail camera technologies that we will continue to see expanded upon in the up coming years.
We sought out to answer all of those most prevalent questions, and more as we explored what the future of trail cameras will look like.
Current and Potential Future Laws
For most states and providences in North America, the use of trail cameras are perfectly legal. There are however a few in which limit the use of cameras, specifically cellular trail cameras during hunting seasons. We have a complete article on the trail camera laws you should check out if you are interested in the laws and regulations in your area.
Over the course of the last year, however there have been some Western states whom have began to ban the use of trail cameras during hunting seasons. Arizona, Nevada, and most recently Utah have passed legislation prohibiting the use of trail cameras in order to harvest wild game.
While I could likely fill up hours worth of writing time, expressing my personal opinion on the subject matter, lets simply stick to the facts. Trail cameras that are able to track deer movements in real time, such as cellular trail cameras, make law makers uneasy about the fair chase ethics.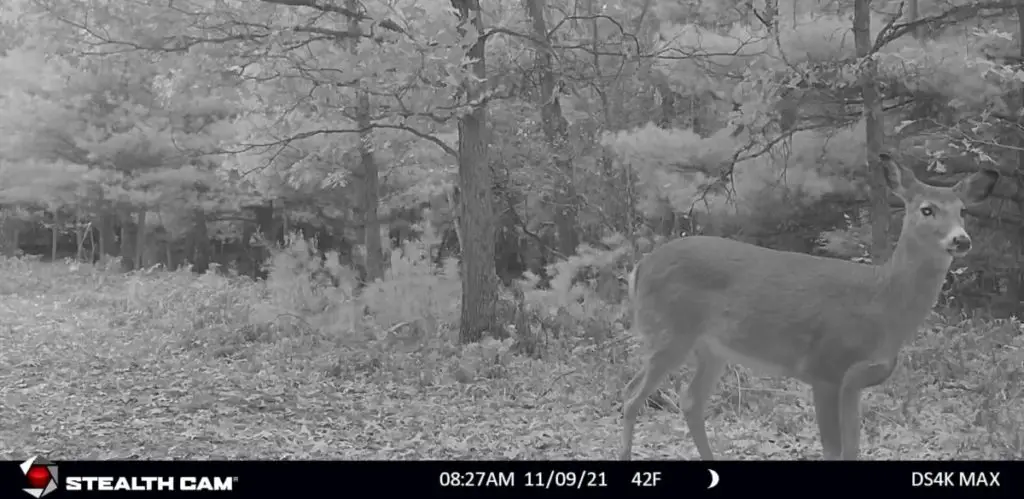 It is not simply law makers that have attacked the use of trail cameras, institutions such as the Boone and Crockett Club (North America's official record keeper of big game) has announced they will not accept any entry into their books, in which a hunter has used cellular trail cameras to assist in harvesting wild game. Although they still will allow animals in which have been involved in car collisions to be entered.
As there has been an obvious attack on the sophistication of trail camera technology, it hasn't affected the continuous innovations in the cellular trail camera market. In fact, Chad Sylvester, of Exodus Trail Cameras, recently mentioned in a January episode on the Exodus podcast Trail Cam Radio:
While I fully agree with Chad's thought process of Midwestern states, where deer hunting in deeply embedded into the culture, it wasn't but two days after the airing of this episode (Podcast #216) that I received a harvest survey from the Michigan Department of Natural Resources. While most of the questions were standard questions about hunting success and days in the field, there were two questions that caught my eye: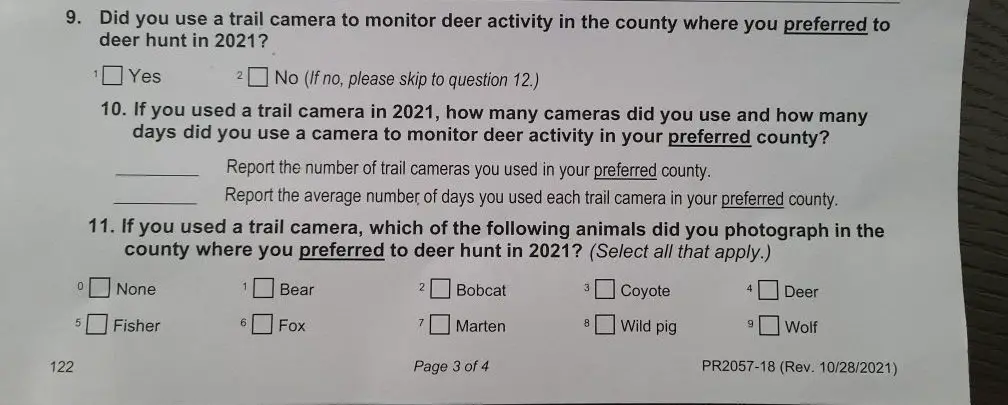 The point is not that there is going to be wide spread trail camera bans East of the Mississippi River, but that the thought process of looking into the use of trail cameras has already begun to infiltrate those Midwestern states.
Up until this point I have never been asked questions about the use of trail cameras by the MDNR, and it is impossible to think that the recent ban on trail cameras in the West had nothing to do with it.
In my opinion, for whatever that might be worth, I believe that trail camera manufacturers need to begin to self impose some restrictions on their technology. Its important to read the room, and begin to see what legislative efforts are trying to restrict.
Instead of making cellular transmission up to the minute, only allow downloads twice a day. It might be time to stop advancing the technology in a literal arms race, but rather to maintain the technology that we have been allowed to use, in attempt to draw a line in the sand, and keep the rights that we have.
Size of Cameras are Trending Smaller
In the world of trail cameras, concealment has become one of the biggest factors to consumers. Not just concealment from deer and bear, although very important, concealment from other people in the woods is key.
As trail camera theft in the woods has become a growing problem ( I personally have had an average of 3 trail cameras stolen every year for the past 3 years) manufacturers are following the trend by doing their part in minimizing the size of the camera to help the consumer be able to hide the camera just a little better.
When I first began running trail cameras I purchased one of Moultrie's 180o Panoramic trail cameras. At the time I didn't realize, but this trail camera was massive. It had the the rotating eye, and light bar, took six class C batteries, and probably weighed over a pound. The overall size measured in at 137.5 in3.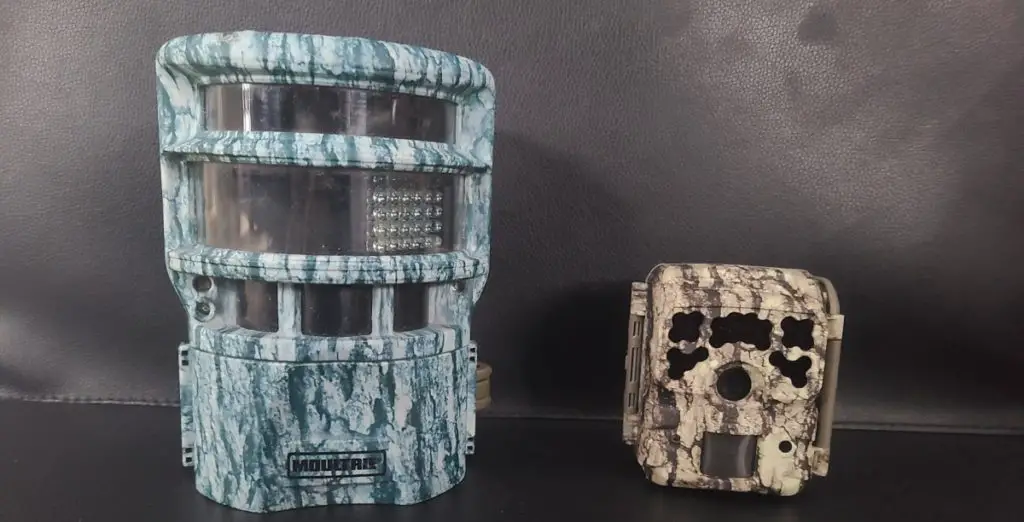 Compare that to Moultrie's 2022 trail camera the Micro-42 which has an overall size of 29.85 in3. You can easily fit 4 of the micro trail cameras inside the older Panoramic trail cameras. This trend has not only continued over the past 10 years, but is still trending in the direction of smaller, more compact, harder to detect trail cameras, and I expect that this trend will continue.
In the graph below you can see the trend in size difference between the 2021 model cameras, and the 2022 trail cameras.
| Manufacturer | 2021 Avg. Size | 2022 Avg. Size | Difference | + / – % |
| --- | --- | --- | --- | --- |
| Browning | 36.75 in3 | 35.68 in3 | 1.07 in3 | – 2.9% |
| Moultrie | 38.59 in3 | 29.85 in3 | 8.74 in3 | -22.6% |
| Spypoint | 65.13 in3 | 66.13 in3 | 1in3 | + 1.5% |
| Wildgame Innovations | 50.7 in3 | 46.5 in3 | 4.2 in3 | -8.3% |
Price
When it comes to technology in any industry there is seemingly always an arms race to be the first to hit the market. But as time moves on, the second wave of the race is to be the cheapest. In the trail camera industry we are finding ourselves smack dab in the middle of manufacturers fighting to be the cheapest in the market.
Year after year there seems to be a drop in market price for trail cameras. It first started with a few low budget trail camera manufacturers such as Tasco, who tried to blitz the market with the cheapest trail cameras on the market. Slowly as technology advanced, and manufacturing of trail cameras became even more streamlined, the entire market of trail cameras began to drop their prices.
As you can see in the table below, even the difference in prices from 2021 to 2022 has dropped with nearly every manufacturer, even despite the demand in manufacturing and the slow down of supply chains due to COVID 19. This trend is likely to continue for the next couple of years, as trail camera manufacturers jockey for position in pricing.
| Manufacturer | 2021 Avg. Price | 2022 Avg Price | Difference | + / – % |
| --- | --- | --- | --- | --- |
| Browning | $188.32 | $163.32 | -$25 Avg. / Camera | -13.3 % |
| Moultrie | $103.32 | $89.99 | -$13.33 / Camera | – 12.9% |
| Covert | $209.99 | $199.99 | -$10 / Camera | – 4.76% |
| Spypoint | $149.99 | $159.99 | +$10 / Camera | + 6.7% |
| Wildgame Innovations | $92.85 | $54.99 | -$37.86 / Camera | – 40.7% |
Cellular Trail Cameras
When it comes to price, the cellular trail camera market has been driving prices to all time lows. The recent addition of Tactacam to the cellular market, along with their below average pricing, has made competitors drop their prices in order to stay competitive to the market.
It is not difficult in today's market to find cellular trail cameras around the $100 range, which is much different that we had seen in the last 5 years.
Below you can see the price differences in cellular trail cameras from some of the leading manufacturers. As you can easily see, the price is trending significantly down.
| Manufacturer | 2021 Avg. Price | 2022 Avg. Price | Difference | +/ – % |
| --- | --- | --- | --- | --- |
| Browning | $299.00 | $139.99 | -$160 | – 53.3% |
| Moultrie | $119.99 | $99.99 | -$20 | -16.6% |
| Covert | $239.99 | $199.99 | -$40 | -16.6% |
| Spypoint | $144.99 | $159.99 | +$15 | +10.3% |
Cellular Trail Camera Innovations
For years we have heard about the next innovations of trail cameras being able to live stream directly to your phone. That innovation itself did not take long, as Spartan trail cameras cam out with the Golive cam, allowing you to do just that.
So, what is next in the ever modifying cellular lines? In 2022 the next thing that has hit the market is the dual sim card transmission. This is a modification in the technology to run sim cards for both AT&T and Verizon, allowing the camera to recognize the best signal in the area and use that sim card. It is a unique technology that likely is a great selling point, but from a functional standpoint is not as impactful, as in most cases the cellular service between the two providers is often very similar.
Expect the future of cellular trail cameras to focus mostly on improving reception. Increased technology with larger stronger antenna, that will be able to get you cellular reception even in the deepest of swamps. At this point in the cellular game, the only thing that they can do is have access to as many users as possible, and that will definitely include be capable of using cameras where hunters go most often, off the beaten path