If you are in the market for a white flash trail camera, there is absolutely no better option on the market today than the Spartan Lumen. Spartan, a manufacturer who is synonymous with cellular trail cameras, has begun to launch its line of non cellular camera in 2021, and this transition has been nothing but success.
The Spartan Lumen is equipped with one of the best daylight photo options on the market, not just in the white flash category. And the nighttime photos, full color, are absolutely fantastic. The design of the camera is small and sleek. All of this covered under a 2 year manufacturer warranty, and back by great customer service.
In the end the Lumen scored very well in our review, finishing with a 75/100, on our 100 point check list.
Our Review Process
With every trail camera review that we do we compare the trail camera to our 100pt checklist. The check list is comprised of 10 sperate items from the 10 most important qualities of a trail camera. In doing this, we assure that each and every trail camera we review is compared and measured by the same standards.
First we set the cameras in the field, testing each and every setting, allowing it to take videos, photos, and timelapse photos/ videos at multiple locations. This gives us an idea of the quality that the camera produces.
Our second step, is we bring the camera home and begin testing the measurables such as detection distance, field of view, and flash distance. We check the batter consumption, trigger speed and recovery time.
Our final, and perhaps the most important step is that we abuse the camera, to see how much it can take in the field. We spray it with a garden hose, place it in the freezer, and leave it our vehicles for long periods of time on hot days. All of this to ensure that the camera is able to stand up to what mother nature.
For this reason, we will never review a trail camera that have not owned, used, and tested. This way our reviews, whether positive or negative, is something that we can stand behind.
Below is a basic outline of how we scored the Spartan Lumen:
| | Score | Comments |
| --- | --- | --- |
| Design | 10/10 | Excellent camo pattern, small sleek design, |
| Ease of Use | 7/10 | Mostly straight forward, however there are a few tricky menu options. |
| Features | 5/10 | Very simple features, strangely no photo burst, simply single photo option. |
| Daylight Picture Quality | 9/10 | Excellent quality, color and clarity. |
| Nighttime Picture Quality | 10/10 | The color nighttime photos are exceptional, little to no motion blur. |
| Video Quality | 7/10 | Records videos at 1080p @ 30 Frames per second, very good quality, both day and night videos. |
| Timelapse Mode | 7/10 | Basic timelapse mode, but can use either photo or video option. |
| Engineering | 5/10 | Comes up short is detection and flash distance, as well as battery life |
| Price | 7/10 | Quality camera for a reasonable price. |
| Warranty / Customer Service | 8/10 | 2 year warranty |
| Total | 75/100 | |
Pros and Cons
Like every trail camera there are some things that the camera manufacturer does well and some things that the camera lacks. Here is our list of pros and cons for the Spartan Lumen.
Pros
Excellent day and night photos.
The camera as a whole just has a really nice look and color pattern
Records video at 1080p @ 30 frames per second
Cons
Does not have option for photo burst. Takes one single photo at a time.
Micro SD card- I do not like using micro sd cards in cameras. when running cameras during the winter they are small and hard to handle with cold hands. You also always need a SD adaptor in order to read the card. Which negates any advantage the user might have with having a smaller SD card.
Manufacturer Specs
Megapixels
24 MP
Timelapse
Yes
Video
1080p @ 30fps
Video Length
Up to 1 Minute
Trigger Speed
.4 Seconds
Audio Recording
Yes
Flash Type
White Flash
SD Capacity
Up to 64 GB
Power Source
6 AA Batteries
Time Stamp
Time, Date, Temperature,
Camera name
Field of View
75o
Recovery Speed
2 Seconds
Warranty
2 Years
MSRP
$149.95
Design
Score: 10/10
Appearance
The Spartan Lumen has a very unique black and gray color pattern that resembles an optifade pattern. This color and sleek shape makes this camera very simple to hide along tree trunks and in shaded areas.
As an unbiased observation, I simply just really like the look of this camera.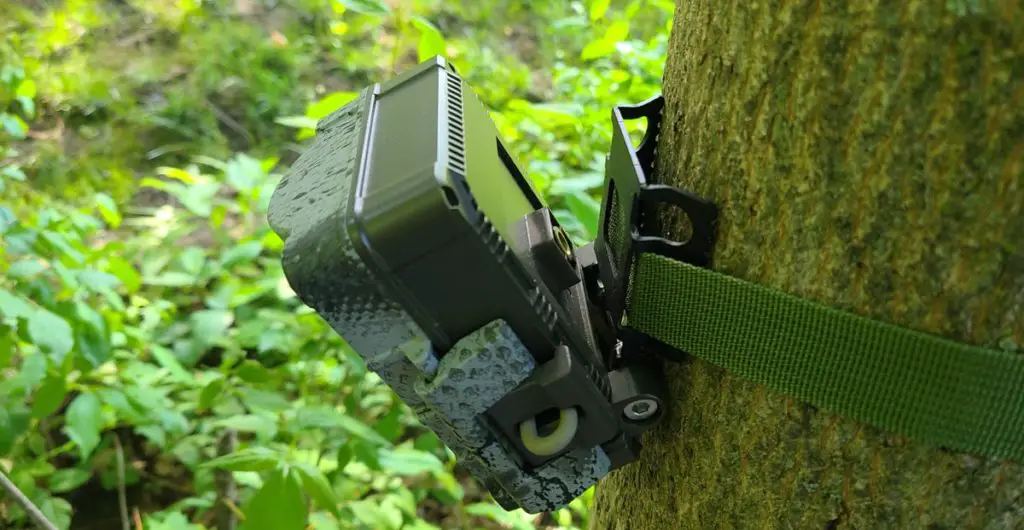 Mounting
One of the nice design features of this camera is the adjustable mounting bracket on the back of the camera. Using the provided strap, you can mount the camera to the tree, and using the mounting bracket angle the camera to your desired placement. This eliminates having to use any after market mounts in order to hang the camera higher in the tree and angle it down.
If you did however still want to use a camera mount, it does come with a 1/4-20″ thread on the back of the camera.
The Lumen comes equipped with a 5ft long 1″ wide webbed strap, that is tightened by a metal cinch clasp, that makes hanging your camera simple and easy.
Size
For some the size of the camera is very important. Whether you are using it on public land trying to keep it out of the sight of potential thieves or use it on private land and are just trying to keep it from view of the game, the size plays a large part in that.
The Lumen is fairly small in statue measuring in at 4.41T x 3.92W x 2.76D, for a total of 47.71 in3.
Ease of Use
Score: 7/10
Menu Navigation
Setting up the Lumen is very simple. With a total of six main menu items, it is extremely quick and simple to navigate your way through the various features and set the camera within minutes.
When the camera is initially turned on, it is automatically place in the menu options, so there is no need to search for a specific button that brings you to the menu.
Most of the settings are found under two of the menu options; camera and trigger. The camera option allows you to switch back and forth between photo and video modes, and you set the resolution in that same menu option as well.
The trigger menu option sets virtually everything else, from sensitivity, and delay, to time lapse and working hours. With limited features, setting the camera is very simple and quick to catch on to.
Simple Terms
One of the things that is often challenging when setting up a new trail camera is the change of terms within the menu options. For example, instead of using a term such as delay, a camera will display something like interval. While for most people who use trail cameras often, and have had the experience of dealing with the different terminology, for someone who has not experienced this, it can become complicated.
The Lumen, aside from using the term interval instead of delay, is very straight forward. Every term and menu option is simple to understand and navigate.
Features
Score: 5/10
Of all the categories, the Lumen performed its worse in the features category. The simple explanation for this is not because it failed miserably at the features it has, but rather it just doesn't have a lot of features that trail camera users find important.
For instance the Lumen does not have a hybrid mode, or photo burst options, and you can not adjust the trigger speed or the nighttime flash power.
The final feature that it was marked down for was the use of Micro SD cards. While we can understand why Spartan used the micro SD card for saving space on the camera, in the end for the user it is a negative experience.
During the colder months having to try and handle a fingernail size SD card, while your hands are cold, just makes it unnecessarily difficult. Add in the need for an SD card adapter in order to view the photos in most traditional ways, just makes the micro SD card an undesirable feature.
Photo Settings
Settings
Options
Megapixels
3MP, 8MP, or 24MP
(3.1MP native image sensor)
Burst Count
1 Photo Per Trigger
Delaysettings
5-55 seconds (5 sec. intervals)
1-60 Minutes (1 Minute Intervals)
Motion Sensitivity
High, Normal, Low, or Off
Flash Range
No adjustments
Video Settings
Settings
Options
Video Resolution
1080p @30fps , 720p @30fps
Video Length
5,10,15,30, and 60 seconds
Audio Recording
Yes, option to turn on or off
Delay Settings
5-55 seconds (5 sec. intervals)
1-60 Minutes (1 Minute Intervals)
Motion Sensitivity
High, Normal, Low, or Off
Daylight Picture Quality
Score: 9/10
The picture quality on the Lumen is a testament to why having a plethora of features might not always be the best option. With crisp, clean, clear, colorful photos, the Lumen, is one of the better cameras for daylight photos we have reviewed.
With very few false triggers, and virtually no motion blur, the only mark down we had on the photos, was the measured 60o field of view, slightly less than what we like to see out of photos.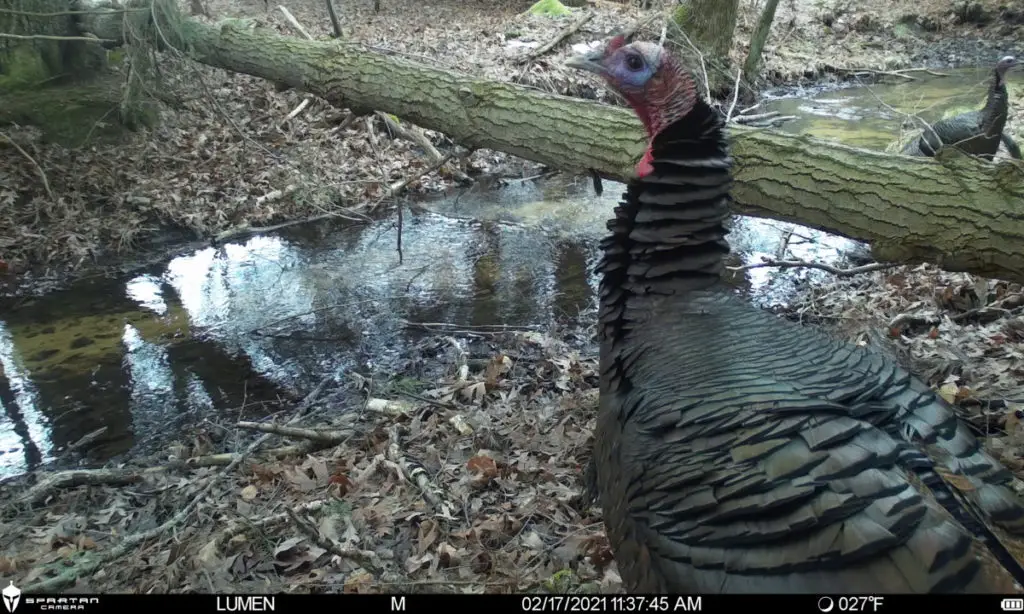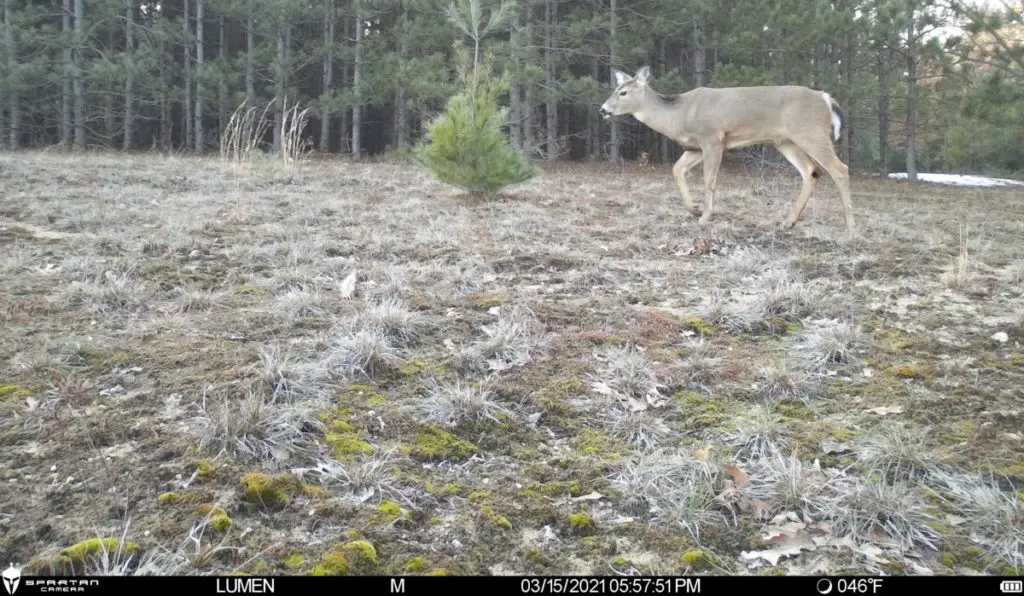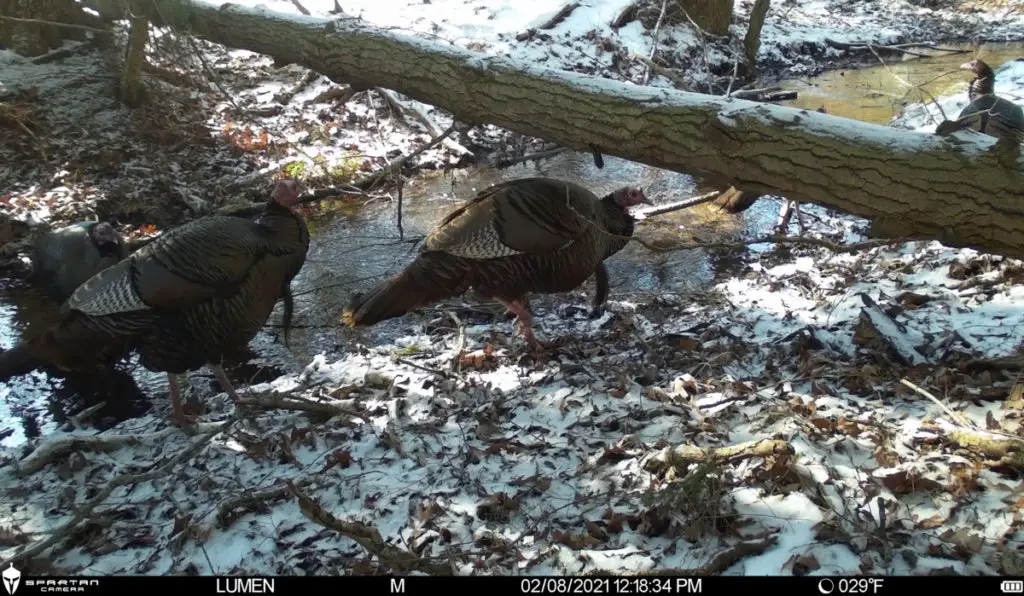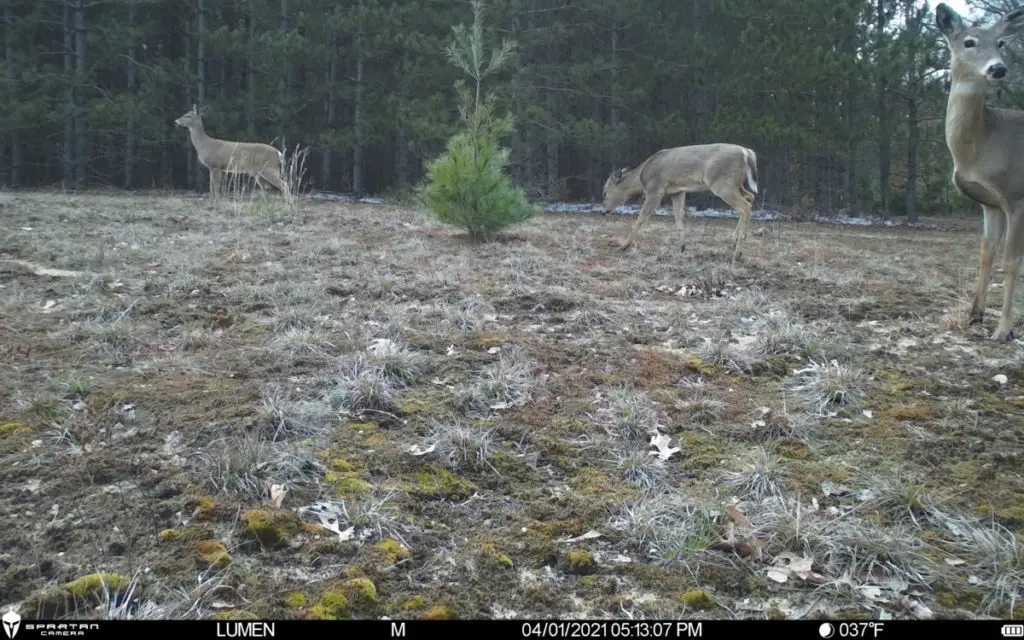 Nighttime Picture Quality
Score: 10/10
There is just something about the nighttime color images that makes a photo pop. Spartan did an amazing job with this camera balancing the white flash and the quality of photo. For obvious reasons, this camera is not likely to be your go to camera for any sort of hunting application, as the night time white flash is very bright, and is very intrusive to wild animals. But as you can see below the photos it creates are fantastic.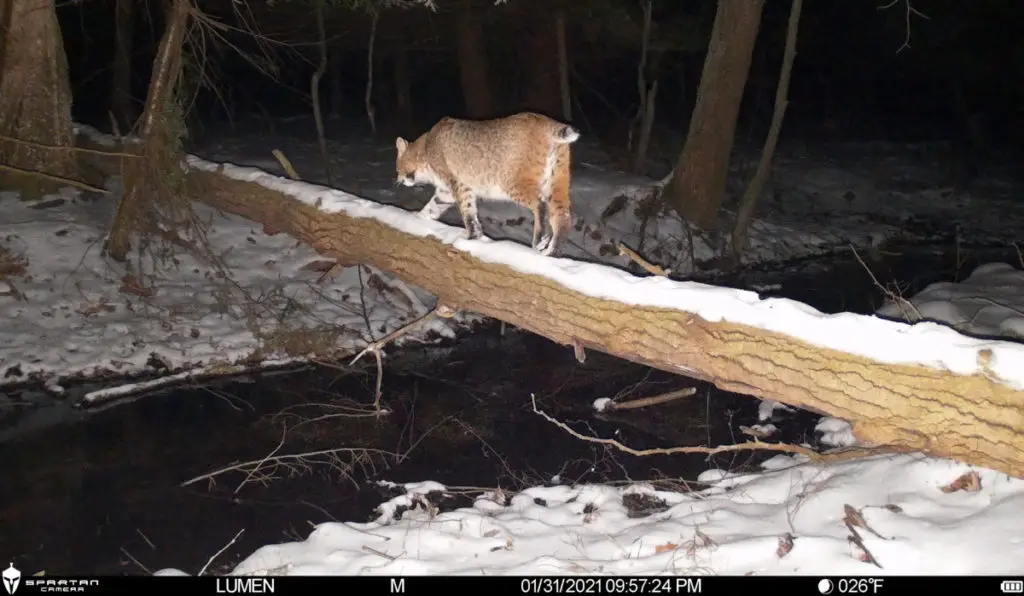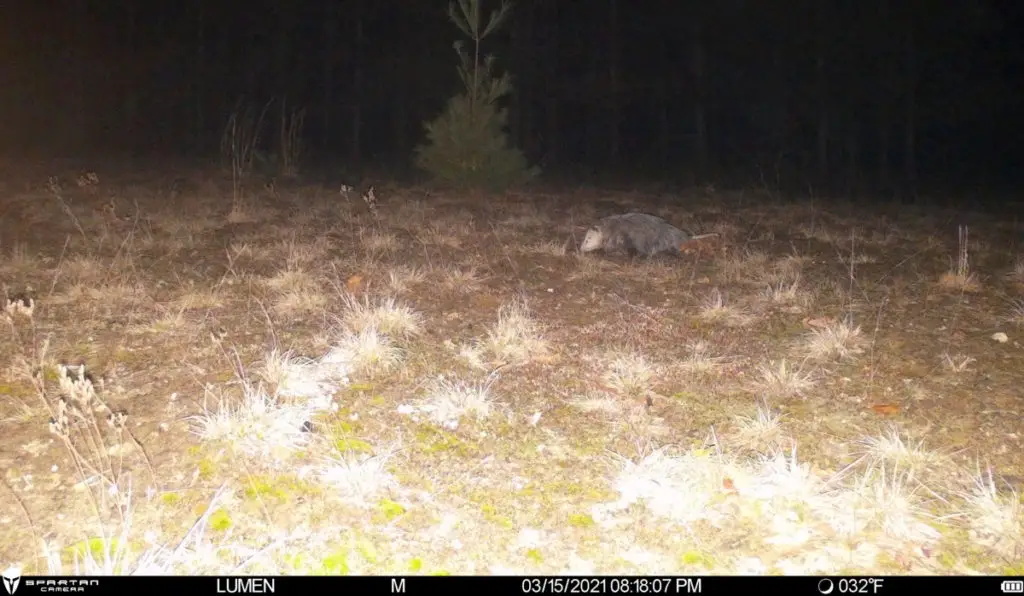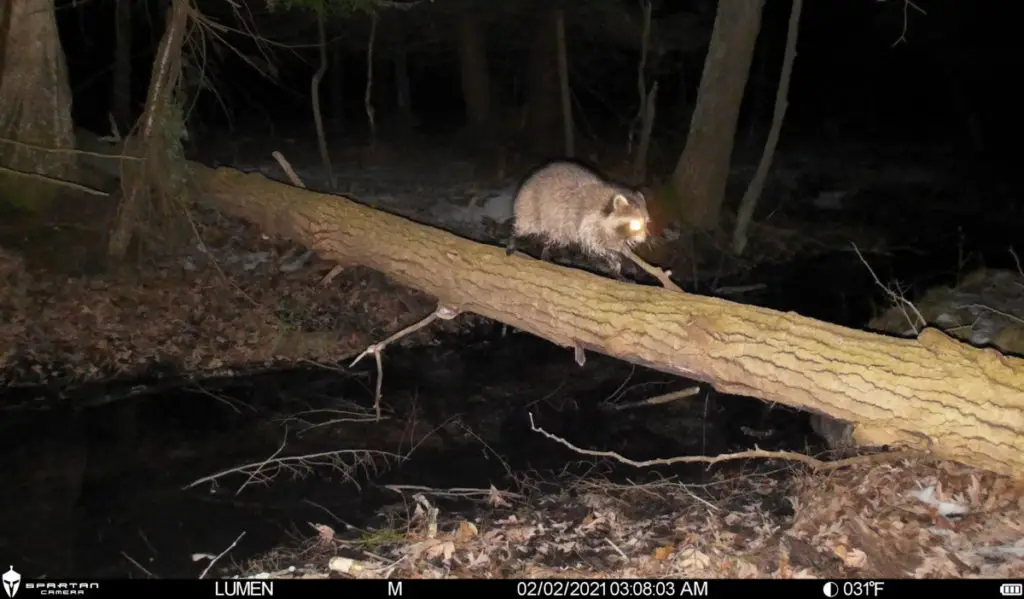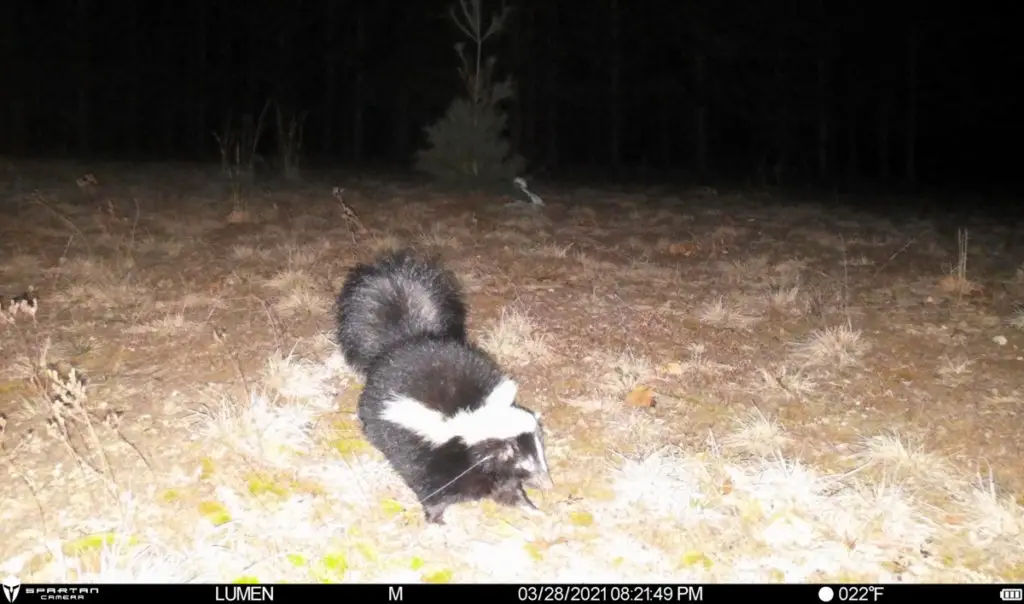 Video Quality
Score: 7/10
One of the nice things about reviewing video, is that it doesn't take many words to describe the quality, it is easily just seen. Below is a few examples of video clips from the Spartan Lumen. It records in 1080p @ 30 frames per second.
Timelapse Mode
Score: 7/10
The timelapse mode is a very basic feature for almost every trail camera we review. A trail camera either has it or it doesn't, and most that do score in the 6-8 range. Here are just a few things that set the Lumen's score back on the timelapse:
It was actually difficult to set the camera to timelapse mode unless you know exactly where to find it. The mode itself is under the trigger category rather than an operational mode.
If you do not want to use the PIR system along with the timelapse, you have to go into the settings and turn the sensitivity off. All making the process a little confusing.
There is not an option for multiple timelapse time periods throughout the day. For instance you can not set a time in the morning and the evening to take photos.
With that being said, the Lumen did excel in many ways:
22 different time intervals for the timelapse
The IR flash is enabled to take nighttime photos with timelapse mode.
You can use either video or photos
All in all the positives and negatives outweighed each other, and the Lumen's timelapse score landed almost identical to every other trail camera we have reviewed.
Engineering
Score: 5/10
While the feature section of our review process uncovers what features the camera has, the engineering section studies how those features perform. While the rating is very low, considering the quality of camera the Lumen is, this is simply the because the lumen is designed to be used in very specific close up situations.
With that said, certain measurable features, such as detection distance and flash distance, do not meet our criteria, simply because they were not designed to do so.
Battery Life
In general white flash trail cameras take up a lot of battery. It simply takes a lot more power to operate full flash from a white flash camera than it does from a typical low glow trail camera. Despite that fact, the Lumen did very well in battery consumption, producing 26,748 photos on a single set of lithium batteries.
While the camera did not exceed the 30,000 photos of the average trail camera, it was very impressive for what it was able to produce.
Detection and Flash Distance
The Lumen trail camera was designed to take really good quality photos up close. Unlike most trail cameras that are created for a hunter in mind, the Lumen scaled back on some things that wouldn't affect good quality photography. In this case, detection distance.
With very little need to have long distance detection, and the difficulty of creating a white flash that successfully can reach beyond 60 feet, Spartan simply scaled the effective range for detection and flash distance to 60 feet.
Field of View
The field of view on the Lumen confused me the most. With a close range trail camera, you wouldn't need a wide angle field of view. However, Spartan claims a 75o FOV. What makes it even more confusing is that in testing, I was only able to calculate a 60o FOV.
The Field of View claim was not only in the manual in multiple locations, but was on their website as well, eliminating any possibility of a simple misprint. Despite my many attempts to calculate the FOV, the fact is it continuously came out the same 15o less than their claim.
| | Observation | Comment |
| --- | --- | --- |
| Daytime Detection Distance | 60 feet | Had consistent triggers at 60 ft, but would never trigger at 61ft. |
| Nighttime Detection Distance | 60 feet | While the detection distance is only 60ft, it is matched perfectly with the flash distance. |
| Field of View | 60o | Despite the manufacturer's claim of 75o FOV, we only could find a measurement of 60o |
| Flash Distance | 60 feet | With white flash cameras, you can never expect to have great flash distances |
| Battery Life | 26,748 Photos | While the battery life did not meet expectations that we have for all of our trail camera tests, for a white flash trail camera, it performed very well. |
Price
Score: 7/10
When breaking down the price structure of a trail camera, we take a look at all of the features a trail camera has, and compare them to the average price increase that each of those features has across the entire industry. For example, when a trail camera has a black flash illumination system, across the industry, that adds an average of $10 to the price of a camera. In this case a white flash adds on average $20 to the overall cost.
With that explanation we determined that the Spartan Lumen should cost around $170. With an MSRP of $149.95, this price comes in around $20 less than our estimation.
Warranty / Customer Service
Score: 8/10
Warranty
All Spartan trail cameras come equipped with a 2 year manufacturer warranty. Just a few short years ago, the industry standard was 1 year, however there has been a shift in companies standing behind their products, and seemingly the 2 year warranty is becoming the industry standard.
Customer Service
I can't say enough about the quality of customer service I received throughout this entire review. In checking their customer service, I will contact them through both email and with a call to their customer service line. In both occasions I was able to receive the help I needed in a very fast and efficient manner.
The customer service representative I spoke with was extremely knowledgeable about the camera, and taught me a few things that I didn't realize.
All in all it was a great interaction with the customer service staff.
Conclusion
If you are looking for a trail camera as a hunting tool, keep looking, the Spartan Lumen is the not the ideal tool for that job. The white flash, is intrusive to animals, the detection distance is fairly short, and the lack of burst count can be frustrating in certain situations. However, if you are in the market for a great camera that will take incredible photos and video, we highly recommend this camera.
Throw this camera overlooking a log crossing a creek, or near a fox den, and you will not be disappointed with the quality images that it is capable of producing.