Overall Score: 49/100
In 2022, Moultrie went small. Very small. Introducing their line of micro trail cameras, Moultrie began pushing the boundaries of size and performance, undoubtedly starting an eventual arms race in the industry of micro cameras that can fit inside the palm of your hand.
These tiny cameras have a total size of 20.8 in3, and can be hidden virtually anywhere, protecting against theft, and animal recognition. The first camera off the line for Moultrie in 2022 was the Micro-32i. Simplistic in nature, this small, easy to use camera is equipped with only a few adjustable settings,
Overview
The Moultrie Micro 32i is a compact trail camera, and after combing through the camera, its size is indeed the most exciting thing about it. While the camera is very easy to use and would be a great trail camera for any beginner, it is lacking a few things that would drive any novice absolutely crazy.
Most of the daylight photos and videos are actually very decent, but anything that is captured at night, is sub par in almost any category.
In fact, I found this to be a theme with this camera. For every thing it did well, it had two things that they missed on entirely. For example: the battery life was very solid with this camera, however the field of view was way too narrow, and the flash distance during nighttime photos was way too short.
Overall, the Micro 32i would be a very solid camera for someone who is just getting into the trail camera game. It is a solid camera, that does what it is supposed to do: take photos. And with its small size, it is extremely simple to hide just about anywhere.
Manufacturer Specs
| | | | |
| --- | --- | --- | --- |
| Megapixels | 32 MP | Time Lapse | NO |
| Video | 720p @ 15 FPS | Photo Bursts | 1 or 3 Photos |
| Flash Range | 80 ft | Audio Recording | No |
| Mounting | 1/4-20″ | Power | 4 AA |
| Battery Life | 13,000 Images | Trigger Speed | .5 Seconds |
| Warranty | 2 Year Warranty | MSRP | $149.99 (2 pack Bundle) |
Review Process
We promise to never review a camera we do no own, use, and test in the field. We use the cameras the way most consumers would, by placing them in the environments, and seeing how they perform.
We test each and every setting and function that the camera offers, so that when you get the camera home, there are no surprises.
Our review process consists of 10 different categories, with each category having 10 different tests or expectations. The standard is pass or fail. There is no subjective reasoning behind any score regardless of our feelings of the camera or the manufacturer.
Each test or expectation is worth one point. If the camera passes it receives the point for that test. If not, it doesn't. Each and every camera is put through the same 100 point checklist, so that you know each camera is measured the same way.
| | Score | Comments |
| --- | --- | --- |
| Design | 7/10 | Small Compact design that is simple to hide |
| Ease of Use | 7/10 | Very simple setup and easy to navigate menu items |
| Features | 4/10 | Is a very stripped down version of a trail camera. Simplicity is the best way to describe it |
| Daytime Photo Quality | 6/10 | Quality daylight photos, with good color |
| Nighttime Photo Quality | 4/10 | A lot of motion blur, and grain in nighttime photos |
| Video Quality | 3/10 | Very low quality video, with a lot of grain. Records 720p @ 15 frames per second |
| Timelapse Mode | 0/10 | Does not have Timelapse mode |
| Engineering | 4/10 | Quality Battery life, but poor nighttime flash, and field of view |
| Price | 7/10 | The price per camera comes out to $75. But is only sold in a 2 pack priced at $149.99 MSRP |
| Warranty / Customer Service | 7/10 | 2 year manufacturer warranty |
| Total | 49/100 | |
Hits and Misses
Hits
Compact size
Solid Daylight Photos
Daylight Video is its best mode
Solid battery life
Misses
No timelapse mode available
Nighttime images and video are just bad
Limited adjustable features
Very small 38o Field of View
Design
Score: 7/10
Size
If you were to break down the number one selling point of the micro 32i, it would have to be the overall size. Coming in at 3.53in tall x 3.25in wide x 2.62in deep this camera literally fits in the palm of your hand, and to my knowledge the 20.8in3 is the smallest on the market.
It is incredibly easy to hide as well, especially when used in conjunction with a camera mount, this camera can be hid almost anywhere. Making it an excellent option for public land, home security, or anywhere that is subject to theft.
Mounting
Slowly, the mounting straps from Moultrie trail cameras are becoming my favorite to work with. I used to snub my nose at the large plastic clasps, but over time have found that they are the simplest to use during the winter months, and hold up just fine during the rest of the year as well.
Aside from the easy to use clasp, the Moultrie 32i is provided with a 6 foot by 1 inch webbed strap that appears to be as durable as you would ever need. It is also equipped with the ability to lock the camera to the tree with a python cable that not only runs through the back of the camera, but also the housing door.
Of course it has the ability to mount the camera with an after market mount with a 1/4-20″ thread on the bottom of the camera.
Durability
The Micro 32i is a rugged camera. The compact design, gives the camera less flex in many areas where other cameras may have less support, like in the housing latch or around the PIR sensor.
I have always liked Moultrie's single latch handle design. The handle is easy to grab and easy to work while having two points of contact for a tight and secure fit on the housing door. The SD card slot also has its own weather proof gasket, which keeps moisture out of important electronic ports.
The one knock that this camera has in the durability category is the battery location directly within the housing door. When it comes to durability, I like to see a separate compartment for batteries. Having a separate compartment helps keep moisture out of the batteries, as well as protects the camera's electronic components if a battery leaks or corrodes.
Miscellaneous
When it comes to the design I have to mention my appreciation that I have for Moultrie sticking with a regular full size SD card. As camera manufacturers begin to make smaller cameras, they have been saving space by downsizing the SD card to a micro SD card. I can not explain the frustration I have with micro SD cards.
The micro SD cards are small and hard to handle, especially in the winter months when fingers are cold. I often find myself dropping them and searching on the ground for them. You need to carry a SD adaptor in order to view photos on most devices. So kudos to Moultrie for keeping with a traditional SD card.
Ease of Use
Score: 7/10
When looking for ease of use, I often begin with the menu items. Is it easy to get to the setup menu? Is it easy to navigate? Are the settings clearly understood? Could a beginner easily follow through with the manual and set the camera up? To all of these questions the answer is yes.
Moultrie does a very solid job in making all of their cameras easy to set up, and easy to navigate. With that said, however, Moultrie trail cameras has always had an issue with the lettering. For instance in the photos below, what does 1d mean? Or how about dELN?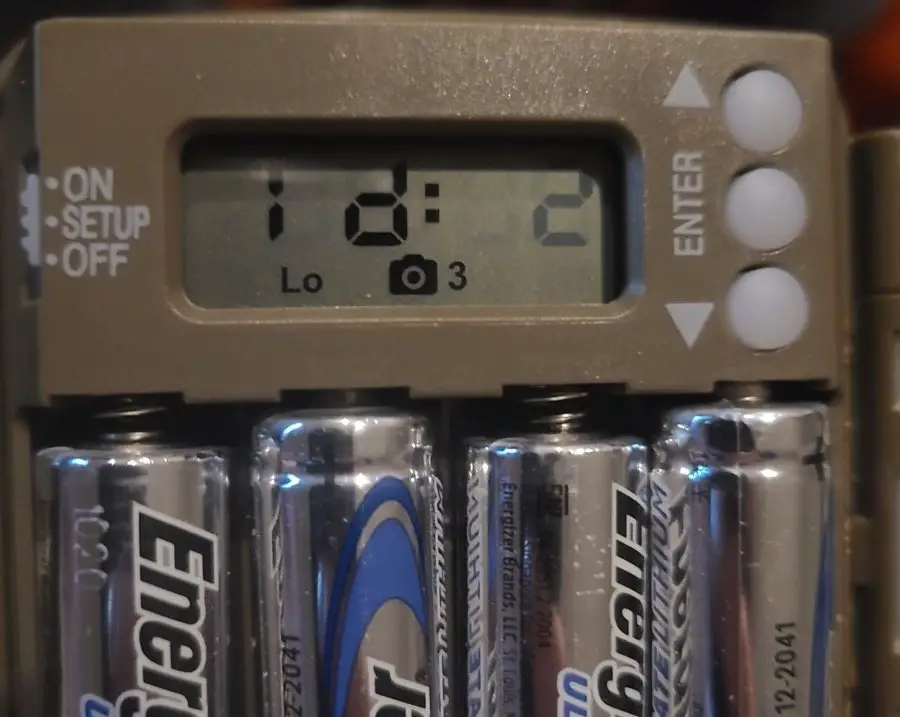 Once you get to using the camera you will begin to understand that 1d is actually suppose to read "ID" and dELN is read "Delete? No." Or if you want to delete the photos, you can change the setting to dELY, a little confusing.
Below is an example of a 2015 Browning Trail Camera, with the same exact menu options. Can you see how much easier it is to read and comprehend the intent? It is time for Moultrie to upgrade its lettering within the menu to be a bit more clear, and keep up with the technology.
Features
Score: 4/10
The one thing about the Moultrie Micro series is that it is a basic trail camera, mostly focused on ease of use and concealment. Like many trail cameras that are focused on simplicity, its just not going to have many features.
Features that we found missing from the Micro 32i include; timelapse, adjustable trigger speed, adjustable flash power, adjustable video recording times, audio recording, trigger sensitivity, and hybrid mode.
One final item that should be discussed is the that "i" in the 32i is suppose to stand for invisible flash. I can visibly see the flash. While it is not as bright as a tradition infrared camera, I wouldn't place this flash system in the invisible or black flash category, but rather the low glow category.
Photo Settings
Settings
Options
Resolution
High, Low
Burst Count
1 Photo or 3 Photos
Delay Settings
0,15,30 Seconds
1 and 5 Minutes
Motion Sensitivity
No adjustments
Flash Range
No adjustments
Video Settings
Settings
Options
Video Resolution
720p @ 15fps
Video Length
15 Seconds
Audio Recording
No
Delay Settings
0, 15, 30 Seconds
1 and 5 Minutes
Motion Sensitivity
No Adjustments
Day Time Picture Quality
Score: 6/10
Daylight photos from the Moultrie Micro 32i are pretty solid. As you can see below the color of the photos is good, the clarity is above average and their is very few problems with motion blur.
Some of the issues that we had found with the photos is that there is a very narrow Field of View (39o), and the camera lens has a very short focal point, making object closer to be very clear, while anything that stands back in the photo tends to have a slight blur.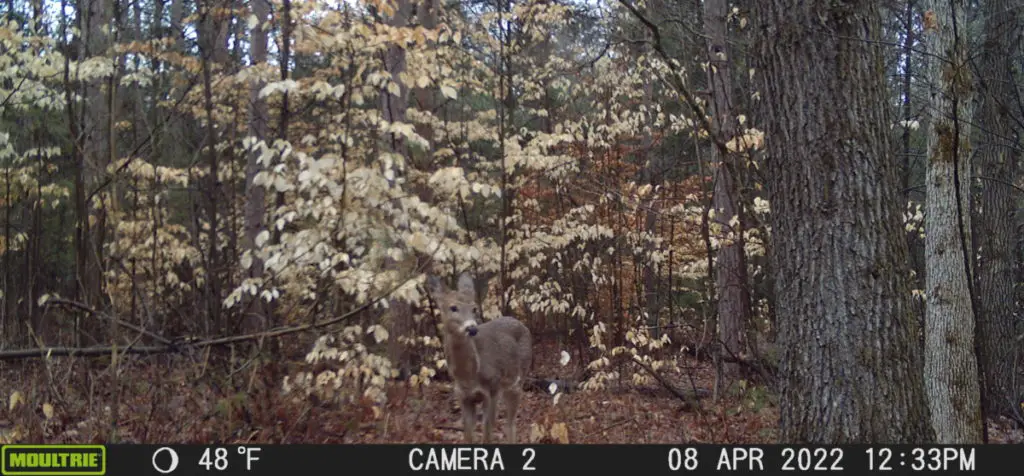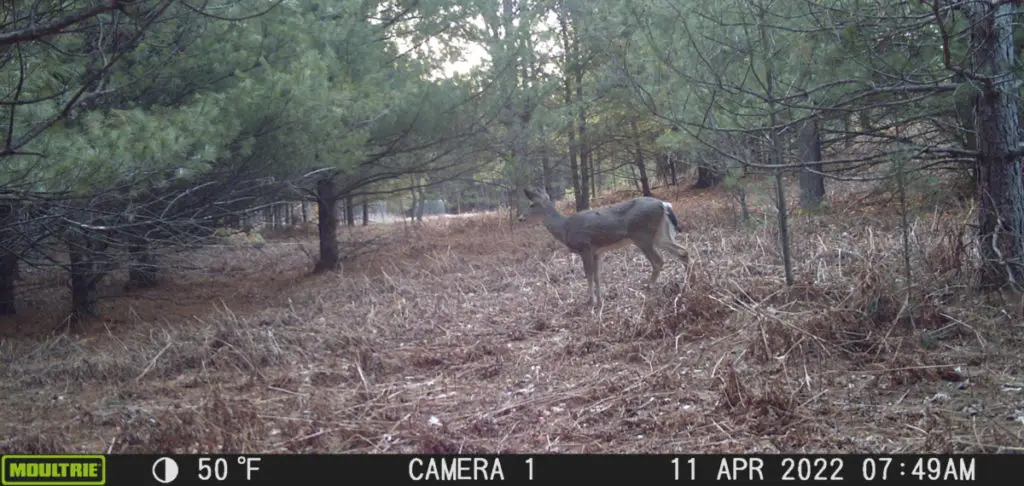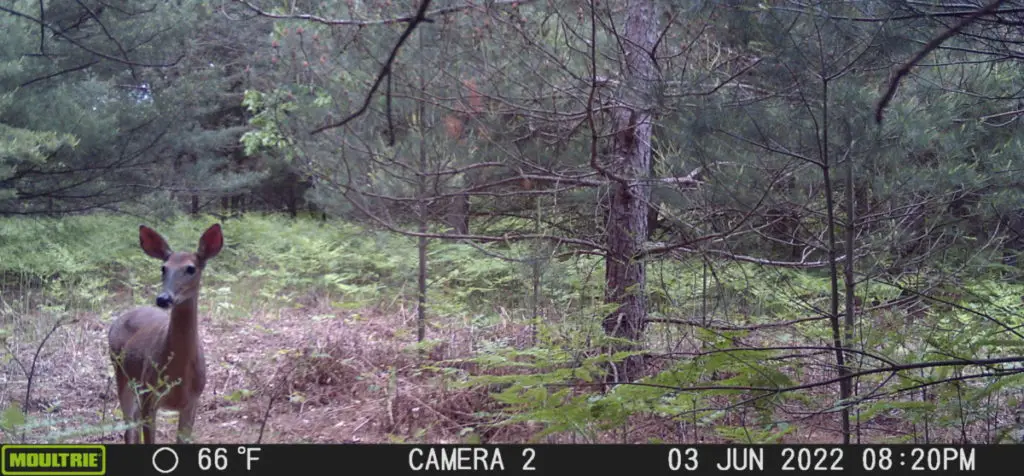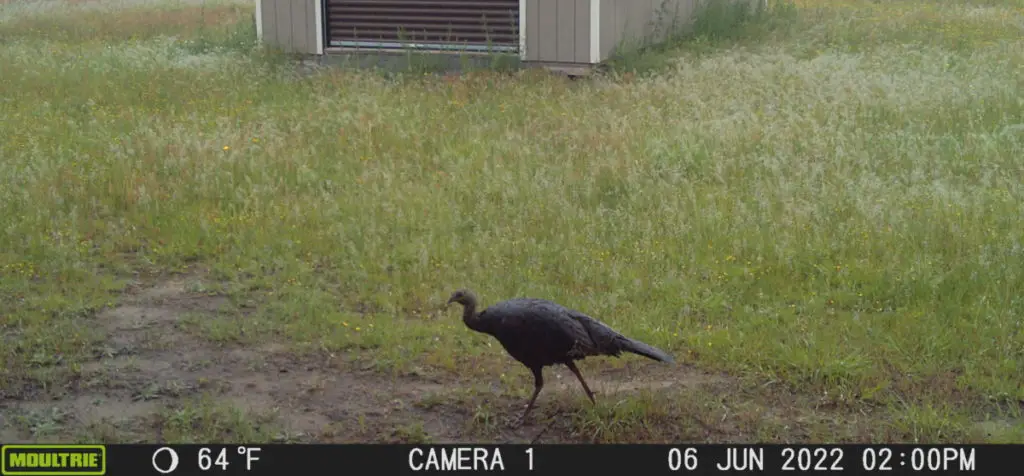 Nighttime Photo Quality
Score: 4/10
The nighttime photo quality tends to have a lot less quality than the daytime photos. There is quite a bit of grain in the photos, and the motion blur is much worse than the average trail camera. As you can see in the third photo, animals in close are subject to whiteout.
There are positives to go along with the list of negative attributes. There is little distortion in objects along the edge of the photo, the eye glow in most photos does not exceed a natural size, and the light distribution in photos seems to be fairly evenly distributed throughout.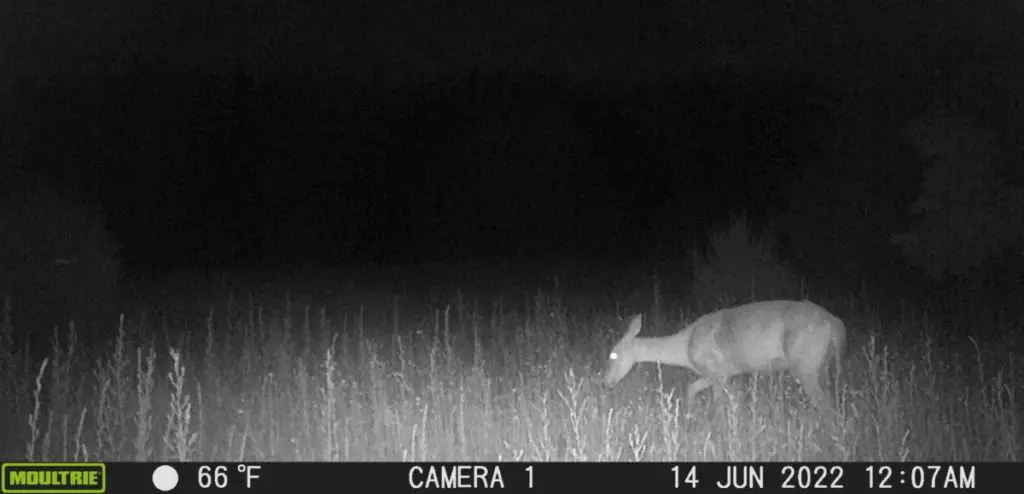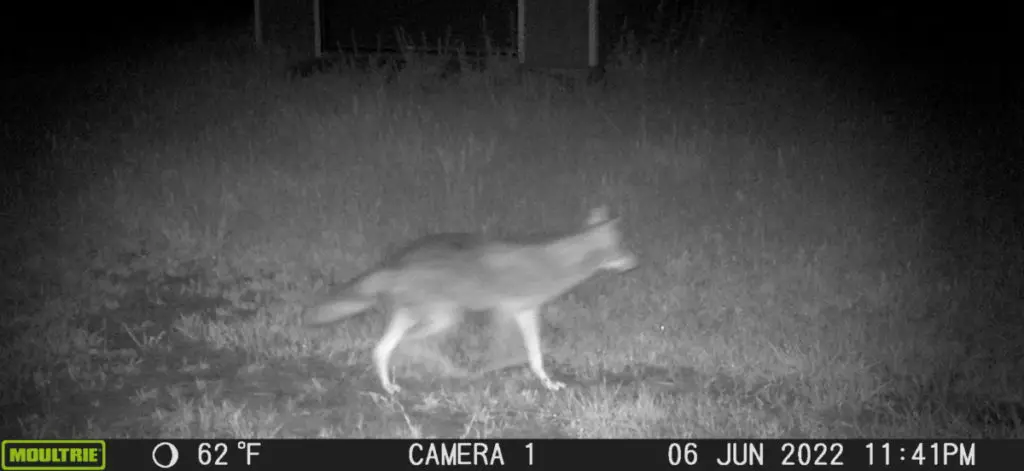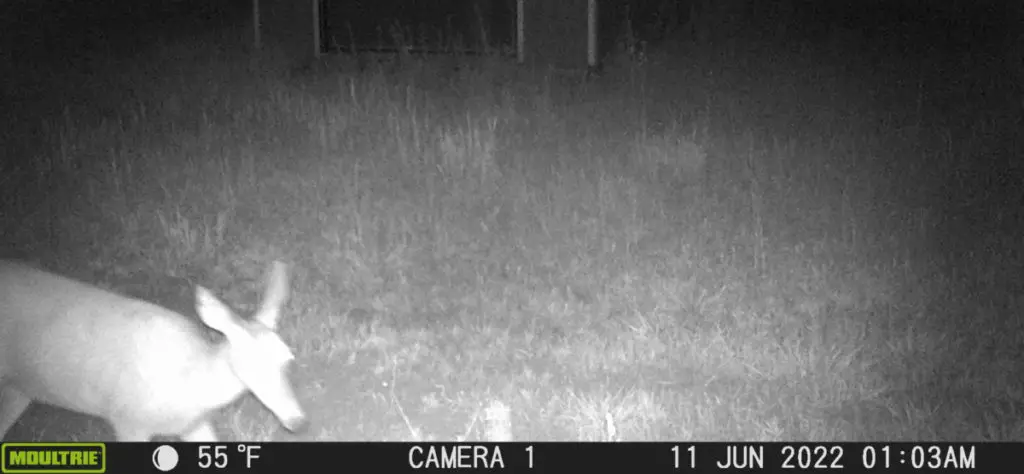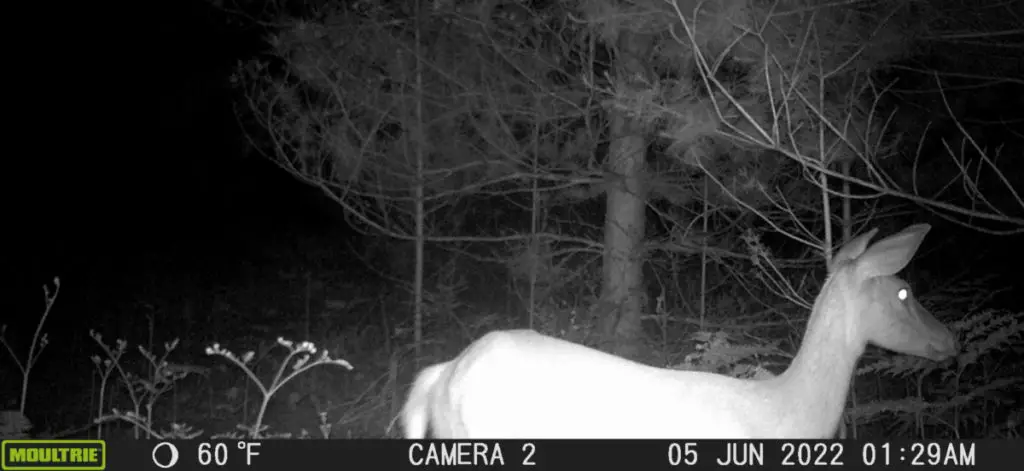 Video Quality
Score: 3/10
The daytime video quality is actually not too bad, despite only being recorded in 720p. There also doesn't seem to be too much glitchy movement, even though it is filmed at 15 frames a second. The color is good, and the grain is to a minimum.
The night time video on the other hand is a complete disaster. The picture is extremely grainy, and for some reason there is a very noticeable halo from the nighttime IR flash. The halo is not just noticeable, it shrinks the actual viewable area to almost nothing. It is so bad, that it took two months just to capture the few night time clips in the video below.
The detection distance was well outside of the flash range, causing many triggers where you can get glimpses of glowing eyes, but nothing visible inside the flash. To add insult to injury, the Micro 32i does not record audio. Take a look at the video below, and make up your own mind on the video quality.
Engineering
Score: 4/10
For a beginners trail camera, the specs on the 32i are right on par. But when comparing them to trail camera averages, this camera is below average in performance in many areas such as detection distance (66ft), Field of view (38o) and flash distance (64ft).
The areas, however, where the camera excelled was in battery life, and in trigger speed (.5 seconds).
We tested the performance of each and every item within the engineering category, and you can see the results of our tests in the table below.
| | Observation | Comment |
| --- | --- | --- |
| Daytime Detection Distance | 66ft | 66ft is the furthest trigger we were able to get, but more consistent was an effective range around 64ft |
| Nighttime Detection Distance | 72ft | Strangely the detection distance during the night was more consistently above 70ft. Most often daytime detection distances are longer |
| Field of View | 38o | The field of view is very small, even for a cheaper priced camera |
| Flash Distance | 64ft | The flash distance is shorter than the nighttime detection distances which make it susceptible to trigger animals outside the flash range. |
| False Triggers | 8% | Only 8% of all photos taken in the field were false triggers. This is a very good percentage, especially during the summer when we tested this camera. |
| Battery Life | 40,628 Photos | Recorded photos taken with Energizer Lithium batteries. Uses 4 AA batteries. |
Price
Score: 7/10
The Moultrie Micro 32i is only available in a 2 pack, priced at $149.99 MSRP, which comes out to $75 per camera. With a trail camera base price of $50 combined with the invisible flash, and a 2 year manufacturer warranty we estimated the value of this camera to be around $80.
So, while it is not a screaming deal, you can rest assured that you are getting exactly what you are paying for. You can find the Micro 32i here at Amazon with 2 day deliver
Warranty / Customer Service
Score: 7/10
Warranty
All of Moultrie's trail cameras are backed by a 2 year manufacturer warranty. But like all warranties it helps to read the fine print. Taken directly from the Moultrie website:
---
Warranty Coverage:  Our warranties cover manufacturer's defects as determined upon testing at the sole discretion of Moultrie. If the product is determined to be defective, Moultrie will replace the product. If a same model replacement is not available, we will substitute with the closest equivalent model. This excludes any sale or refurbished items.
Warranty Disclaimer: Our warranties do not cover any failures or defects caused by one or more of the following: incorrect installations, abuse, alterations or modifications not performed by Moultrie, poor handling, misuse, accidents, improper packaging, abnormal use, insects, wildlife damage, incidental physical damage, shock, power failures/surges, lightning or weather-related conditions. Warranty does not apply to any product or part thereof where the original serial number has been altered, modified, defaced or removed. Warranty does not cover damage or loss as a result of transportation of the products.
---
If you notice the warranty disclaimer reads it does not cover improper packaging. Think on that for moment. Doesn't Moultrie make, or at least contract out, the packaging? Regardless, having a two year manufacturer warranty is a plus.
Customer Service
I have had the opportunity to deal with their customer service representatives on multiple occasions. This has been due to numerous reasons such as needing to redeem the warranty on a faulty part, questions about their camera products, or dealing directly with them for freelance articles I was writing.
Despite the reason for calling, or emailing, the customer service staff was always quick to respond, for the most part knew their products, and were willing to dig into information they were not familiar with.