Exodus created the Trek as a more affordable option to their line of trail cameras. Built as a "static" camera, a term they coined to describe a camera that is used in areas where there is less movement such as a scrape or food source, this camera performed really well with photo quality, ease of use, and their manufacturer warranty.
We put this camera to the test in the field and it performed very well accumulating a score of 72/100. Take a look at our in depth review of the Exodus Trek, and see if this camera is right for your trail camera needs.
Score
Comments
Design
6/10
Only available in gray color, and the SD card can be hard to extract from the camera
Ease of Use
8/10
One simple menu, that is easy to navigate
Features
6/10
Fairly straight forward camera with limited options
Daytime Picture Quality
9/10
Excellent quality photos with limited motion blur
Nighttime Picture Quality
7/10
Solid low light photos, and good flash coverage, slight motion blur
Video Quality
6/10
Recording options 720p @ 30 FPS &
1080p @ 15 FPS
Time Lapse Mode
7/10
Basic time lapse mode, but does have the option of keeping the PIR sensor on in conjunction with the time lapse
Engineering
6/10
Slower .7 second trigger, but matches well with the FOV and Detection angle. Adequate battery life
Price
7/10
Solid price point at $145, matches well with comparable cameras
Warranty/ Customer Service
10/10
5 Year manufacturer warranty
5 Year Theft and Accidental Damage Coverage
Excellent Customer Service
Total
72/100
How We Review Cameras
When it comes to online reviews, there is nothing more aggravating than reading a review from someone that simply copies and pastes the manufacturer's provided information. We vow to never write a review of any product that we do not own, use, and test first hand.
How we review a camera is simple: we put them in the field and let them perform. There is no better way to see how a trail camera works then allowing them to do their job. Only after we have had enough time to test every setting and feature, we give them a grade.
We break down the camera into ten separate categories from design and features to image quality and ease of use, then grade each one based on our 20 point checklist. The overall grade is based on an accumulative score from these 10 categories.
Oh, and we grade tough. Just like that high school teacher that you had that never gave out an "A", we believe there is always room for improvement, and the perfect camera has yet to be made. So, don't expect many cameras to be in the 90's.
Manufacturer Specs
Megapixels
12 Mp
Sound Recording
Yes
Flash Range
55′
Memory Card
Up to 32 GB
Trigger Speed
.7 Second
Power
8 AA
Time Lapse
Yes
Flash
Black Flash
Photo Burst
1-9 Photos
Time Stamp
Date, Time,
Temperature
Coordinates
Video
1080p & 720p
Warranty
5 Years
Mounting
1/4-20
MSRP
$145
Design
Score: 6/10
The design of the Exodus Trek is really a mixed bag. In many regards it is really well designed from having the dual latches on the fold down housing door to having the easy accessible battery tray compartment. In the same breath, they missed on a few key things like the flat gray color to the overall size of the trail camera.
Appearance
Size
The size and shape of the Exodus Trek is identical to their other trail cameras on the market. A little big and bulky for our liking, but it is not so big that you feel as though it would deter you from purchasing. Measuring in at 4.6″ W x 6.1″ L x 2.9″ D, I feel like the thickness saves this camera from being just too big.
Color
Overall the color of this trail camera is one of its biggest drawbacks. Only available in a non reflective gray, the Exodus Trek is difficult to hide from potential camera thieves. While the gray can match some tree barks, it limits the ability to conceal this camera in a variety of ways.
Mounting
The Trek is equipped with 1/4-20 threads on both the bottom of the camera and the back of the camera. We always tend to use the threads on the back out of convenience, so having both available is definitely a plus.
The mounting strap that comes with the Trek is just barley able to fit into the back of the camera brackets. While this holds the camera extremely tight, with very little give between the strap and the camera, it is indeed a bit frustrating to feed through, especially with cold hands.
The buckle that comes with the strap, requires you to feed it through and cinch it tight. In general it is not a big deal, but compared to other buckle systems that are available and used with other trail cameras on the market, this system is less than ideal. I have heard rumors that the buckle is being upgraded, but this upgrade has yet to hit the market.
Battery Compartment and SD Card Slot
The battery compartment is in an easy to access location on the bottom of the camera. With a simple push of the ejection button, the compartment easily slides out. It holds the batteries tight, yet is easy to change them out. If you hate changing batteries out in the field, you can purchase an extra battery tray, and simply exchange the entire tray, rather than replacing each battery in the field.
We have however had some issues with the SD card slot. More specifically the spring that ejects the SD card. It seemingly doesn't eject the card quite as far as you need, making it somewhat frustrating to grab a hold of the card. This is definitely not just an abnormality as it is the same way on every one of the Exodus trail cameras.
Durability
The Exodus Trek is without a doubt built to last. With a thick rugged outer shell, this camera is able to take a beating. We have used a handful of Treks over the past couple of years, and not one has had a single issue.
The fold down housing door, with latches on each side of the camera holds the door extremely tight making it water tight. They also use a C gasket around the housing door, this type of gasket is used for expansion and contraction of the rubber, allowing the camera to seal in all weather conditions.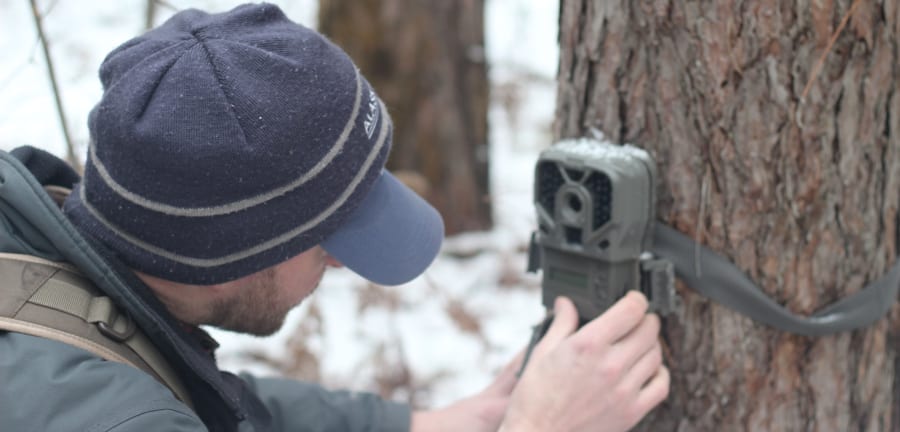 Ease of Use
Score: 8/10
The Exodus Trek is very simple to use. The entire set up process consists of one menu, with a handful of easy to follow setting options. With limited very basic options the entire process of setting the camera up is quick and easy.
On / Off
Inside the housing door, located on the front of the camera, there is a slide switch that turns the camera on, off and to the setup menu. This is straight forward, making it very simple to know what your camera is doing.
When you first move the camera switch to setup, you see the operating version of the camera. Making it simple to know the latest firmware update you are using. So when it comes time to update the firmware, there is no searching down rabbit holes to find the needed information.
General Settings Menu
Once you are in the general settings menu, the first option is to set your trail camera mode. By simply selecting the mode, you can use the toggle switch to select from photo, video, hybrid and timelapse modes.
By using the toggle switch you can run through each menu option that consists of delay times, video length, photo resolution, video resolution, and a handful of time stamp options such as time, date, and camera name.
Once you have set all of the setup options to your preferences from one easy to follow menu, you simply turn the camera to off, wait a few second and switch the camera to on, and you are ready to walk away.
Once you go through the menu once or twice, you know the available options and can set the trail camera up to your liking very quickly.
Features
Score: 6/10
While the Trek, is pretty much a straight forward trail camera, with not a ton of customization options in the way of flash power, trigger speed, or PIR sensativity, it does offer some nice options in photo quality and video resolution. The option to have a hybrid of both also is a positive for this camera.
Photo Settings
The photo settings allows you to choose from 4 different options of megapixels settings, which is nice for those who have a preference of having higher interpolation or closer image sizes to the native image resolution of the image sensor.
This setting also gives you a nice option of having up to 9 photos from one trigger. While taking 9 photos is very rarely used at any point, it does give those who are placing their cameras over bait to use a high photo burst in conjunction with a long delay.
| | |
| --- | --- |
| Settings | Options |
| Megapixels | 2MP, 6MP, 8MP, 12MP |
| Burst Count | 1-9 Photos |
| Trigger Delay | 5 seconds- 1 hour |
Video Settings
The trek offers two video resolution settings 1080p and 720p. The 1080p is filmed at only 15 frames per second, and the 720p is filmed at 30 frames per second. This gives the user the ability to choose between higher video resolution or high frames per second. While we typically use a higher FPS we would have liked for the higher 1080p resolution to offer that same frame rate.
It also gives you the ability to set your video length from 10 seconds to 3 minutes, and anywhere in between with at 5 second intervals. We like the flexibility to customize the recording time to suit the situation in the field. In some cases like travel corridors a short film will do the job, but the ability to set a much longer time around scrapes is a plus. Most trail cameras only give a few recording time options, and with the Trek this is definitely a plus.
Settings
Options
Video Resolution
1080p @ 15 FPS or
720p @ 30 FPS
Trigger Delay
5 Seconds – 1 Hour
Video Length
10 seconds – 3 minutes
@ 5 second intervals
Time Lapse Mode
Like most cameras the Time Lapse mode is very straight forward. You have the start and stop time to target when you would like to take photos. One nice feature that they do offer however is the ability to keep the PIR sensor on, making it possible to take photos if an animal passes by.
Hybrid Mode
With the Exodus Trek you do have the option of Hybrid mode. This instructs the camera to take a photo before turning on video mode, giving you the best of both worlds. When in Hybrid, it simply uses the preset settings for photo quality as well as your video options.
General Settings
The Trek doesn't offer too many general settings in the way of customizing PIR sensitivity, night time flash, or trigger speed. The only other general setting that is available is to have a security code on the camera, making it impossible for others to unlock the camera. While this doesn't prevent theft of the camera or the SD card, it does however make sure no one can use the camera if it is stolen.
Daytime Picture Quality
Score: 9/10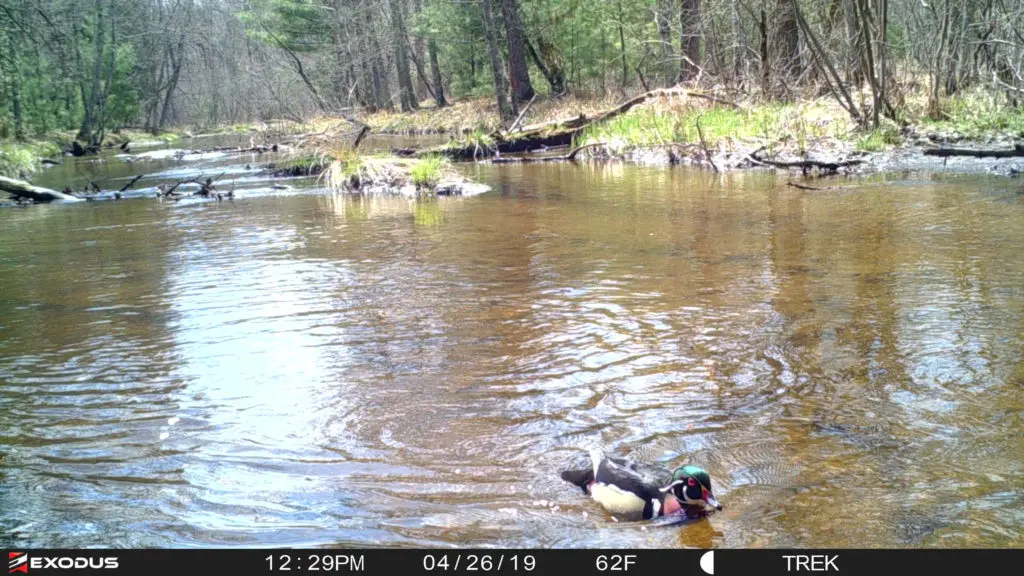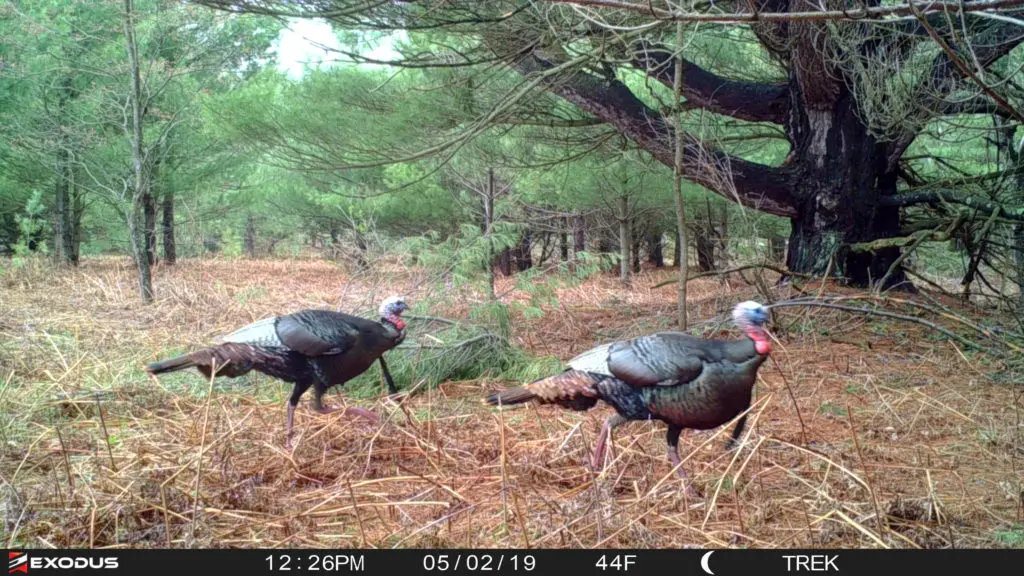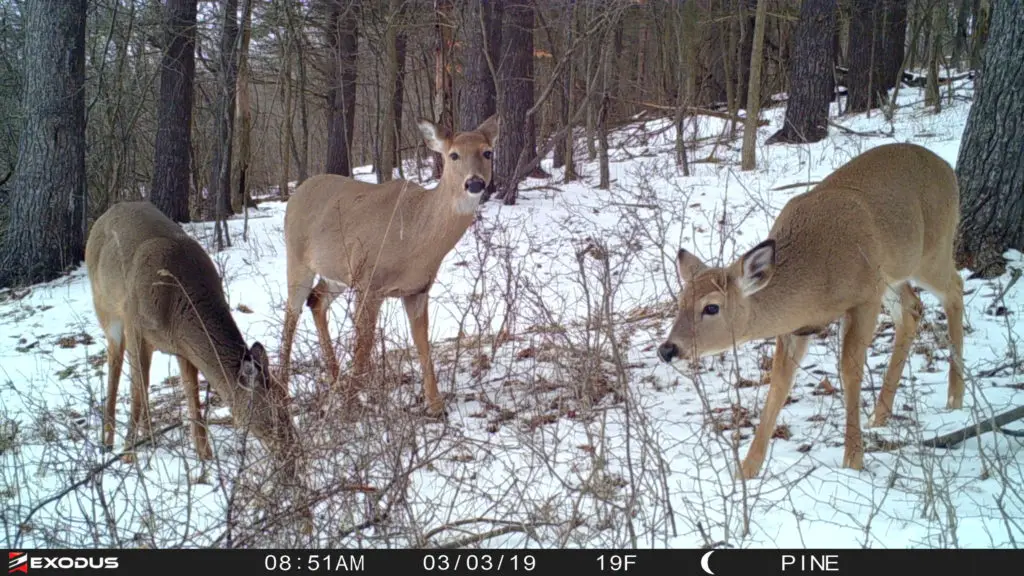 As you can see the daytime photo quality is exceptional. It has great color, exceptional clarity and very little motion blur. Seemingly every photo that this camera takes during the daytime has the same quality. That dependability in daytime photos combined with a quality 3.1 MP native image sensor resolution, sets the quality in top echelon.
Nighttime Picture Quality
Score: 7/10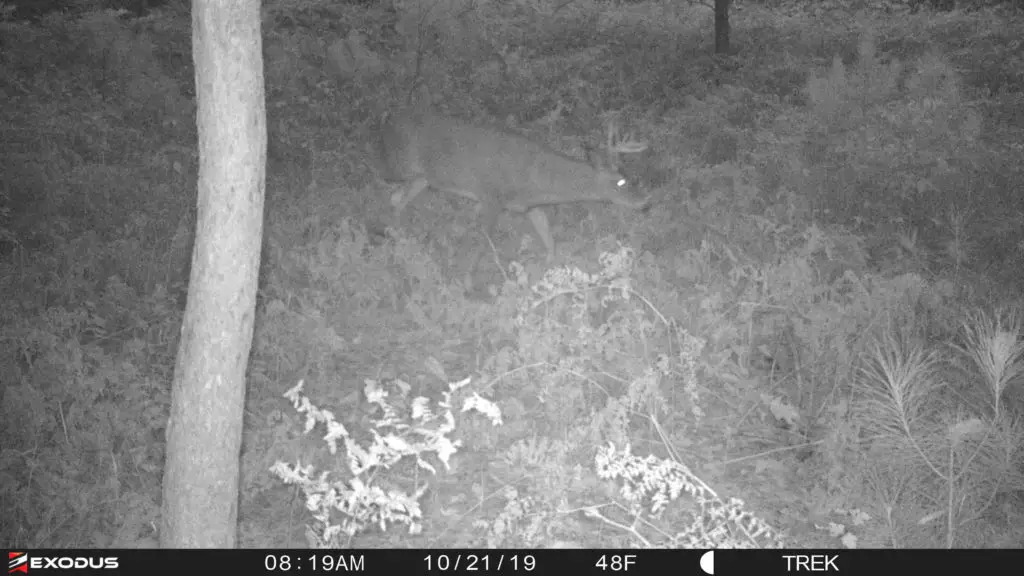 The night time pictures have decent quality. On some images that are farther away from the camera, you can notice a little bit of noise, or grain in the photo. But the closer the animal was to the camera, the more clear the photos become.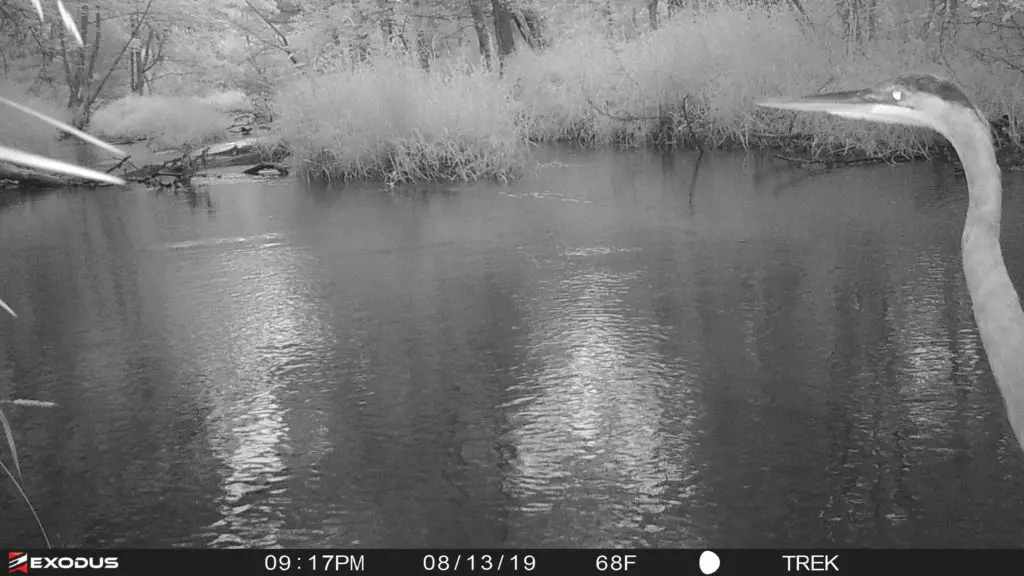 There was a little issue with a bit of motion blur with animals that were moving quicker across the field of view, however, during night time photos when then availability of light is limited this is to be expected.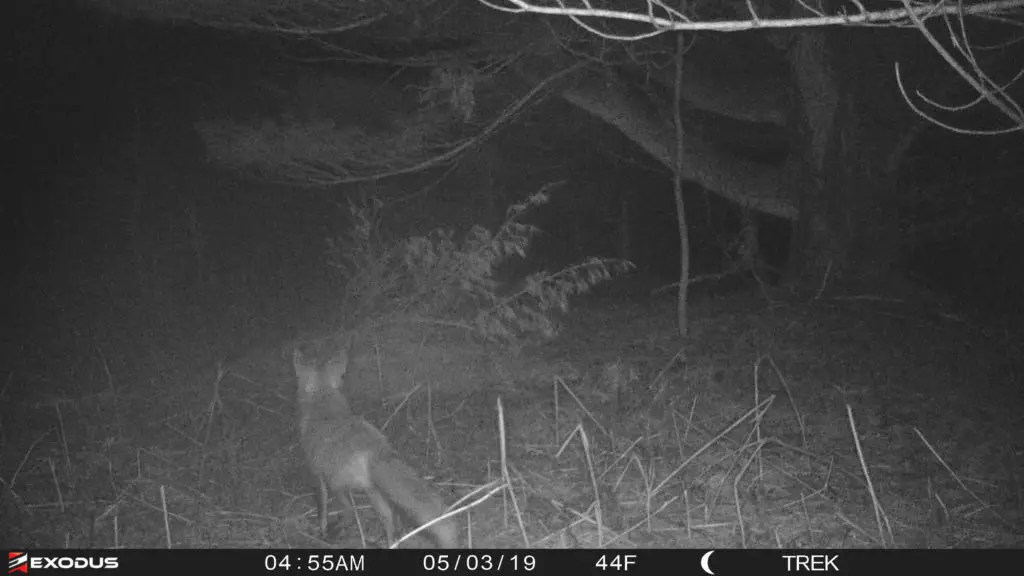 There was very good quality in low light situations as well. For trail cameras, those times around dusk and dawn are a bit of an obstacle for trail camera manufacturers, but the Trek did very well in these conditions.
Video Quality
Score: 6/10
With the video mode on the Trek you have two options of video resolution. You can either use 1080p Full HD with a recording speed of 15 frames per second, or you can film at 30 frames per second with 720p.
The video quality of the 720p resolution is surprisingly pretty decent for what it is. The higher frames per second allow the movements of the animals to be fairly seamless. With the lower resolution there is a slight grain to the videos which is to be expected. The night time video is very clear and well lit.
When it comes to video we almost always choose the high FPS rate when given the option, so to us the 1080p while is of higher quality picture, the lower frame rate makes the movements seem slightly unnatural.
Time Lapse Mode
Score: 7/10
There is nothing ground breaking in the Time Lapse mode that would truly differ from other trail cameras, other than it does allow you to turn on the PIR sensor, making it possible to take photos outside of the pre-set intervals. This is a nice touch for those who are using the camera to survey a field at dusk or dawn.
Engineering
Score: 6/10
Exodus made this trail camera to be simple, and at a price point that consumers feel comfortable purchasing. With that, you have a little bit of a slower trigger speed and shorter detection distance. Neither hampered this cameras performance.
Trigger Speed
The trigger speed of the Trek is a little bit slower than we typically look for in a camera, but the .7 second trigger is matched well with the detection angle and field of view. We had very few occasions in which the we missed a deer. In fact we have had some incredible shots of fast moving deer that landed almost perfectly in the middle of the field of view.
Don't let the slower manufacturer specs on trigger speed deter you from this camera, it is really well designed to capture every photo you need.
Battery Life
As always, per manufacturer recommendations we use lithium ion batteries in all of the trail cameras we test. The Trek's battery life was very good, lasting between 8-10 months. Obviously this battery life is a moving goal post depending on how many photos you take, what percentage are night time, and how often you used video mode.
While we have seen some cameras with better battery life, this camera is right on par with the average.
Detection Distance
Exodus' specs on the detection distance for the Trek is 55 feet. In our extensive test, we were able to get a trigger at 73 feet. While this might not be the normal occurrence, it does show that when setting the specs on their camera, Exodus doesn't over inflate their camera's capabilities.
Price
Score: 7/10
For a trail camera that takes exceptional daytime photos, the price of the Exodus Trek at $145 is right on par with other comparable trail cameras. This camera is built to last, and with a warranty of 5 years, its guaranteed to.
One thing this camera has that other black flash cameras in this price point does not, is the ability to film in 1080p full HD resolution, which gives this camera a leg up at this price.
Warranty / Customer Service
Score: 10/10
Lets make no mistake, the Warranty that Exodus offers is the best on the market. 5 year manufacturer warranty is nothing to sneeze at for an electronic device that is designed to get beat on by mother nature.
Aside from their "No BS Warranty," Exodus also understands the frustration of having a trail camera stolen, so they offer a 5 year theft protection warranty. Simply, if your trail camera is stolen, they give you a 50% off discount on purchasing another trail camera. That is a warranty that goes above and beyond any in the industry.
Along with the theft protection, they cover accidental damage at the same 50% off discount. So if you are crossing a river, and drop your camera in the water, causing it to no longer work, you are covered. The only thing you must do to begin the warranty is to register the camera within 30 days of purchase. That is it, and you know you are covered.
The customer service is impeccable too. In those rare instances when you have a problem with the camera, simply pick up the phone and give their customer service a call. The chances are, the person you talk to on the other end of the line is Chad Slyvester, one of the owners of Exodus. No one is more knowledgeable about his trail cameras then him. What other company offers a direct line to the owner?
Conclusion
Here is a quick recap of the pros and cons of our field testing:
Pros:
Excellent daytime photos
Industry leading 5 year warranty
Easy to use menu setup
Built to be durable
Cons:
Only available in non reflective gray color
Slower .7 second trigger speed
1080p video resolution only available in 15 FPS
SD card is difficult to extract from camera
If you are looking for a trail camera that takes extremely good quality photos, easy to set up and is backed for 5 years by the manufacturer warranty, the Exodus Trek is definitely worth a look. At the price point of $145 you are getting a great camera that will be in the field working consistently for years to come.