Overall Score: 77/100
The Dark Ops Pro DCL is apart of Browning's 2022 dual camera lens series. With two lenses, one specified for day time photos, and one designated for night time photos, we were expecting a quality trail camera. We were definitely not disappointed.
Overview
Lets begin by saying that the Dark Ops Pro DCL is a fantastic camera. It was designed with the user in mind. From mounting, to menu options to final setup, it was well thought out and engineered. The results were absolutely crisp clean photos, and seamless video recording.
In fact, the worst grade we had given this camera was on its warranty which only comes with a one year manufacturer warranty. But, to be honest, in all the years I have ran Browning trail cameras, I have never had to use the warranty, so I am not sure why they wouldn't guarantee their products for longer anyway.
This camera is one we would highly recommend, and encourage you to dig deep into this review to see why we are so excited about it.
Manufacturer Specs
| | | | |
| --- | --- | --- | --- |
| Megapixels | 26 MP | Timelapse | Yes |
| Video Resolution | 1080p FHD | Photo Bursts | 1-8 Photos |
| Flash Range | 100 ft | Audio Recording | Yes |
| Field of View | 54o | Power | 6 AA Batteries |
| Mounting | 1/4-20 | Trigger Speed | .15 Second |
| Warranty | 1 year | MSRP | $179.99 |
Review Process
Our review process is simple and to the point, we test everything. From in the field performance, to battery life, and specifications, to durability and final photo and video quality. We go over everything so that you can be confident in your purchasing decisions.
Each and every trail camera we review, we promise that we own, operate and test in the field, so that you can rest assured that you are getting an authentic review.
Each and every camera is tested according to our 100 point checklist that is broken down into the 10 categories below. This way our review process is standardized for all trail cameras, and easily compared to one another.
| | Score | Comments |
| --- | --- | --- |
| Design | 8/10 | Has a unique angled mounting bracket to help get the right angle for your camera |
| Ease of Use | 8/10 | The interface that Browning uses for menu options is always top notch |
| Features | 8/10 | This camera is absolutley loaded. The only feature it really does not have is a hybrid mode |
| Daytime Photo Quality | 8/10 | Excellent color and clarity on daytime photos |
| Nighttime Photo Quality | 7/10 | There is a bit of grain in the nighttime photos, which is surprising for a camera that has a designated lens for nighttime photos. |
| Video Quality | 8/10 | Video resolution is 1080p and is recorded @ 60fps |
| Timelapse Mode | 8/10 | Has some unique features such as learned time, which automatically adjusts for sunrise and sunset |
| Engineering | 8/10 | Exceptionally put together camera, with even having a really good battery life |
| Price | 8/10 | MSRP of $179.99. Is almost a steal for everything this camera has to offer |
| Warranty / Customer Service | 6/10 | 1 year manufacturer warranty |
| Total | 77/100 | |
Pros and Cons
Pros
Excellent video performance- recorded at 1080p @60 fps
Good quality photos
adjustable angled bracket for mounting
1.5″ LCD screen for viewing
High quality Timelapse Mode
Cons
Only a 1 year Manufacturer warranty
Nighttime photos and video are grainy despite having a dedicated nighttime lens
Design
Score: 8/10
Mounting
One of the most intriguing things about the mounting system of the Pro DCL series is the adjustable metal bracket. This mounting bracket is an attempt to eliminate any need for an aftermarket trail camera mount, as it adjusts and tightens to different angles, allowing you to place your camera higher into the tree.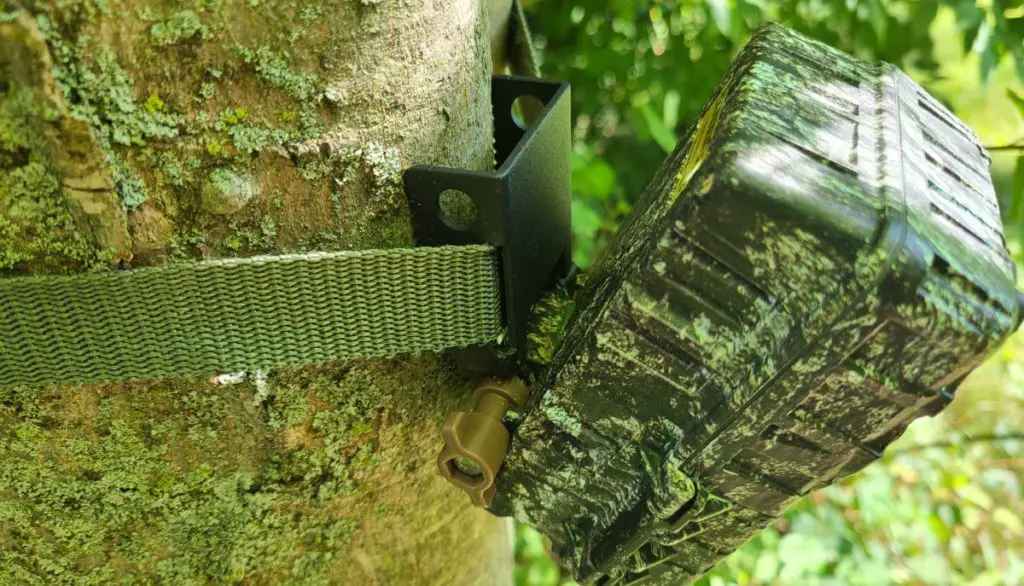 Aside from the mounting bracket, this camera still offers a 1/4-20 thread on the bottom allowing you to use a trail camera mount if you still wish.
Size
One of the drawbacks to having the mounting bracket is that this camera sticks out much too far from the tree. Measuring in a 3.3″ deep, it is increadible hard to conceal, compared to other trail cameras.
The overall dimensions of the Dark Ops Pro DCL is 4.52″T x 3.82″W x 3.3″D. This equates to a camera with a total of 56.98in3.
Durability
With a cinched tight housing door, and a heavy duty gasket, moisture buildup does not seem to be a problem. This camera also has a separate compartment and tray for the batteries, making any possible battery corrosion leakage self contained, keeping it away from some of the other electronics within the camera.
Ease of Use
Score: 8/10
The interface that Browning uses has always been extremely easy to use. The menu options are easy to find and the settings are easy to follow and adjust.
Some of the things that make this camera so easy to use is the directional pad and menu buttons. Some cameras don't have defined buttons, and makes it complicated to know which button does what function. Also, the on off switch being located directly on the front of the camera, makes it so you are not searching around, and then virtually standing on your head to turn the camera on and off.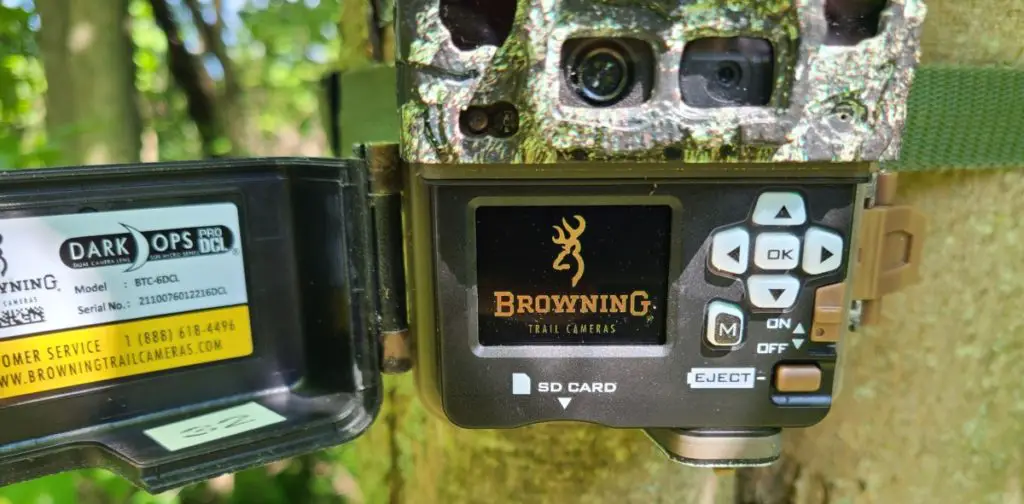 And if you were to , go through the entire process of setting up your camera to your personal specifications, and then walk away from the camera before remembering to activate the camera, there is no worries. The Pro DCL after 30 seconds of inactivity, saves your menu changes and activates the camera.
This is an extremely underrated feature, especially for those who have came to check their camera after months of being in the field only to realize you never activated the camera. You will never have this problem again .
Features
Score: 8/10
When it comes to features the Dark Ops Pro DCL is absolutely loaded. In fact the only two features that it does not have is a hybrid mode, which would allow you to take both a photo and a video on one trigger, and adjustable trigger speed.
What this camera does have is a black flash, video and audio recording, and a timelapse mode. Aside from these basic settings you can set up the trail camera to perform exactly how you would like with adjustable delay settings, detection distances, flash power and basically any photo or video settings that you wish to have.
One of the things that is unique about Browning trail cameras is their two different types of photo burst modes: standard and rapid fire.
Standard- this burst mode is typical of almost any trail camera on the market. You choose the number of photos you want each time the camera is triggered, and it will take each photo 2 seconds apart from one another.
Rapid Fire- this burst mode is different in the fact that it will allow the camera to take all of the photos you selected to take within a very short amount of time. How short? Well each photo is taken .5 seconds apart. This is ideal for those who are using the trail camera for photographing fast moving items such as birds.
Below is the various options available for photo and video modes.
Photo Settings
Settings
Options
Resolution
4MP, 10MP, 16MP, 26MP
Burst Count
Standard: 2-8 Photos
Rapid Fire: 2-4 Photos
Delay Settings
1, 5, 10, 20, 30, Seconds
1, 2, 5,10, 30,60 Minutes
Motion Sensitivity
Normal, Long Range
Flash Range
Fast Motion, Power Save, Long Range
Video Settings
Settings
Options
Video Resolution
1080p @ 30fps
1080p @ 60fps
Video Length
5, 10, 20, 30 Seconds
1 and 2 Minutes
Audio Recording
Yes
Delay Settings
1, 5, 10, 20, 30, Seconds
1, 2, 5,10, 30,60 Minutes
Motion Sensitivity
Normal, Long Range
Smart IR
Yes
Daytime Photo Quality
Score: 8/10
The photo quality on the Dark Ops Pro DCL is well above average. With a 3.1MP image sensor, the quality of the photos is naturally better than most trail cameras.
The photos seem to be crisp, and the color on almost every photo really pops out. Motion blur, which is a problem with almost all trail cameras, is cut to a minimum. Having a 55o field of view allows for a wider view, yet does not distort around the edges.
All in all, the photos are of very high quality. Take a look at the photos below and decide for yourself.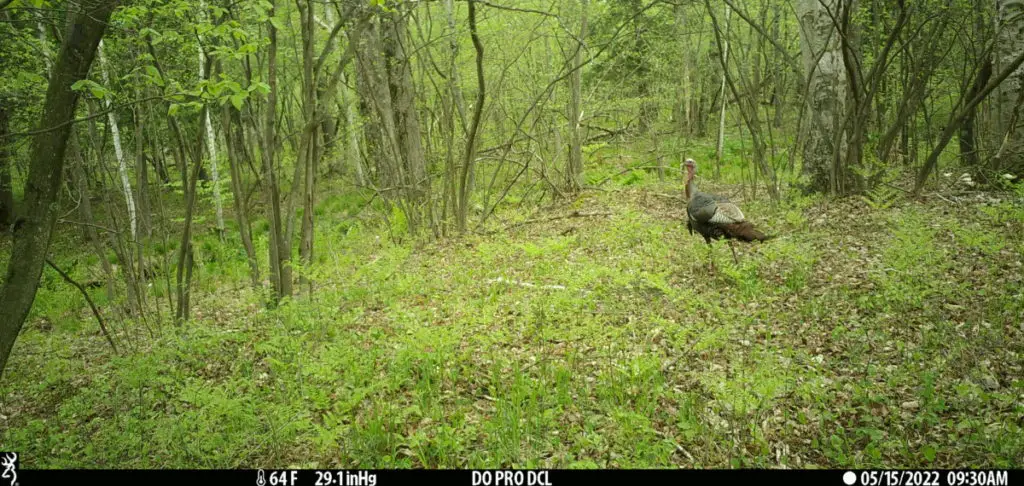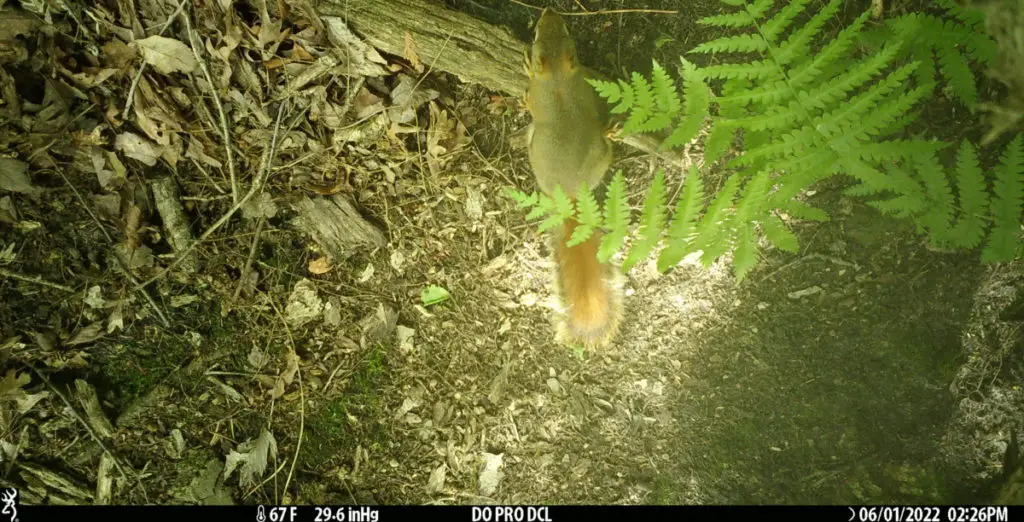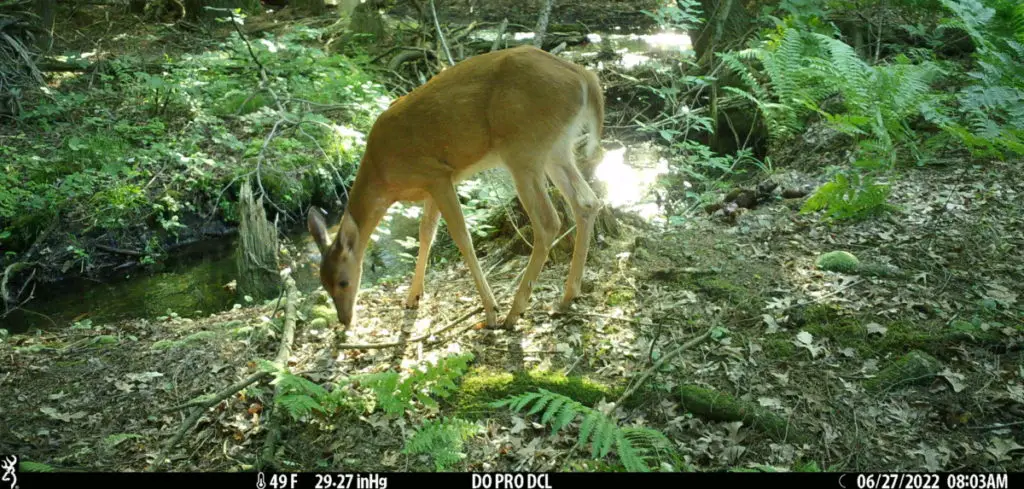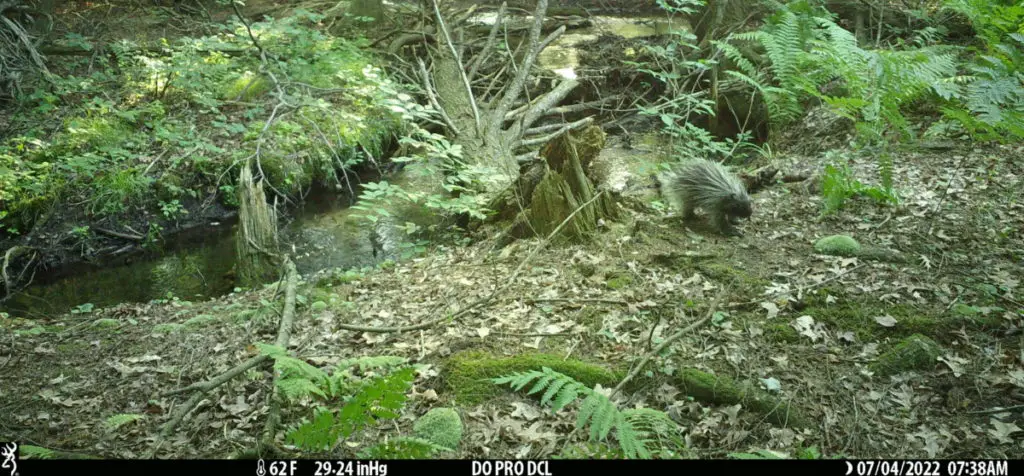 Nighttime Photo Quality
Score: 7/10
Despite having a designated image sensor and lens for nighttime photos, the quality of the nighttime photos were not as impressive as the daytime photos.
Many of the photos seem pixelated, and quite as clear as we expected. With that said, the motion blur was limited, which is quite a feat with night time photos.
The one thing that impressed us was the correlation between the nighttime flash and the detection distance. Most trail cameras try to push the boundaries with detection distance, but with this camera, they made sure the detection distance was well within the flash distance, regardless of what flash power you choose.
This way there is no problems setting the camera to you specifications, and having to worry about how that would affect the other options of your choice.
Take a look at the photos below and determine for yourself if the quality meets your expectations.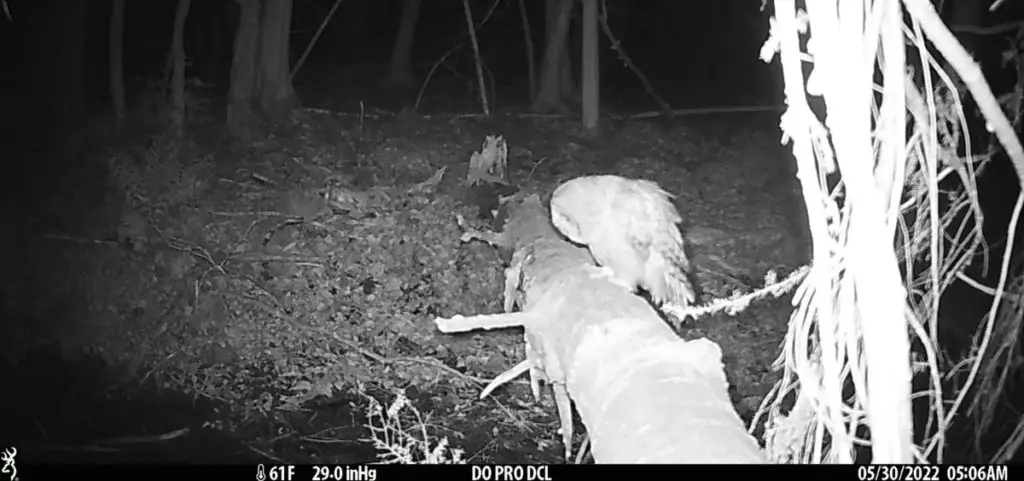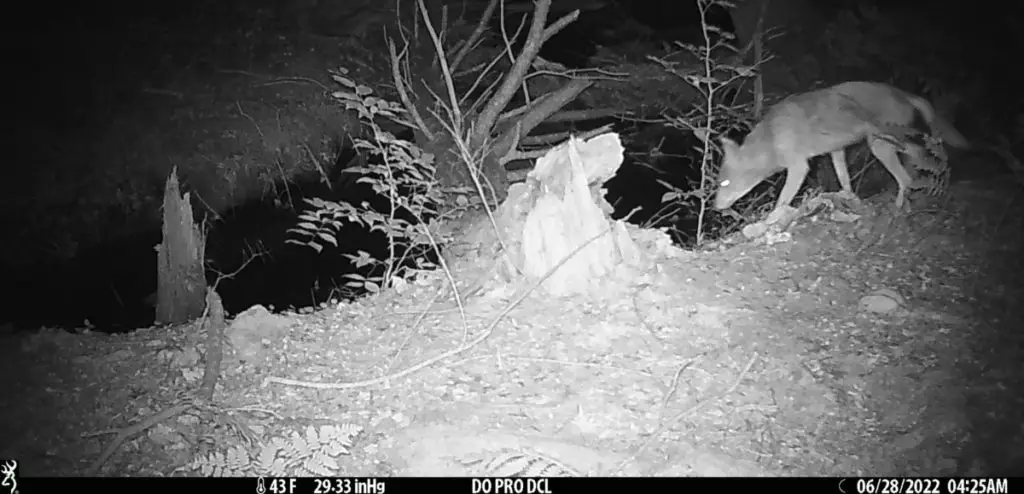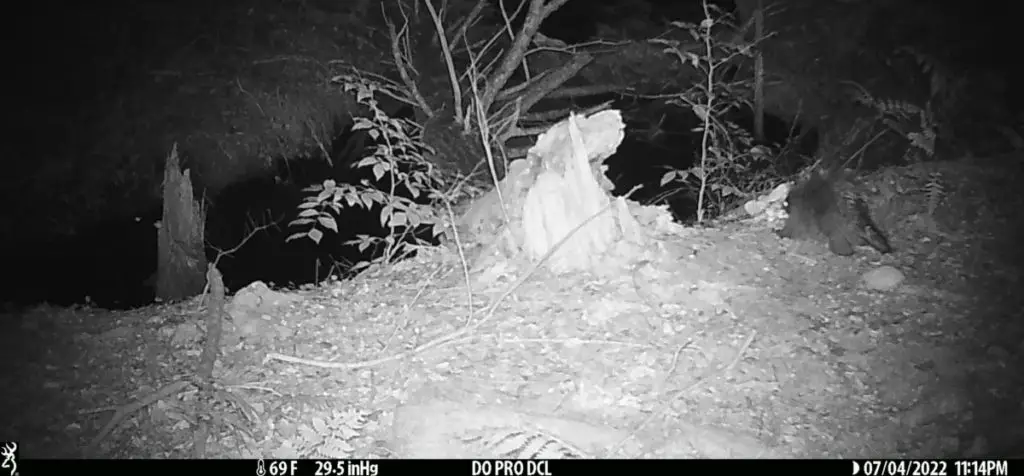 Video Quality
Score: 8/10
The video quality in my opinion is the best of the media options. Recording video at 1080p at up to 60fps, makes these videos seamless. Good solid color, seamless transition between frames, and incredible sound recording, makes these videos really solid.
The one thing that tends to be a theme with this trail camera is that despite the designated lens for nighttime photos and video, the quality is just not there. There is a lot of grain that is picked up in the videos, making them less crisp, and literally night and day difference from the daytime quality.
Take a look at the short clip below and make a decision for yourself. It is important to note that although the camera films at 60 frames per second, Youtube only renders videos at 30 frames per second. So you are not getting the complete quality of film rate you otherwise would.
Timelapse
Score: 8/10
One of the most overlooked features of any trail camera is the timelapse mode. But regardless of that fact, the Dark Ops Pro DCL has one of the better timelapse features on the market. Here is a quick breakdown of some of the more popular options that this timelapse mode has to offer:
PIR Enabled – give the camera the ability to also take photos when triggered by the PIR sensor
Multiple Time Settings – has the option of setting the camera for both morning and evening, helping you better monitor field activity during major feeding times
IR Enabled Flash– having the flash enabled allows you to set the camera to take photos at night as well as during the day.
Timelapse Frequency- has the ability to set 10 different photo frequencies, ranging from 5 seconds to 60 minutes
Timelapse Viewer Plus App- this timelapse app provided by Browning, allows you to download straight from their website onto your computer. Gives you the ability to look at each individual photo, or watch it as it plays back to you.
Learned Time- This feature is probably the most unique as the camera uses the light meter to learn the sunrise and sunset times. You can set the camera to take photos 2, 3, or 4 hours after sunrise and before sunset. The camera will learn these times and continuously adjust duration automatically.
The only thing that the timelapse mode does not allow you to do is to use video. Otherwise, it has all of the features that you could want.
Engineering
Score: 8/10
In review the engineering aspect of a trail camera, we take all of the features and see how they perform. This camera did exceptionally well.
The most notable aspect is that they matched the flash distance exceptionally well with the detection distance. So well, that if you wanted to use the Long Range detection distance, you can still save battery power by using the Power Save option on the flash setting, and have enough flash coverage to see what is setting off the camera.
In the chart below is some of the test that we preformed, to give you an accurate expectation.
Observation
Comment
Daytime Detection Distance
Normal – 62ft
Long Range- 77ft
Has two different detection distance settings, Normal and Long range
Nighttime Detection Distance
Normal – 40ft
Long Range – 56ft
The longest nighttime detection distance matches the least powerful flash distance, allowing you to choose the setting you want without having to worry about how it affects other settings
Field of View
55o
Solid FOV compared to other trail cameras
Flash Distance
Power Save – 54ft
Long Range – 92ft
Fast Motion- 62ft
Has 3 flash distance settings. The fast motion setting is used to eliminate motion blur.
Battery Life
35,053 photos
Used Energizer lithium batteries
Price
Score: 8/10
The Dark Ops Pro DCL is a very good purchase for the money. With all of the features, adjustable settings, and performance that this camera has to offer, we anticipated a camera in the price range of around $200. But in fact the MSRP came in at merely $179.99.
That is $20 under what this camera could go for. Having a 3.1MP image sensor, dual camera lenses, 1080p FHD video resolution, and a 60 frames per second film rate, this camera is feature rich, and for the price, if in your budget, we highly recommend it.
Warranty / Customer Service
Score: 6/10
Out of al of the categories that we review, the warranty and Customer Service were Browning's lowest rated. Lets start with the warranty.
A one year manufacturer warranty is at the same level as some lower price point brands like Wildgame Innovations, and Stealth. When you get into the higher quality, higher priced cameras, most manufacturers are supporting the products with at least a 2 year warranty, and in some cases a 5 year warranty. Its time for Browning to step up with their warranty.
Aside from the warranty, we have spent the last couple of months making up problems with trail cameras, and calling trail camera manufacturer's customer service departments to see the quality of support we are able to get.
The Browning reps do okay. Most of their knowledge would be considered basic, and probably lack a deep understanding of the camera and its internal functions. With that said, they are always there willing to help, and are extremely friendly.