Overall Score: 59/100
The Browning 2022 trail camera lineup is finally here! We couldn't wait to get our hands on the new cameras, and get them into the field, and see what Browning had to offer us this year.
First onto the market was the Command Ops Elite, Browning's lowest price point camera in this years lineup. Lets dive in!
Overview
In general we have had nothing but success with Browning trail cameras. Traditionally they are well built, quality trail cameras. With that said, the Command Ops Elite was not their best effort. Despite being a better camera than many other cameras on the market, in my opinion, it did not live up to the Browning reputation.
First with the good. As always, the Browning operating system on the cameras is simple and easy to use. This could be one of their strengths that in my opinion help them stand above the competition.
They use quality IR lights, giving an nice even light distribution during night time photos. And possibly one of the best features that they have is the 30 frames per second that the camera films at. It captures smooth video movement from beginning to end.
But, in many ways, it feels as though Browning played marketing games with this camera. For instance the flash range and detection distance that they promoted on the camera, were not even close to what we actually detected.
The video quality of 900p seems like an ill-fated attempt to raise the price of the camera from what they could charge with a 720p camera, but not actually raising the quality. The lack lust photo quality has large part due to the heavy interpolation that is being used to make a 1.6MP native resolution, turn into the 20 MP camera they are promoting.
To be honest all of this is actually fine, if they wanted to make a price competitive camera in the $80-$90 range. But they didn't, they made a baseline camera for $120, that doesn't meet the expectations that one would have for that price range.
As a very loyal customer to Browning trail cameras, it is hard for me to say, but at this price point, my personal recommendation is that the Command Ops Elite (2022) is a pass. But there is good news! You currently can find this camera on Amazon in that $90 range. At that price, it is worth looking through the rest of this article to see if it is the right camera for you.
Manufacturer Specs
| | | | |
| --- | --- | --- | --- |
| Megapixels | 20MP | Timelapse | Yes |
| Video | 900p @ 30fps | Photo Bursts | 1-8 Photos |
| Flash Range | 80ft | Audio Recording | Yes |
| Mounting | 1/4-20 | Power | 6 AA Batteries |
| Detection Distance | 70ft | Trigger Speed | .3 Seconds |
| Warranty | 1 Year | MSRP | $119.99 |
Review Process
Consistency if everything when reviewing trail cameras. In order for us to provide clear, in-depth, unbiased reviews, we created a 100 point checklist, in which we rate every camera.
Each point on the checklist is worth one point. If a camera meets or exceeds each and every point it would receive a perfect score of 100. Don't hold your breathe though, the perfect camera has never been manufactured. In fact, we have yet to score a camera even as high as 80. Although with some of the 2022 trail cameras in the field being tested, we are optimistic that will change this year.
In our review process, we vow to only review and critique trail cameras that we own and have used in the field, and tested thoroughly. This way you never have to wonder if we are reviewing cameras arbitrarily. We have had out hands on each and every one.
Below is our scoring system. Each category consists 10 items on our check list for a total of 10 possible points. Take a look at our breakdown in the chart below, and we breakdown each category throughout the article.
| | Score | Comment |
| --- | --- | --- |
| Design | 7/10 | Size measures in at 4.5″H x 3.81″W x 2.84″ D = 48.69in3 |
| Ease of Use | 8/10 | Easy to navigate menu and options |
| Features | 5/10 | Command Ops is Browning's base line trail camera, it just has fewer options than their other trail camera lines |
| Daytime Picture Quality | 5/10 | Many photos are grainy, and lack clear crisp color. It does excel in taking photos of motion without producing blur. |
| Nighttime Picture Quality | 7/10 | Matched the flash distance well with the detection distance, but did have an issue with motion blur |
| Video Quality | 6/10 | Film resolution at 900p with 30 frames per second record rate |
| Timelapse Mode | 6/10 | PIR sensor is enabled during timelapse, allowing you to trigger the camera traditionally, as well as through timelapse intervals |
| Engineering | 6/10 | |
| Price | 4/10 | MSRP of $119.99, comes in $30 over our expected price. |
| Warranty / Customer Service | 6/10 | 1 Year Manufacturer Warranty, that covers manufacturer defects of workmanship and materials |
| Total | 60/100 | |
Pros and Cons
Pros
Solid Video Quality
Easy to use – like all Browning cameras, has an easy interface
Compact size 4.5″H x 3.81″W x 2.84″ D
Cons
One Year Manufacturer Warranty
MSRP of $119.99, is priced much higher than what the camera offers. (Although can find better deals on Amazon)
Below average daylight photos, motion blur and grain were very consistent
Design
Score: 7/10
Mounting
The Browning Command Ops Elite comes equipped with a 6ft long 1 inch thick webbed strap. The strap is not only durable but the metal cinch tight clasp that accompanies it, makes for hanging these cameras tight to the tree with little concern about the strap working loose.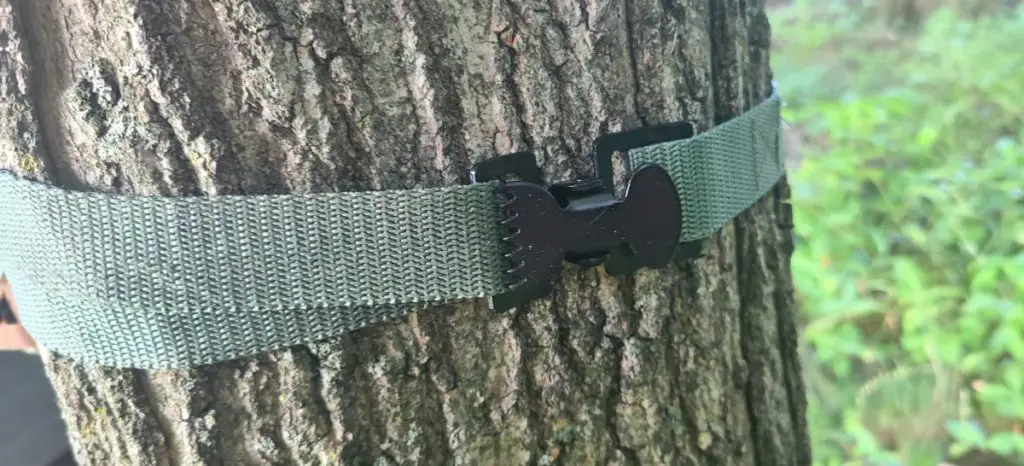 Along with the traditional mounting by strap, the Command Ops is also equipped with 1/4-20 thread on the bottom of the camera that allows for mounting with any aftermarket mounting system that you prefer
There is also a slot on the back of the camera that is available for the use of a python locking system, in order to keep your camera secure from potential thieves. The housing door, however, does not offer the ability to be locked, leaving the camera to open to SD card thieves who are looking for information about the area.
Durability
Having been used in the field, during some of the most torrential downpours, in recent memory, I would venture to say that sturdy clasp, moisture barrier gasket, along with the hard plastic housing, is able to stand up to any number of weather conditions.
One thing that I have always liked that Browning cameras have come equipped with is bottom mount battery tray. Having the batteries separate from the rest of the housing, and having its own U-gasket to seal out potential moisture, keeps the two separate in case there is a moisture problem, it only affects one of the two, not both.
Appearance
Browning has their typical tree bark camo, with the textured outer shell on the Command Ops. Its a solid look that has proven to be affective in concealing the camera in the field
The size of the Command Ops is slightly smaller than in previous years as well. With a measured 4.5″H x 3.81″W x 2.84″D this camera measures out to 48.69 in3, which fits safely within our desired size window for cameras.
Ease of Use
Score: 8/10
For a long time now, Browning trail cameras have been one of the easiest trail cameras to use. With a simple menu button, a directional pad, and an enter button, you can easily find and change any setting that browning has to offer.
The menus are easy to navigate, all functions of a setting are within one menu option, and the easy to read backlit LCD screen make the setup and use of the Command Ops Elite extremely simple.
The only thing that this camera did not score on is preset options, for quickly setting a camera. If that is all it is missing, it scores well on our tests.
Features
Score: 5/10
The Command Ops Elite is Browning's base line model, so naturally you will find less features in this model than you would in any of their models. For instance you can not adjust the flash range, or the motion sensitivity, and the only video recording option is 900p.
With that said, the one feature that stands out with this camera comes in the multi-shot option within the photo settings. It gives you an option of using standard burst, or rapid fire. Here is a brief explanation of the two:
Standard- this burst mode is typical of almost any trail camera on the market. You choose the number of photos you want each time the camera is triggered, and it will take each photo 2 seconds apart from one another.
Rapid Fire- this burst mode is different in the fact that it will allow the camera to take all of the photos you selected to take within a very short amount of time. How short? Well each photo is taken .5 seconds apart. This is ideal for those who are using the trail camera for photographing fast moving items such as birds.
Photo Settings
Settings
Options
Resolution
2MP, 4MP, 8MP, 20 MP
Burst Count
Standard: 2-8 Photos
Rapid Fire: 2-4 Photos
Delay Settings
1, 5, 10, 20, 30, Seconds
1, 2, 5,10, 30,60 Minutes
Motion Sensitivity
No Adjustments
Flash Range
No Adjustments
Video Settings
Settings
Options
Video Resolution
900p @ 30fps
Video Length
5, 10, 20, 30 Seconds
1 and 2 Minutes
Audio Recording
Yes
Delay Settings
1, 5, 10, 20, 30, Seconds
1, 2, 5,10, 30,60 Minutes
Motion Sensitivity
No Adjustments
Daytime Photo Quality
Score: 5/10
The daylight photos on the Command Ops Elite are below average, and subpar from what I would expect from a Browning trail camera. The colors are not crisp, the images are not perfectly clear, and the lowlight photos, when there is no use of the flash, is just grainy and simply just not very good.
The one thing that this camera does do well is in minimizing motion blur during those daylight photos. There are plenty of instances in which an animal had run across the photo, where many other cameras would have produced motion blur. The Command Ops Elite, I would venture to say takes almost better photos in action, than still.
Look at the example photos below and make you mind up for yourself.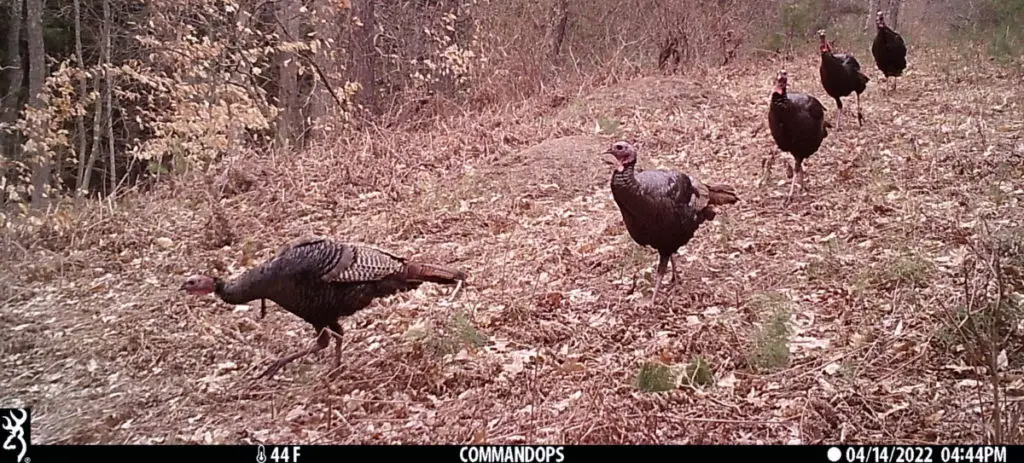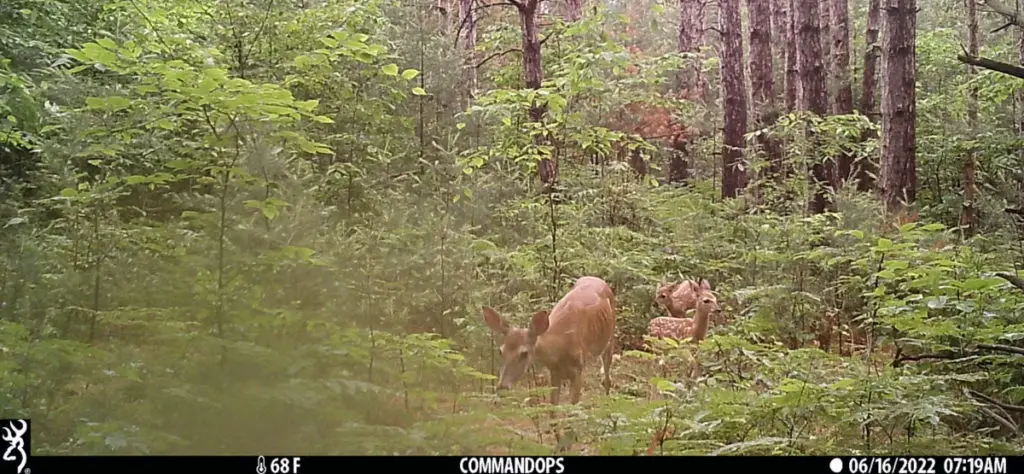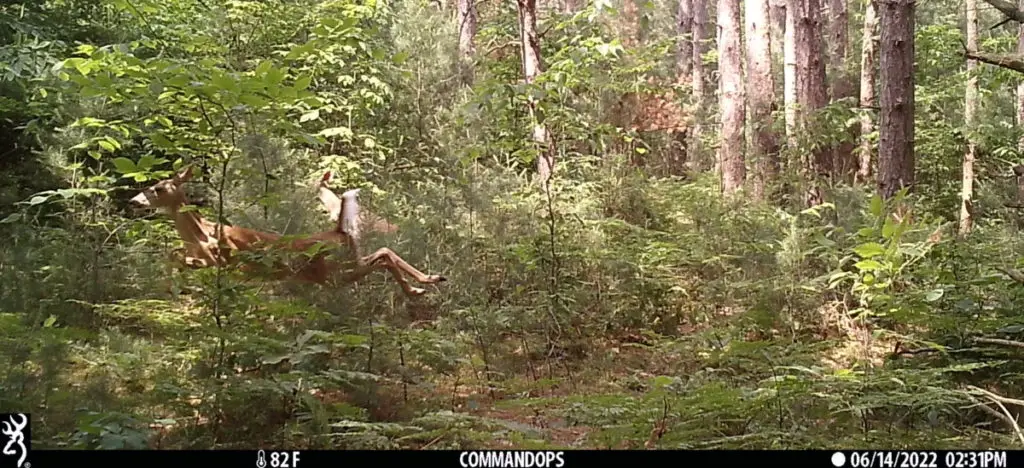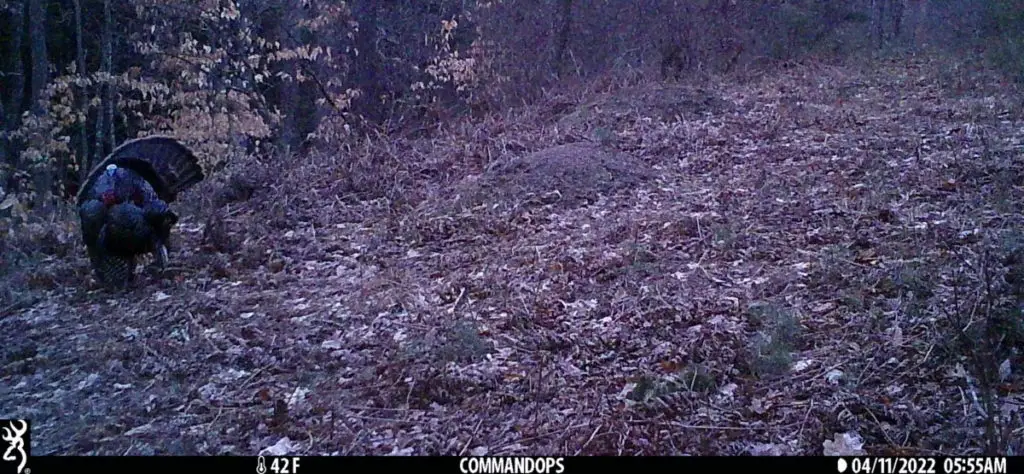 Nighttime Photo Quality
Score: 7/10
While determining the photo quality of daylight photos is very cut and dry, determining the the same for nighttime photos is a bit more complicated. We worry about not only the actual photo quality but the matching of the flash distance and the detection distance. The quality of the IR lights, and potential for a halo affect.
The Command ops did very well matching the detection distance with the flash distance, and thus eliminated a lot of false triggers. The IR flash was even distributed along the entire frame of the pictures, and there was a very good effort in limiting white out photos from animals that got too close to the camera.
The camera also did very well in low light situations when the IR flash was used. It wasn't perfect, but the quality of the photo was there.
Where the Command Ops Elite did not do well was with two major things: motion blur, and excessive eye glow. Motion blur is extremely hard for many trail cameras to overcome, and with a Browning's baseline camera we didn't expect it to.
The excessive eye glow however, is something that was a problem in most photos. This often happens when using an red glow camera versus a black flash camera.
Take a look at the photos below and determine for yourself the quality of nighttime photos.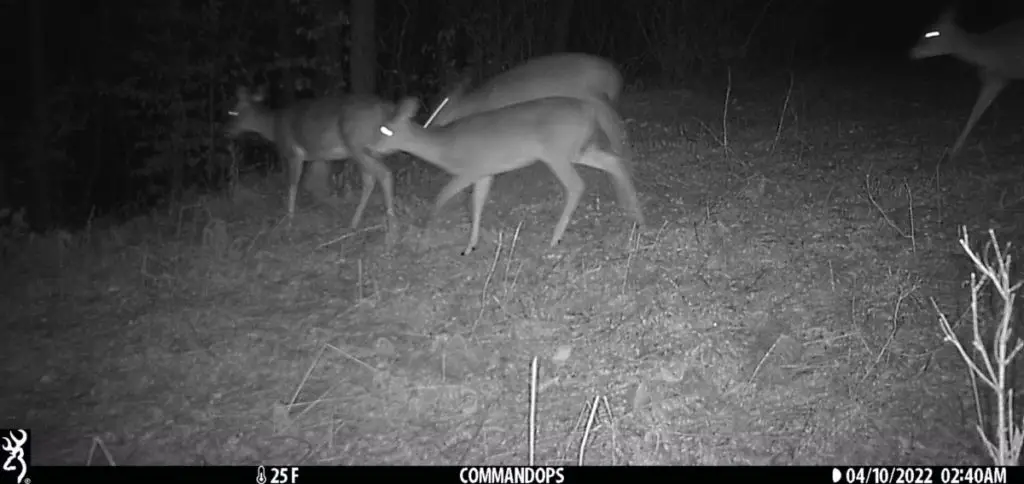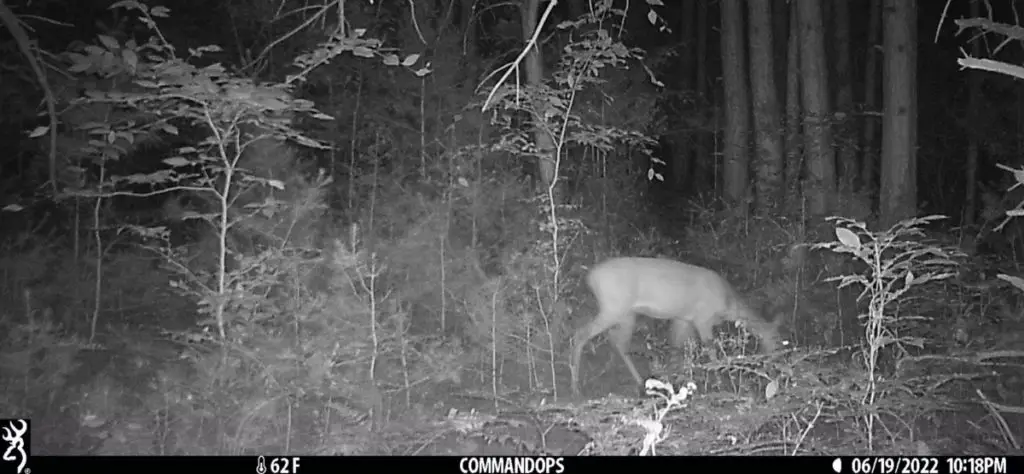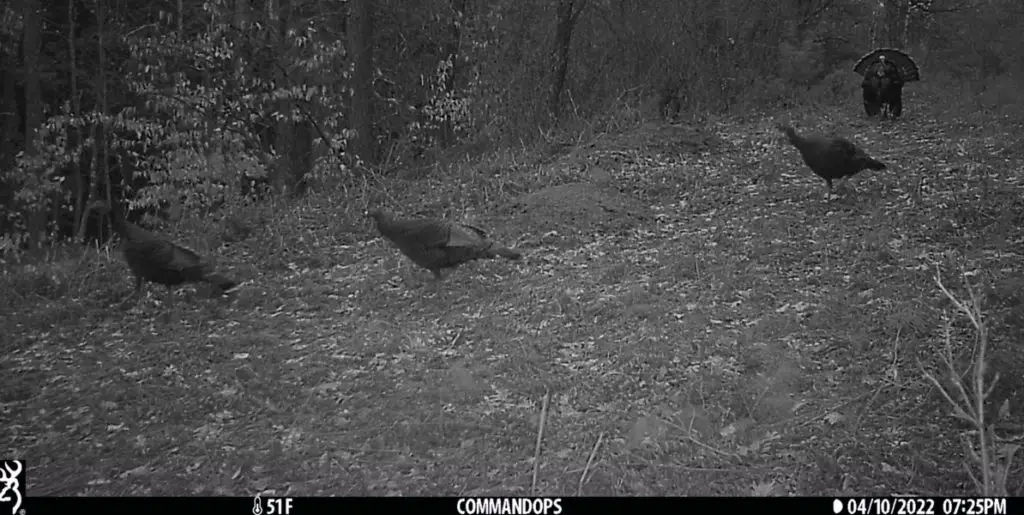 Video Quality
Score: 6/10
The video quality on the Command Ops Elite was average. The picture both day and night was clear, however it wasn't as crisp as many other trail cameras. Recording resolution at 900p with a 30 frames per second film rate, this camera did just fine.
It wasn't the high quality video production that we have come to expect from Browning's higher end cameras, but it gets the job done.
Take a look at the Youtube video below and check out the video quality for yourself. Don't forget to subscribe, as we will be having much more content coming out this fall.
Timelapse
Score: 6/10
We have found that not many people utilize timelapse mode, however, for those that do, it can be an incredible tool. Unfortunately, the Command Ops struggled in this category.
The camera only offers one time slot to shoot in timelapse so you will have to choose between evening and morning. There is no ability to set the timelapse mode to record in video, and the flash is not enabled in order to take nighttime photos through the timelapse function.
With that said, there were some positive aspects to the camera, such as the ability to use the PIR sensor in conjunction with the timelapse, and Browning's timelapse viewer; Timelapse Viewer Plus. This program that is easily downloaded onto your computer, allows you to turn your timelapse photos into a playable video.
Engineering
Score: 6/10
In the Engineering category we break down and test all of the manufacturers specs, to see exactly how the camera performs. The Command Ops Elite, did okay compared to the average trail camera.
The detection distances and flash distances were underwhelming, while it excelled in field of view and battery life. Below are our findings from in the field tests.
| | Observation | Comment |
| --- | --- | --- |
| Daytime Detection Distance | 58ft | This detection distance is a long ways away from Browning's claim of 80ft |
| Nighttime Detection Distance | 60ft | Typically the daytime detection distance is greater than or at least equal to the nighttime detection, but we were getting consistent triggers at 60ft at night |
| Field of View | 63o | This is an exceptional field of view angle |
| Flash Distance | 62ft | The flash distance matched extremely well with the detection distance |
| Battery Life | 109,310 Photos | We tested this battery life twice, as the amount of photos seemed way off on our original observation. On the second attempt, it produced more photos. It is hands down the best battery life we have tested to date. |
Price
Score: 4/10
Determining the value of a trail camera is one of the more difficult things we do in reviewing trail cameras. We have compiled a data base of trail camera attributes that either add or subtract from the base price of what a trail camera costs. For instance, having a black flash, on average will raise the price of a trail camera $10 and having a white flash would raise the price $20.
With the Command Ops Elite, the only attributes that, according to our data base, should raise the price is having video recording above 720p, having a film rate of 30 frames per second, and having a trigger speed of .3 seconds or faster.
Adding all of these to our initial a trail camera base price, we have calculated that this camera should retail around $90. With an MSRP of $119.99, this model came in $30 higher than our projection. If a camera comes in equal to our projection it receives a 7/10, as a fair price. For every $10 over our projection it loses a point, which is how we landed on a 4/10 in price per value.
Warranty / Customer Service
Score: 6/10
When it comes to quality trail camera products, Browning is one of the more reliable brands, however, their 1 year manufacturer warranty is the industry minimum. In fact, most of the well known brands have at least a 2 year warranty, and a few warranty their cameras for as many as 5 years.
Their customer service on the other hand is adequate. I have found that the easiest way to get contact with someone from Browning is to pick up the phone. Their response from emails are hit and miss.
The customer service reps that I have dealt with in the past have basic knowledge of the product, but really don't have an intimate understanding of the camera. I asked one representative what size their native image sensor was, and was greeted with a lot of "umms."
For the record, to those customer service representatives who might stumble upon this review, its 1.6MP in the Command Ops Elite.