Being able to see photos in the field gives you a huge advantage to understanding what your trail camera is doing. Having instant access to the photos that your camera is taking gives you the ability to make physical adjustments such as height and angle, as well as camera adjustments like delays, photo bursts and image quality.
As a hunter, it gives you the ability to make hunting decisions based on the activity that your camera has picked up while you were out of the woods. These insights are invaluable to making on the ground decisions.
Here are my field tested recommendations for SD Card readers:
Whitetail'R Phone Read'R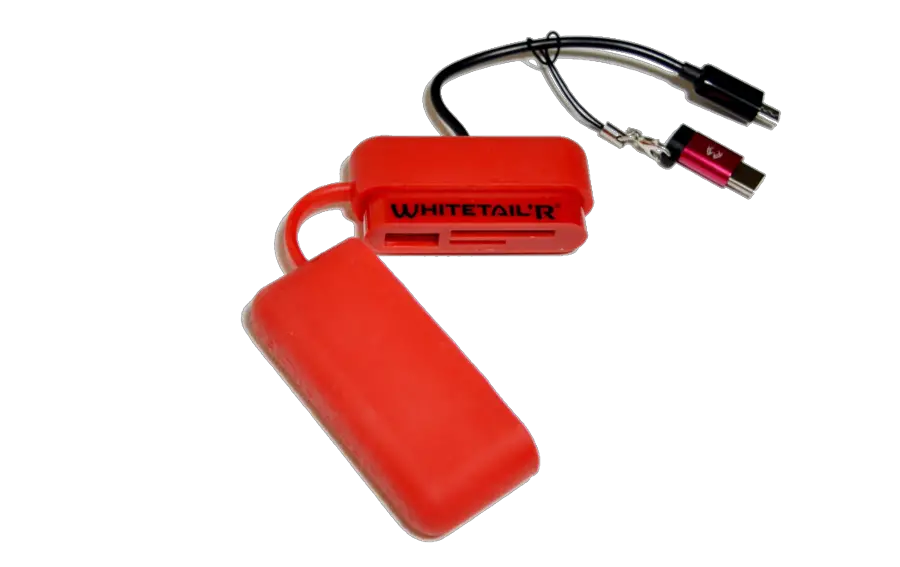 I like the Phone Read'R from Whitetail'R for the simple fact that it is convenient. We all carry our phones with us wherever we go, it only seems natural to use our phones to check photos on our cameras as well. This small palm size device, that you can find on Amazon, fits easily in any coat pocket.
It's simple to use, just plug the SD card into the Read'R and then plug the Read'R into your phone. That's it! You can easily delete, save, or even share your trailcam photos on the spot. These readers are compatible with Android phones and work with both micro USB and type C charging ports. If you are an IOS user, they now make a model specifically for you as well.
Moultrie Tablet Viewer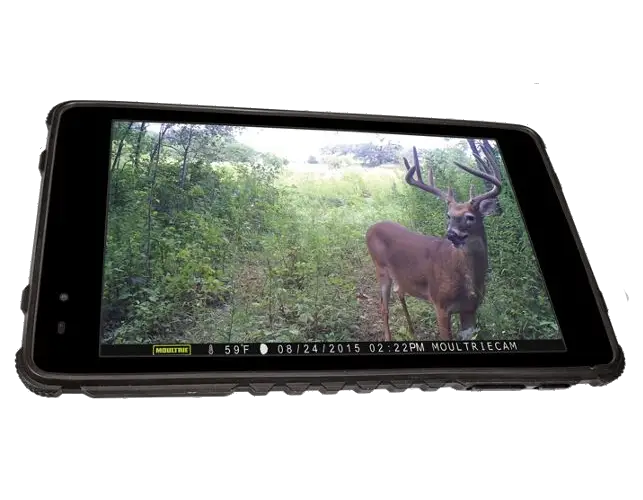 If you enjoy viewing your photos on a larger scale than your smart phone, but like the convenience of the touch screen Android operating system, the Moultrie Tablet Viewer is a great option. It works as a fully functional tablet, allowing you to use it with Bluetooth connections directly to your camera.
While not as pack friendly as the Whitetail'R this 7" touch screen viewer allows you to see larger full screen images, without having to tote around your laptop in the woods.
Stealth Cam SD Reader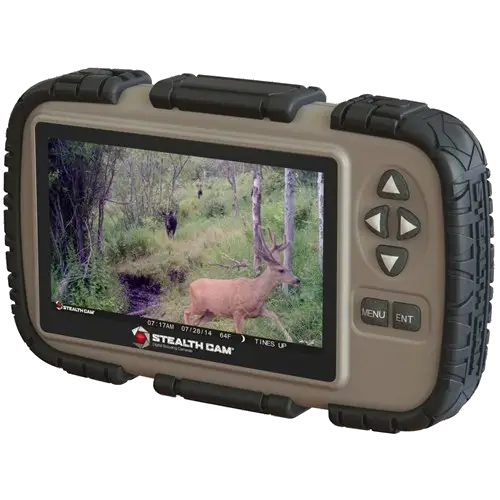 The Stealth Cam SD Reader is middle ground for those who want an external card reader without breaking the bank. There is nothing flashy about this device, it just seems to work. The rubberized protective coating gives it durability, and the ease of use makes this card reader one of my favorites.
This device, that can be found on Amazon, comes with a head phone jack for audio playback, and takes up to 64GB SD cards, and has a 4.3″ LCD Screen. In a world of increasing technology, some times you just need something that gets the job done, and in my experience, this reader does just that.