One of the most overlooked accessories to trail cameras is a camera pack.  We are all guilty of shoving our expensive trail cameras into the bottom of an old hunting pack, accompanied with  pruning sheers and mounting accessories.
As we trudge through the woods in search of the perfect spot, all of the these tools jostle around creating potential for damage to our electronic investments.  Smaller items such as SD cards and batteries get misplaced, and there is an overall disorganization to the entire process.
There are many different types of bags and packs on the market, but as an outdoorsman, most do not meet every criteria.  Those that have a shoulder strap, and you carry similar to a duffel bag, are not convenient in the field.  They must have compression pockets and straps, organized compartments for intricate items, and large padded interior to protect our cameras.
In the outdoors we need rugged gear that can stand up to the elements.  After years of searching for the perfect pack, I have found 3 that I highly recommend for anyone who is in the market, for a durable trail camera pack.
Alps Outdoorz Motive
Out of all the outdoor companies that exist, Alps Outdoorz is the only manufacturer that produces a trail camera pack that meets every criteria.  They truly created this pack with the trail camera user in mind.
This 18L pack has it all with a large padded main compartment that holds up to 8 trail cameras, zip down front access pockets, and even a side accessible pocket design specifically for your SD Card reader.
What I truly like most about this pack, though, is how comfortable it is to use.  Padded shoulder straps, along with the adjustable sternum strap, and weighing in just over 3lbs, you can hardly notice the pack on your back.  Hands down if I were forced to choose just one pack, it would be the Motive.  For a reasonable price, you are getting more than what you are paying for.  You can check out prices and availability on Amazon.
Cannon Deluxe Phot0 Backpack 200EG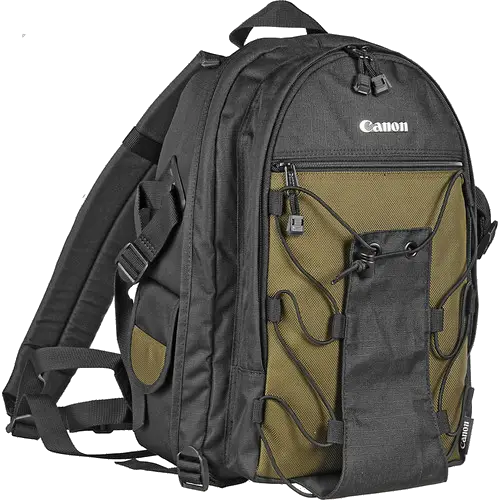 If you are looking for a pack at a cheaper price point, that will still get the job done, the Cannon Deluxe 200EG is a great option.  It doesn't have all of the same bells and whistles as the Motive, but for well under $50 on Amazon, it is quite a good deal.
The 200EG is not a pack that is designed specifically for the trail camera user, but rather for photographers with DSLR Cameras and Lenses.  With that said, the main compartment has adjustable padded inserts, that can hold up to 8 trail cameras and also has a zip down front pocket that can hold batteries and SD cards.
The only true draw backs are the lack of exterior straps for larger items such as pruning sheers, and it does sit as comfortable as you would like on your back.  With that said for the price it is still a steal of a deal.
Lowepro Protactic 450 AW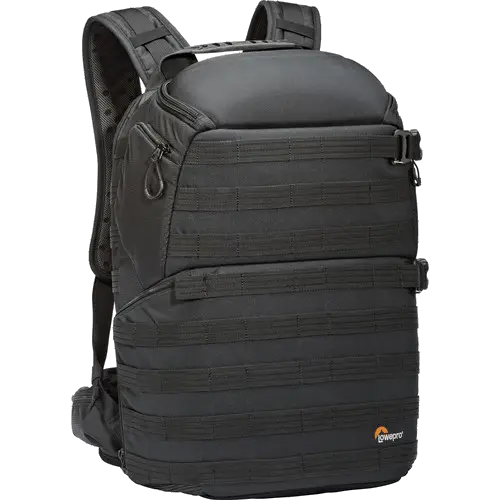 The Protactic 450 is another pack that is not designed specifically for trail cameras, but is easily converted into an ideal pack.  More expensive than the Motive and the Cannon Deluxe (check out prices on Amazon) this pack is a luxury pack with everything you will need.
It comes with a large main compartment that you are able to rearrange the padded dividers, I have easily fit up to 10 cameras inside.  It has 4 access zippers making it easier to access your gear from any angle.  What like the most about this pack is the slip lock webbing loops that allow you to completely customize how you pack items on the outside of your pack, allowing everything to be organized the way you want it.
This extremely durable pack is surprisingly comfortable on your back.  You wont regret this investment.